In a move meant to demonstrate transparency in government, August 2012 saw the opening of a statutory period in which members of the public were able to view Aberdeen City Council's financial year documents for 2011. In the first of a two-part investigation, Suzanne Kelly seeks answers but winds up with more questions.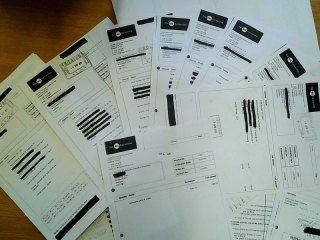 In 2011 Aberdeen moved from being an SNP/Lib-Dem controlled city to an administration with a slim Labour majority.
Although drains on the public purse like the Tullos deer debacle and the development of the Granite Web's TIF funding application were left behind, the public still had to bear the cost of the previous administration's policies.
Staff at the ACC finance department were most helpful but the year-end document on display was not the detailed set of accounts I had hoped for.
The year-end statement made many claims about the city doing the best it could but most of the costs had already been lumped together and processed.  I wanted to see actual invoices and spread sheets from some of the year's more contentious projects (or at least those I knew of).
I provided the list of invoices and accounts I wished to examine and eventually received the information collated and ready to inspect. I have to say seeing the various costs involved is a far cry from reading the wonderfully prosaic year-end statement, and though I am still sifting through documents looking for answers, here are some issues that emerged.
Stewart Milne
ACC and Stewart Milne are in legal dispute over land transaction issues at Westhill. The city sold land to one arm of the Milne empire at far less than its market value on the understanding it would eventually see a share of any future profit.
At the same time Milne companies were buying and selling land at knockdown prices, they were submitting bids for council projects (at very narrow margins compared to the competition), winning work worth approximately £10m. The courts – including the highest in the UK – sided with ACC and Milne should by rights be settling his debt to the city.
Despite Milne entities refusing to pay ACC its rightful share of profit on the land transactions, instead dragging ACC (and therefore the taxpayer) through the courts, Milne had (and may still have) preferred bidder status for council contracts. Milne is assuredly carrying out work for the city, which in 2011 was rewarded as follows:
In fact, the 2011 'self-raised invoices' reflect the following monies paid to Milne:
| | |
| --- | --- |
| Reference | Amount |
| SB/P/10431 | 270,630.00 |
| SB/P/10432 | 299,536.00 |
| SB/P/10433 | 244,149.00 |
| SB/P/10474 | 226,268.00 |
| SB/P/10475 | 137,379.00 |
| SB/P/10476 | 127,637.50 |
| SB/P/10528 | 75,030.00 |
| SB/P/10529 | 19,210.00 |
| SB/P/10530 | 8,850.00 |
| Job CH 12306 | 36,286.00 |
| Job CH 12308 | 44,046.00 |
| Job CH 2307 | 39,326.00 |
| SB/P/10645 | 20,001.00 |
| TOTAL | £1,548,348.50 |
The paperwork I was given is intriguing, referencing neither particular jobs nor targets reached. Indeed, three of the documents entirely lack a second sheet containing supplementary information.
The cover sheets I did receive refer, for example, to Bryan Park and Hayton Road, but fail to indicate exactly what work is being paid for, or if any target has been reached. For the sums involved, one might hope sufficient documentary back-up evidence does exist.
Wood Family Trust
The Wood Family Trust (WFT) is listed as having paid £160,000 towards the CGP referendum. The taxpayer chipped in £40,000.
The city also paid the WFT £22,000 for an educational pilot scheme involving Kincorth Academy 'per contract'. What contract ACC and the WFT have entered into will make interesting reading. Perhaps other charitable trusts have contracted with ACC – but why a charity should be engaged by contract on an educational scheme is at present unclear.
https://aberdeenvoice.com/wp-content/gallery/images2/wood-family-trust-get-22-k-from-acc-nov-11.jpg

BiG Invoices
It was a good year to be in PR. Well, it was if you were a certain BiG name agency. There was the unofficial campaign for the Granite Web – when print media was sent to every household in the city on at least two occasions (and lest we forget, in error to the shire on one).
BiG was involved in other areas, though at present we don't know which PR agency the city paid when the Chamber of Commerce (Chaired by Bob Collier) billed ACC for work ordered by ACSEF (Tom Smith) in support of the Granite Web scheme.
Smith is, of course, better known as a director of the Aberdeen City Gardens Trust, a private company to which the management of the web and UTG was to be handed without recourse to a tendering process or checking either man's expertise in the rather narrow field of constructing concrete webs.
But, getting back to BiG: readers may be interested to know ACC has paid monthly invoices to BiG for various PR services, storage, servers, altering maps, expenses, photos and a trip to Glasgow. Below is a short summary of selected BiG invoices, interestingly enough all addressed To AWPR – Scottish Executive, which reference A-AWPR, and seem to have been paid by ACC:
Invoice No
Date
Description
Amount
17801
30/3/11
Info packs and inserts (what project? – SK)
10,802
42810
18/4/11
Expenses, press cutting services, photos, PR
3,416
17848
31/3/11
March PR, storage (nb seems to be £120/month)
1,022
18072
30/4/11
April PR, storage
2,076
18080
30/4/11
Website servers for PLI and AWPR
700
18320
31/5/11
May  PR, storage
2,045
18567
30/6/11
June PR, storage
2,968
(not clear)
31/7/11
July PR, storage
1,762
19062
31/8/11
August PR, storage, travel to Glasgow
6,307
19308
30/9/11
September PR, storage
5,013
19533
31/10/11
October PR, storage, amendments to AWPR map
2,434
19770
30/11/11
November PR, storage
1,858
20033
31/12/11
December PR, storage
1,493
20254
31/01/12
January PR, storage
3,492
20509
29/02/12
February PR, storage and handover re. K McKee
8,788

TOTAL

54,176
The BiG Partnership billed ACC for £54,176 in the last fiscal year: was the AWPR acronym used in the invoices referring to the Western Peripheral Route? Other possibilities seem slim, but why ACC should have engaged a PR firm (let alone paid it storage fees or for website servers) in relation to this project is not clear.
Issues so far
a) ACC regularly deals with a company holding preferred bidder status, a company that has not only reneged on a profit-sharing scheme but dragged the city through every court in the land. How much was lost on the initial transaction? How much is the city incurring in legal fees, and which side picks these up?
Why is the Milne group apparently saying it wants to negotiate when the courts have already found against them? Have Milne companies retained their preferred bidder status? If his companies were enjoying profits from a favourable land deal, while at the same time entering low bids for contracting work, is this ethical, fair, and completely within tendering guidelines?
b) Should the referendum have been financed to such an extent by one of the interested parties? Was there even a slight possibility of psychological influence over those involved in administration of the referendum by the fact the costs were picked up by the web's main proponent? At one stage we were told the entire costs were being met by Wood – why did the taxpayer pick up a £40,000 tab?
c) ACC seems to be paying a billionaire's trust for an educational pilot – and has entered into a contract. What is the nature of the contract, and in what way can the services performed be described as charitable?  An overview of the charity seems to indicate no money is received by the Trust from government. I wrote to WFT and received this reply:
"The funds received from Aberdeen City Council were a relatively small contribution to an Enterprise in Education programme, which was delivered as a partnership project with the local authority and carried out at two schools in the region, with the balance of the funds coming from Wood Family Trust. I can only assume that the reason the Scottish Charities Register indicates WFT received no money from Government is that this doesn't cover funds received from Local Authorities."
d) Has the city paid for public relations for the AWPR?  If so, how was the contract for the work tendered? Was BiG given favoured status in obtaining this work via its involvement with ACSEF and the CGP?
Coming soon in Part 2
The Tree for Every Citizen Project – more revelations, CJ Piper, Bryan Massie
A Scottish Enterprise invoice or two
Further observations
Comments enabled – see comments box below. Note, all comments will be moderated.