'You've Been Trumped' scoops Best Documentary award at one of America's biggest film festivals ~ Jury calls film 'deeply troubling' ~ Salmond stays silent.  With thanks to Tripping Up Trump.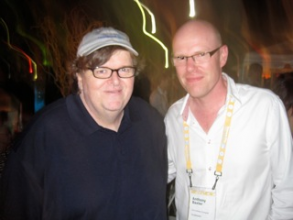 Feature documentary 'You've Been Trumped' has won its fifth major award – clinching the Best Documentary Prize at the 34th Starz Denver Film Festival, Denver, Colorado, USA.
In winning the award, 'You've Been Trumped' topped an impressive list of 59 of the year's very best documentaries from around the world.
Other winners at the prestigious ceremony at the city's Ellie Caulkins Opera House included actress Judy Greer, Scottish actor Alan Cumming OBE, and Hollywood star James Cromwell – who personally congratulated Montrose based director Anthony Baxter on 'You've Been Trumped's achievement.
The jury statement read,
"We decided upon a film that tells a story about a greedy capitalist and a community trying to save its home.   We admired the filmmaker's perseverance and his reluctance to insert himself into the David and Goliath story.
Deeply troubling, amusing, and rousing all at the same time, the winner of the 2011 Maysles Brothers Award for Best Documentary Film is You've Been Trumped."
Mr Baxter told the audience of several thousand filmgoers and Denver dignitaries,
"The Trump Organisation has called our film 'a failure' and me 'a fraud' whilst the local residents have been branded 'a national embarrassment for Scotland.'   I'm proud to accept this award on their behalf."
You've Been Trumped' has now won a total of five major film festival awards – including a Special Jury Prize at Michael Moore's Traverse City Film Festival, the Victor Rabinowitz and Joanne Grant Social Justice Award at the Hamptons International Film Festival in New York, and the Green Award at the Sheffield International Documentary Film Festival.
The filmmakers are currently seeking distribution for 'You've Been Trumped' in the United States, and a major viral campaign supported by Karine Polwart is underway.  The Scottish singer-songwriter has donated her new song, inspired by the film and called Cover Your Eyes, to 'You've Been Trumped's crowd-funding campaign.
'You've Been Trumped' will be returning to cinemas in Scotland this weekend, when it plays at the Filmhouse in Edinburgh on Friday, Saturday and Sunday.  Scotland's First Minister has been invited to the screenings through an open letter from the film's director.    Alex Salmond's private office, has yet to respond to the request.
For further information on 'You've Been Trumped' visit www.youvebeentrumped.com or on Facebook:
http://www.facebook.com/pages/Youve-Been-Trumped/187472834621346
'You've Been Trumped' has now won the following awards:
Victor Rabinowitz Social Justice Award – Hampton's International Film Festival
Special Jury Prize – Michael Moore's Traverse City Film Festival
Best Documentary (Maysles Brothers Award) – Starz Denver Film Festival
Best Film – Edindocs Film Festival, Edinburgh
Green Award – Doc/Fest (UK)