Duncan Harley reviews 'Sunny Afternoon, the Musical' at HMT Aberdeen.
Picture in your mind's eye a musical about a 1960s band who, in their day, released around 28 albums, were ranked 65th on Rolling Stone magazine's '100 Greatest Artists of All Time' list and occasionally, just occasionally, swung from chandeliers.
The Kinks popped pills, used girls and fell out with America. If it wasn't broke they took an axe to it. If it was broke they swung the axe again just to make sure.
Hotel rooms, promoters and, on occasion, fans bore the brunt of the angst of the tempestuous four.
And then, just to let off steam, they turned inwards and beat the hell out of each other both on – and offstage. Fuelled by a heady concoction of wild music and wild parties, they seesawed repeatedly from giddy success to rock-bottom oblivion and then back up again.
Headed by brothers Ray and Dave Davies, The Kinks did eventually make the Hollywood Bowl, but only after a very rocky ride.
Sunny Afternoon the Musical tracks the band's career through a finely balanced combination of tribute numbers and snapshots of the band's progress from the blandness of the Muswell Hill club scene through to the electrifying days on the international music circuit.
On opening night at His Majesty's Aberdeen, word came that Ryan O'Donnell was unwell and that James Hudson would be playing the part of Ray Davies. He played it well and few in the audience would have even been aware of the substitution.
It was clear from the very start that this is no mere tribute show. Yes, there are musical numbers and yes there are stage strutting scenes, but there are also acres and acres of good solid bio to link the songs with the background stories which inspired them.
As the songs emerge, a tale of sibling rivalry and misunderstanding unfolds. The madly challenged Dave, sensibly dressed in a bright chintzy frock, swung from a chandelier while elder brother and leader of the band Ray tries to keep it together with wife Rasa. 'A Dedicated Follower of Fashion' led to the Pepsi cola'd 'Lola', and with Dave starting to resemble Ava Gardner on a massive bender, there were brotherly fights and band fallouts galore.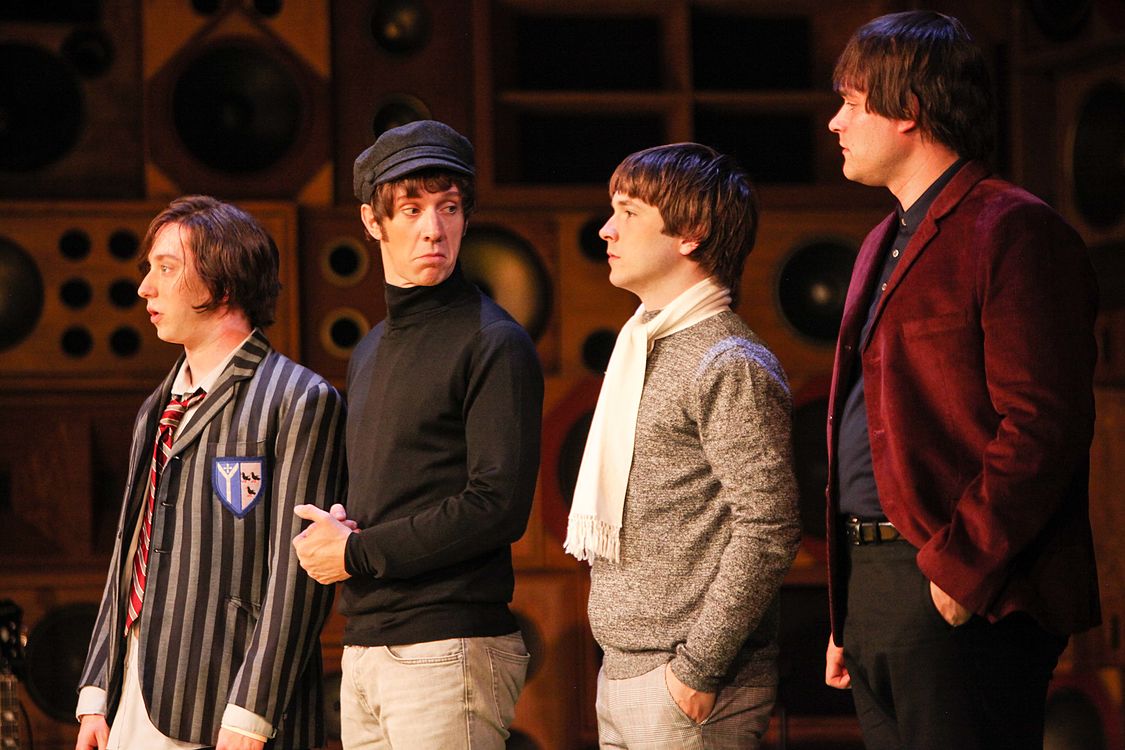 There are minor niggles. That drum solo in act two might be completely superfluous; and the colourfully Union-Jacked 1966 England World Cup Winners' parade might not go too down too well in front of some Scottish audiences.
The transatlantic duet involving Rasa and Ray was particularly poignant, but it has to be said that although everyone on stage sparkled, Mark Newnham's portrayal of Dave Davies sparkled most brightly.
His portrayal of the Mick Avory-hating guitarist left little to the imagination. Despite bad behaviour verging at times on the offensive, and a sometimes questionable dress sense, he emerged as a well-cast musical villain.
There's humour galore. Harold McMillan takes it on the chin and long-dead Who drummer Keith Moon is revered as an eccentric Roller-owning rocker with a penchant for swimming pools.
Virtually all of the classic Kinks hits including 'You Really Got Me' and of course 'Sunny Afternoon' are up for grabs, and by the finale folk were rocking in the aisles to 'Waterloo Sunset' and 'Lola'.
By the end of the night there was hardly a grey hair in the house.
Directed by Edward Hall with Barney Ashworth as Musical Director, Sunny Afternoon plays at HMT Aberdeen until Saturday 12th November
Tickets from Aberdeen Performing Arts Tel: 01224- 641122
Words © Duncan Harley and Images © APA
Comments enabled – see comments box below. Note, all comments will be moderated.