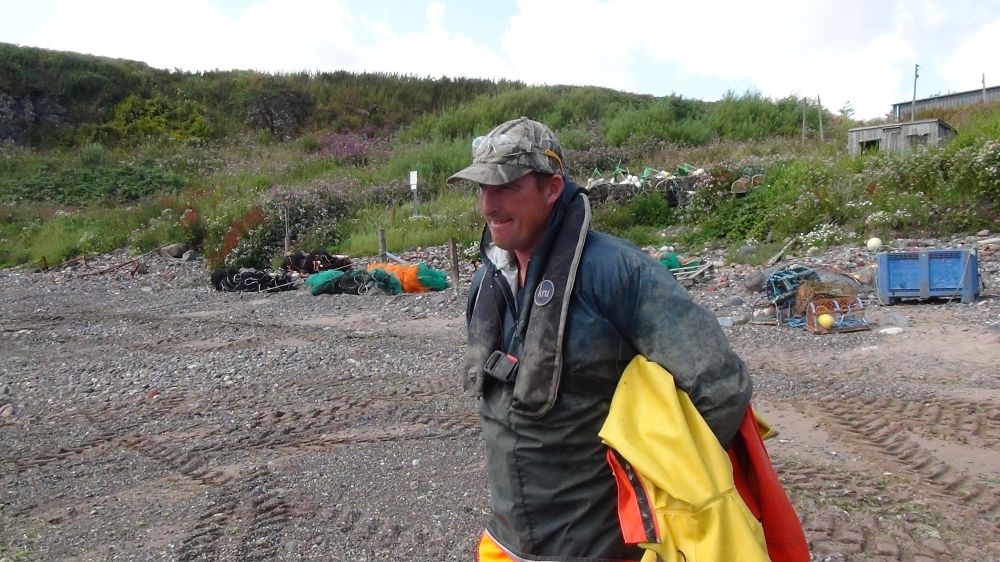 With thanks to Suzanne Kelly.
The Pullar family, operators of USAN and it's subsidiary the Scottish Wild Salmon Company, recently entered guilty pleas on nine charges of salmon conservation legislation breaches and USAN now has a criminal record.
Salmon and other fish are confronted in Montrose with a vast system of huge 'leader' nets that direct fish straight into the bag nets until eventually they are hauled onto a boat, and as they panic and suffer, are clubbed to death.
It is a hard thing to witness. But there are other casualties in those nets that suffer and die.
Jenny Green of the Hunt Saboteurs Association shared her observations:
"Coastal salmon netting season ended at midnight on the 31st of August. All equipment had to be out of the water by then. The Scottish government is banning coastal salmon netting after this season, because salmon numbers are at their worst for 40 years. This is an excellent result for us in terms of our Seal Defence Campaign because if there are no nets in the water, Usan can't claim to need to shoot seals to protect the salmon in those nets.
"The recent court case saw Usan plead guilty to breaking netting regulations in previous seasons and they were charged with 9 offences, and fined £7000.
"Usan had their leader nets in the water after the 6pm Friday night weekend close time (known as keep-ins) – the rule is in place for salmon conservation purposes.
"Usan, now guilty of 9 counts of breaching salmon conservation legislation will not be netting again for many years. Indeed, when they do apply to start up netting again, it's going to be very difficult because in order to get netting permission they'll have to prove salmon sustainability…. And you can't count wild fish.
"So it looks like they are not going to be salmon netters for a very long time. However, during the protracted court case, which lasted all summer, Usan continued to miss weekend close times. In court it was said by the judge that Usan will not be prosecuted by the Crown for 2015 illegal keep-ins. Apparently, as netting is stopping after this season, it's said to be an obsolete point.
"I find this ridiculous. To me it's like saying it's ok to burgle a shop because it's going out of business anyway. Seal Guardian Campaign operatives submitted 34 videos of illegal keep-ins over the last 5 months to Blair Wilkie, wildlife crime officer for the Angus region. She could choose to prosecute, but apparently she has chosen not to.
"The wild salmon are not the only casualties of netting operations. My pictures show some of the birds drowned in these leader nets, including an adult puffin and a guillemot. I took the pictures with an underwater/submarine ROV. These protected sea birds drowned in a net that was sunk at Scurdieness, adjacent to the protected sea bird haven of the Montrose basin.
"How such a death trap was allowed to be sunk in a site of special scientific interest, adjacent to an internally important and protected sea bird haven for decades is a question the council and SNH both say isn't in their remit. This net drowned hundreds of protected sea birds. Both were asked why Usan were allowed to put a net here unchallenged, and both said it was down to the other organisation."
Some 34 instances Usan nets fishing out of hours, constituting wildlife crime, were brought to the attention of wildlife officer Blair Wilkie – no action seems to have been taken to bring cases whatsoever. She could push to prosecute these crimes, but isn't doing so. Aberdeen Voice asked for an explanation, and was directed to Police Scotland media relations.
A Police Scotland spokeswoman said,
"Police Scotland can confirm that information has been received in relation to concerns regarding salmon netting in the Montrose area and enquiries into the matter are ongoing. Police Scotland is committed to the investigation of wildlife crime and reports of criminality are taken very seriously. Wildlife crime is any act that is made illegal in Scotland under legislation with regard to certain birds, animals, aquatic life and plants including their habitats, both on land and in water.
"Such crimes cause significant harm to the species targeted by the criminals, as well as the communities who rely on wildlife for employment and tourism.
"All reports of wildlife crime will be investigated by Police Scotland and appropriate action will be taken. Extensive investigations into these matters can often be challenging and complex, requiring a multi-agency approach, with input and assistance from specialists within partner agencies, including the Crown Office and Procurator Fiscal Service.
"Our aim is to reduce wildlife crime and we ask the public to report any concerns or suspicious activity to Police Scotland on 101. In an emergency contact 999."
More information on wildlife crime can be found on the Police Scotland website at http://www.scotland.police.uk/whats-happening/campaigns/2015/wildlife-crime"
John Robins of Animal Concern commented:
"Usan should be prosecuted for their repeated blatant breaches of wildlife conservation law. They profited from the fish they caught illegally and if they are not prosecuted it is proof that crime pays. It is all the more sinister when you realise that Usan Director, George Pullar, is a Government Advisor on wildlife conservation law. Has this helped him evade prosecution?
"Wildlife crime can be difficult to detect and prosecute so it is all the more galling to see such well documented crimes go unpunished. Hunt Saboteur operatives put themselves at great risk to collect this evidence. They deserve their day in court."
Comments enabled – see comments box below. Note, all comments will be moderated.