Sea Shepherd is welcomed to Gardenstown and Crovie by residents and landowner Marc Ellington – who expressly forbids anyone from shooting seals while on his lands. Why then are these men there with guns trying to kill seals? Sea Shepherd explains. With thanks to Suzanne Kelly.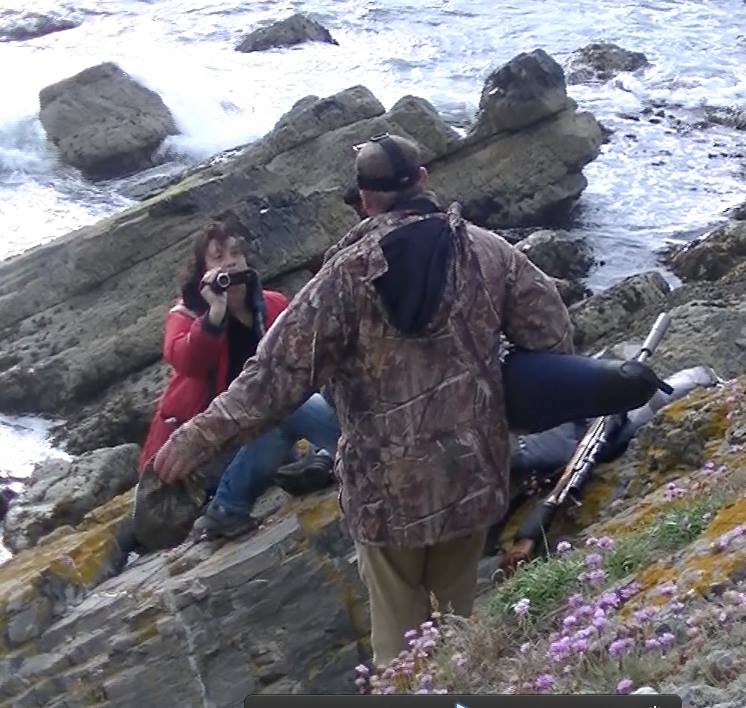 Before you tuck into your wild salmon fillet or smoked salmon sandwich, you might want to consider some other factors bringing that fish to your dinner plate. Birds are often caught and killed in the nets; other fish are trapped, and the Scottish government permits the salmon industry to kill thousands of seals.
The salmon are hauled onto the deck of a boat, gasping and terrified, they are clubbed to death as they suffocate.
Seals were shot in the beautiful, historic coastal village of Gardenstown one year in front of tourists who promptly packed and left, upset by what they had seen.
The town wants its tourists; they come for the wildlife and unspoiled scenery. But not all visitors to Gardenstown are wildlife lovers. Sea Shepherd reports on its latest encounter in the area:
"Seal Defence Campaign Update – Crovie (Gamrie Bay) on 17th June 2015.
"This evening Sea Shepherd's Seal Defence crew were confronted by two of the Directors/Owners of Usan Salmon Fisheries Ltd together with their usual gunman/skipper. The three senior Usan representatives carried two firearms between them, one of which was uncased and ready to shoot seals during the incident which lasted 1.5 hours.
"This is the first time the main directors of the company have travelled to Crovie as they rarely leave their main base at Fishtown of Usan near Montrose. This obvious escalation comes just two days after our crew faced two of their gunmen on the same coastal rocks.
"Our Seal Defence Crew held fast and no seals were killed. In response to this Sea Shepherd will be increasing crew numbers and is bringing in new assets to the area."
Aberdeen Voice wrote to USAN's George Pullar today to remind him that his is not allowed to shoot from Ellington's land. Pullar was also asked to comment on reports that the would-be shooters claim 'a farmer' has given them permission.  Ellington has no idea who would be in a position to grant this permission. We will print any reply received.
Comments enabled – see comments box below. Note, all comments will be moderated.
[Aberdeen Voice accepts and welcomes contributions from all sides/angles pertaining to any issue. Views and opinions expressed in any article are entirely those of the writer/contributor, and inclusion in our publication does not constitute support or endorsement of these by Aberdeen Voice as an organisation or any of its team members.]