By Bob Smith.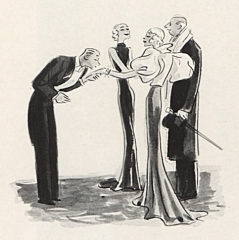 A wis brocht up tae believe gweed menners wis a necessary social skill.
Onybody faa displayed ony kine o bad menners wis leukit on as a social pariah. Ye war learn't bi yer mither an faither an teachers aboot sic things so a ayewis thocht fowk faa war lackin in the skills o gweed menners hidna bin brocht up richt. Nooadays a think it still is a bittie doon tae parents bit it's  maybe a society thingie as weel.
There are still a lot o weel mennered fowk gyaan aboot bit the increase in ill-mennered cyaards is een o society's curses
Noo yer hardly likely tae mak a gweed impression if yer rude an abrasive,an ye see plenty o iss type o cairry on in TV programmes. Fer instance TV an radio interviewers askin somebody a question an then interruptin afore the bodie bein askit the question feenishes answerin. TV soaps faar scraichin, bawlin an insultin fowk wid appear tae be the norm.
Nae wunner fowk are becumin mair ill-mennered. We hear aboot fit they ca "road rage". Iss is jist anither name fer bad menners fin ahint the wheel o a motor vehicle.  Stickin the finger up an yellin obscenities jist cos some craitur micht be huddin fowk up is mair an mair noticeable. Cairryin o a blether or haein their mobile switched on at the picters or the theatre is anither example o modern day ill-mennered tykes.
A'll tak ye back aroon 50/60 ear ago tae a time fan gweed menners wis jist expectit o fowk.
Fin ye wis oot on a date wi a quine ye aye waakit on the street side o the pavement. Iss gings back ti the days fin gentlemen protectit their weemin fae the perils o the road an the gutter. A still git a richt glower fae the wife if a forget tae dee iss.
Ye aye held the doors open fer fowk faa war ahint ye tae waak throwe an ye aye got a thunk ye fer deein so. An ye sure as hell lessened the chunce o anither date if ye didna staun up an hud yer quine's coat fer her tae pit oan if yer war oot fer a cup o coffee in a cafe or a restaurant (ye only took quines oot fer a meal if ye war "gyaan steady" cos wi wages bein fit they war back then, ye cwidna affoord tae dee iss verra afen).
Fin ye took a quine tae the picters ye aye pyed fer baith seats. A chiel wid hae bin black affrontit if the quine hid offered tae "gyang dutch", an ye nivver refused a ladies' choice at the duncin even if the quine wisna tae yer taste. It wid hae bin leukit on as bein the hicht o bad menners.
Iss applied tae baith sexes bit a quine cwid refuse tae dunce wi a chiel if he wis the warse fer weer wi booze.
Mannies an loons ayewis got up tae gie somebody o mair mature ' ears or the opposite sex a seat on the bus if it wis staanin room only. Sweirin in front o weemin wis a thing  ye verra rarely heard. Nooadays it's maistly the weemin faa dee the sweirin.
As a said at the beginnin o aa iss there are still some fowk faa display gweed menners bit they're gettin a bittie thinner on the grun.  A div like the followin quote "Treat fowk as ye wid like tae be treated. Karma's only a bitch if you are"  TV an radio interviewers please tak note.
O aye, an espeecially you as weel Mr Trump.
Comments enabled – see comments box below. Note, all comments will be moderated.