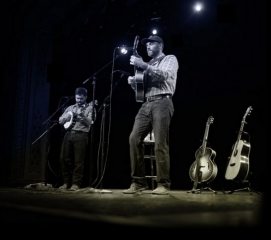 With news that this duo were playing The Salmon Bothy, Portsoy, on 12
th
April,
David Innes
willingly raced to his native Banffshire to report for
Voice
.
On the back of scintillating live shows in the UK in late 2011, including a spellbinding night at Aberdeen's Blue Lamp, and the unanimous industry approval of the duo's latest album Our Lady Of the Tall Trees, this twosome have returned to our shores to play a considerable number of dates.
'Shores' is apt, for Portsoy's cosy Salmon Bothy sits almost on the Moray Firth above the town's rocky east beach and is a wonderfully-intimate, well-run and much-used community venue which we'll feature in a future Voice piece.
The setting also coincided with the realisation that the sea is a considerable influence on Cahalen's writing, evidenced by the opening 'Stone To Sand' and continuing through 'A Lady Does Not Often Falter', 'Jealous Seas' and 'Fleeting Like The Days'.
The roots music which the pair deliver so splendidly is country and mountain-based, but their recordings and performances illustrate how traditional music, given the Cahalen and Eli treatment, can sound as old as the Appalachian Mountains, yet be as salty and fresh as the breeze that buffeted Portsoy.
"Cahalen and Eli's music evokes a brotherhood of the road," says the sleevenote of their 2010 album The Holy Coming of the Storm and their closeness as friends is as obvious as their instinctive and intuitive musical interplay and vocal harmonies.
Between songs, there is gentle teasing – about Cahalen's small stature and his impressive moustache and about Eli's attempts to learn the banjo and its negative effect on his IQ. The setlist is in their heads, but they consult good-naturedly between songs, decide what feels right to play next and offer introductions laced with spontaneous wit and self-effacement.
When an audience member requests 'Jealous Sea', they shrug "OK, we love crowd participation in the setlist," meet it head on and make a feature of Cahalen momentarily forgetting the words. "It's been a while".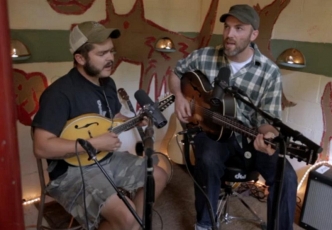 They also pay special mention to two visitors from Munich who made the trip specially to listen to the pair, last seen being herded post-gig towards
The Shore Inn
by Comrade Dunn in an effort to prove that between Bavaria and Banffshire there are no barriers when it comes to appreciation of wonderful music.
And beer, no doubt.
But it's the performance that defines them and endears them to Banffshire hearts.
The songs are strong and the musicianship faultless and superbly honed. The human voice, however, is the most spirit-affirming instrument available to us. Both men are blessed with voices that are made to deliver emotion.
Cahalen's is soulful, earthy and timeless – as rugged as the Portsoy cliffs yet, when needed, as gentle as the waves which kissed the rocky shore.
Eli's softer tones and less intense delivery are a welcome foil. Their enmeshment in harmony is the defining ancient sound of modern American roots music.
The surprise support for the tour is the duo The Kilcawley Family, whose short but entertaining warm-up and friendliness throughout the evening, as both performers and audience members, endeared them to the packed Bothy.
Fine singers both, Louiza's autoharp and Damon's guitar and harmonica provide ideal accompaniment to their own narratives and to a breathtaking arrangement of 'Twelve Gates to the City'. Now based in Morecambe and about to begin recording, they are worth keeping an eye on.
With thanks to Loudon Temple of Brookfield Knights for arranging Voice's attendance.
Further information can be found at:
Cahalen and Eli – www.cahalenandeli.com
The Kilcawley Family – www.kilcawleyfamily.com
The Salmon Bothy, Portsoy – www.salmonbothy.org.uk
Brookfield Knights – http://www.brookfield-knights.com
Comments enabled – see comments box below. Note, all comments will be moderated.