Aberdeen thrashed FK Ventspils, though, like a fortnight ago, the goals all came in the latter stages of the game, reports Voice reporter Andrew Watson.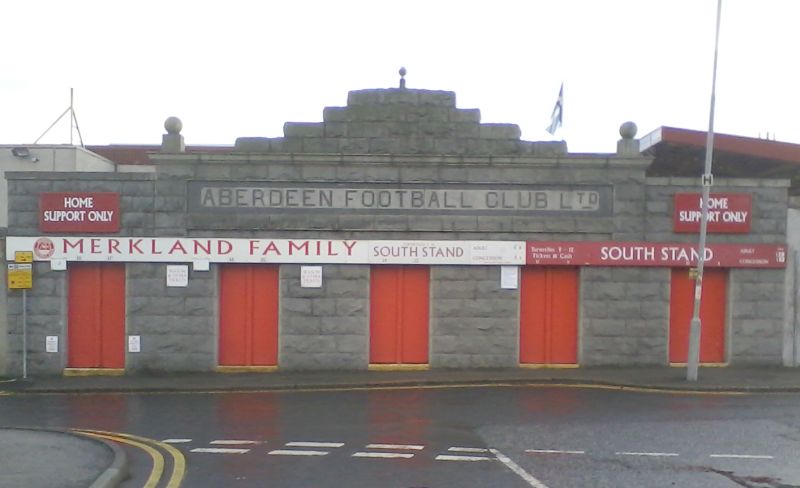 The pitch was still crisp and fresh. Fine weather dominated the fixture and there was even a fine breeze to keep it getting too sticky.
'Hard To Beat' by Hard-Fi played over the tannoy. Was this in reference to being beat on their away leg last week, but still going through on aggregate?
Anyway, during the pre-match warm up, the Ventspils' players adopted curious yoga positions. Sorting out their chakras, maybe?
After that, bagpipes blared during a popular song, as if to draw tribal lines between Scotland and Latvia, another Europa League qualifier for Aberdeen.
'Shut Up And Dance' by Walk The Moon was next. One had a sense this song tried to encapsulate the feeling that, however premature and self-assured, Aberdeen would hammer into the next round.
Moving onto the game proper, Kenny McLean fared with an emphatic header. Just a tad inaccurate.
Then, down the other end, Shaleum Logan made Aberdeen's, seemingly, second desperate defensive attempt to lash out at the ball and put it out of harm's way.
Aberdeen then dug deep and put the ball out for a throw in, as Ventspils advanced.
At this point the drumming in the Merkland Stand was noticed, definitely making their presence felt.
Aberdeen were soon soaking up sustained pressure from Ventspils.
Adam Rooney then got taken for a ride, on the crest of a wave that saw him sliding along the ground with his opposite number. Later he, indeed, earned a foul proper as prior incident went unnoticed.
An excellent ball was floated to outside the box, though subsequent delivery into box went straight at both opposing keeper and captain, Maksims Uvarenko.
A dogged Jonny Hayes was unlucky in getting the ball out for a corner after a lengthy dribble.
There was also outrage at Pittodrie as aforementioned Hayes got chopped down, but no foul given.
Niall McGinn almost connected with Rooney with a near perfect delivery from just outwith the box to the latter in the penalty area.
A subsequent McGinn free kick then went out for a corner, and the latter was swatted out of the way.
McGinn, again putting himself about, was perhaps lucky not to get booked for a rather rash, late challenge amidst an ensuing midfield battle.
A heavy ball, later, from Ashton Taylor to Logan, went out for a Ventspils throw.
The latter then floated in a fine ball, which Rooney headed down into the penalty area. Uvarenko grasped a firm handle on it, though.
Graeme Shinnie, though, came with an incisive drag back, just no one there to capitalise on it.
Not long after followed a key corner after some expert Aberdeen pressure. The ensuing action in the box saw arguments for a penalty.
Hayes and Rooney teamed up during that same period, combining for a speedy attack, just a tad inaccurate.
Uvarenko, again cropping up as the man to watch within his team, swatted away a subsequent goal bound effort. His backline then absorbed further attempts.
After that was a melee of sorts, with the ball chipped fortuitously into the penalty area by Hayes. This, too, was somehow absorbed.
The strains of 'Seven Nation Army' by The White Stripes boomed out come the end of the half, the crowd singing to that famous riff.
Halftime 0-0.
Ventspils started the second half absorbing a free kick and the following rebound. Their ensuing counterattack was eventually deemed offside.
Taylor soon came in with a wild challenge. He was only booked, though. The game, at this point, was perhaps getting slightly bad tempered.
Again, Aberdeen were pushing forward to attack, and won a corner.
Shinnie, talking of previous physical goings on, was getting stuck in, with a series of fine, meaty and full on challenges.
Captain, Ryan Jack, passed the ball to keeper Joe Lewis, taking the sting out of a Ventspils attack.
Taylor, once more, came in with a hefty tackle. No reprimand, though.
Uvarenko clasped his hands onto an incoming shot, sucking it up and avoiding any damage.
McLean was taken off, with Jayden Stockley coming off after 68 minutes.
Reynolds punted the ball out of danger when, frustratingly, Lewis was right behind him, waiting to make a safe catch.
He'd only be on the pitch for three minutes, but Stockley smashed the ball into the back of the net, heading in a Hayes cross.
1-0 Aberdeen – after 71 minutes into the game!
Hayes was, again, an instigator, bombing down the wing and earning Aberdeen a corner. Goal number two came soon after, with Rooney latching onto that very corner and stroking it in only four minutes after the first.
2-0 Aberdeen!
Aberdeen, however, soon conceded a corner after their backline were thrown into relative disarray.
Hayes, prominent as ever, forced a corner with an expert ball down the left channel.
A Ventspils player, not long after, needed treatment in his own box.
Stockley then went running, determined to reach the ball, rising to it as it floated down. Real hunger.
Taylor then smashed the ball away when Logan tried to play the ball out of danger. Good to keep it simple, as skilful as Logan is as capable of being.
Wes Burns then came on, replacing talisman Rooney coming at 89 minutes. This the former's Aberdeen debut.
Four minutes additional play was called.
Then Burns' head met a McGinn cross after 91 minutes.
3-0!
Definitely a tale of super subs, with Stockley scoring three minutes after coming on. Burns went one better, scoring within two minutes of coming on. Better late than never.
Final score:  3-0.