Aberdeen may go out on the away goal rule to NK Maribor as it stands, but fought gallantly to equalise, remarks Voice reporter Andrew Watson.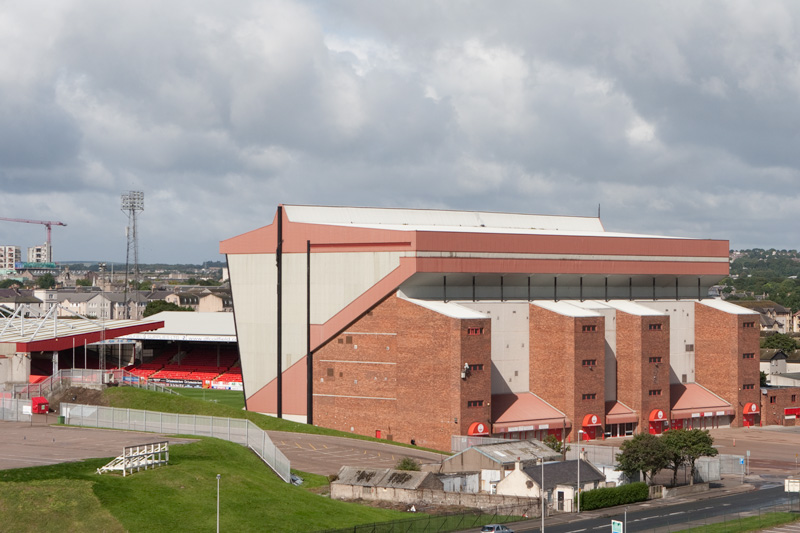 There was fine weather on match night, the sunlight highlighting no imperfections on the pitch whatsoever.
The purple and yellow of the away side perhaps evoked worries that perhaps the Reds were about to face the expertise of a Slovenian equivalent to Italians, Fiorentina.
'Two Tribes', by Frankie Goes To Hollywood, blared around Pittodrie, signifying when two tribes go to war or, roughly speaking, Scotland versus Slovenia.
The opening moments before the game also saw red and silver streamers taken from under seats and risen above heads, making a colourful addition to the Merkland Stand.
A point of note is that Celtic, Rangers and Hibernian have all suffered defeat to Maribor.
Come the match, Aberdeen kicked things off quickly, the ball glancing the post and going out for a corner. Later, they again came in close on goal.
Further to that, the ball was knocked over the bar. Aberdeen definitely a team of intention at this point.
Maribor's Marwan Kabha then went down outside Aberdeen's box, and looked as if he'd been shot.
Captain Ryan Jack weighed in down the other end, winning a corner.
Adam Rooney then forced keeper, Jasmin Handanović, to spill the ball with the strength of his effort.
Jonny Hayes came with a bombing run down the wing, though seemingly got hustled off the pitch.
Rooney, following that, won a free kick outside Maribor's box. The tension was palpable in the Merkland Stand, with clapping of hands and pounding of drum. The free kick in question was a duff one, maybe put off by those very vocal fans?
Anyway, Maribor had a slip up themselves, skying an opportunity to earn a rather easy goal. They then won a corner, followed by another. Aberdeen's Joe Lewis seemed to flake out a bit, and was fortunate not to pay any consequences.
Aberdeen then had a fortuitous free kick, positioned at an angle and just outside and to the left of the box.
Aforementioned diva, Kabha, then got booked. Much satisfaction amongst the Red Army.
Handanović looked, later on, a bit shaky after close quarters with an Aberdeen attack.
Andrew Considine then winged in a ball, the following connection only just off the far post.
Aberdeen then had a melee of chances, just not quite getting there.
Lewis, down the other end, simply opened his arms to receive an incoming Maribor attack.
However, Aberdeen got slack, and were fortunate to live through it unscathed.
Another melee of chances occurred, this time for Maribor.
Shaleum Logan was then caught with an unfortunate handball. He slid with arms out, as done in that motion, flailing slightly as he did so and touching the ball involuntarily. The conceded free kick went over the bar.
Hayes was, again, bombing down the wing but misfired his delivery spectacularly. Not for the want of trying, though.
He later made amends, showing himself as the consummate battler and warrior. Flashes of skill, occasional brilliance, all proving how steadfast an asset he is to the team.
A cheeky moment also saw the winger take ball towards his own half, inciting an attack, before jinking, in an instant, down towards the other end.
Handanović, down said end, made a superb reactionary save to keep Maribor's clean sheet.
Only moments later Aberdeen glanced the post.
Halftime 0-0.
Maibor started brightly, lacing together a series of slick passes.
Lewis then dived to palm out a shot for a corner.
Aberdeen were also fortunate to scurry away the ball before any damage was inflicted.
Jayden Stockley did a fine job holding up play, and winning a throw.
Logan, down the other end, made sure the ball went out for a goal kick, doing his best to get in the way of the Maribor forward.
Hayes, ever present in this game, instigated a foray into the Maribor box.
Lewis then scooped a low drive comfortably.
There were also swift moves by both Logan and the referee himself, Norwegian, Tore Hansen. The latter obviously keen for play not to stop start as the former latched expertly to a tricky ball.
Stockley, surely poised to score, hit the rebound and the ball went out for an unsuccessful corner.
The Red Army were up in arms about liberties taken with a questionable run up taken for a Maribor throw. Thankfully, Hansen whistled to put it right.
Stockley, beginning to get in amidst proceedings, fared with a superb layoff header into the box.
Hayes then had a crack on goal, in towards the post with a low drive.
Niall McGinn also had a, seemingly volleyed, attempt. Not too far off from goal, either.
Ashton Taylor, in turn, weighed in with an attempt of his own.
Hayes, all over the game so far, teamed up with McGinn for a set piece. Aberdeen heads in the box were only scratches away from connecting.
A plethora of purple shirts in box absorbed a subsequent McGinn cross.
Graeme Shinnie was taken off, with Wes Burns coming on after 72 minutes. That same minute, Kenny McLean was put on, with Stockley coming off.
Burns immediately came in with a good delivery, but there was nobody there to exploit it.
Aberdeen were then lucky that a Maribor advance happened to peter out.
It seemed there was reticence on the part of McLean to, next, cost Aberdeen an excellent chance on goal.
The moment came, though, and Rooney scored. A false dawn, however, as this goal was chalked off for offside.
Dreams seemed hammered away, down the other end, as Maribor pounced mercilessly. Taylor seemed largely at fault.
0-1 (Milivoje Novaković) after 83 minutes.
There was a sense that hope was gone, especially when the home side hadn't exploited scoring outwith next week's Slovenian stronghold.
Handanović was in for some punishment, too, though. He dropped to the floor, having saved an Aberdeen lash at goal.
McLean then skied a ridiculous ball, well away from any of his teammates, either in the box or the surrounding area.
Fellow substitute, Burns, took a crack on goal, which seemed easily caught by the aforementioned keeper.
Then came an emphatic equaliser, via previous guilty party, Taylor, from Hayes after 88 minutes.
1-1!
McGinn then fared with a quite a poor free kick, the ball not even elevating above the Maribor wall.
There followed several attempts at goal, Maribor truly besieged.
It will be a tough call for Aberdeen to get any further in this competition, though an exemplary and disciplined performance in Slovenia might squeeze them through. To be fair, this was an excellent team performance, and it was maybe a tad unfair that they lost that goal, considering the onslaught they delivered upon their seasoned opponents.
Final score:  1-1.