The sound of Johnny Cash comes to the North-east in 2015 as Jericho Hill make their long awaited Aberdeen debut at The Moorings Bar on Saturday February 21st. By Al Pritchard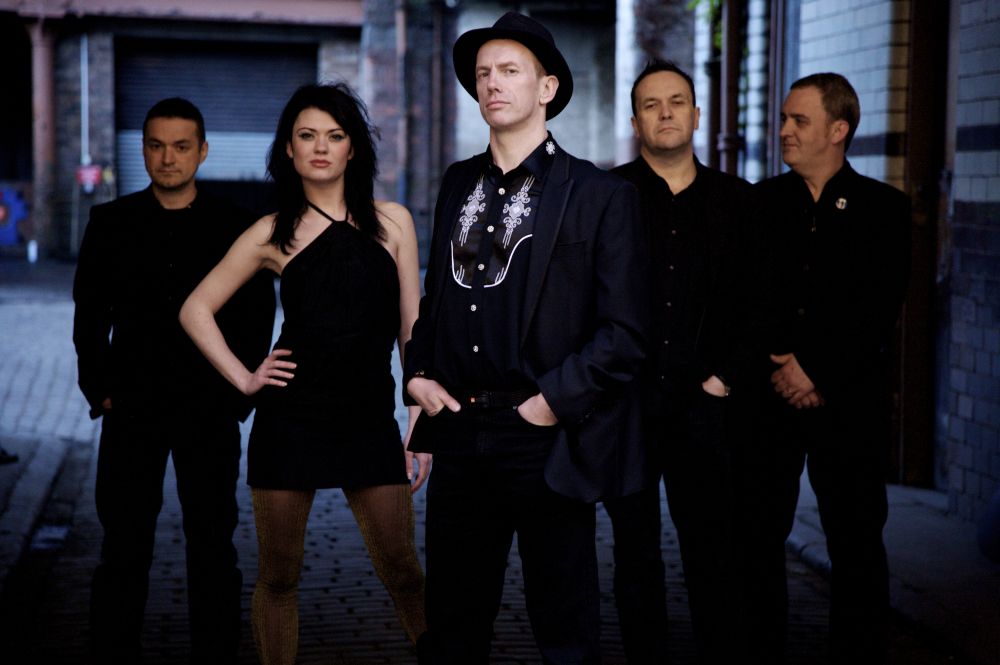 The Glasgow based five-piece have built a reputation as the tribute band for people who don't like tribute bands with their high-octane shows up and down the country. Jericho Hill have notched up a string of prestigious appearances at summer festivals such as Wickerman, Belladrum and Blackpool's annual gathering of all things Punk Rock, Rebellion.
They are regulars at a number of venues across Glasgow and including a recreating of the Live at Folsom Prison LP at The Grand Ol' Opry and a memorable two-show day in the chapel at the infamous Barlinnie Prison.
Since their first gig in 2009, there have been a couple of changes in personnel but the current line-up has been settled for the best part of the last four years, and this gig is a bit of a homecoming for two of the band's members.
Leader, and the band's very own Man in Black, Bill Wright will be fondly remembered by Aberdonians of a certain vintage as Lonesome Cowboy Bill, who, as the name suggests could be found in bars and clubs across town in the late 1980's playing a set comprised entirely of Hank Williams and Johnny Cash numbers to the assembled throng, and also had a spell with The Rodriguez Brothers with Dave Wilkinson of local punk dignitaries Toxik Ephex.
Bill's first recruit, and the only other member of the current line up to have played in the band's first gig in Glasgow's Nice 'n' Sleazy, is Joe Whyte. Joe has provided lead guitar styling in a number of bands over the years, including Jailhouse (with current Jericho Hill bassist Rab Christie), The God Fearing Atheists and Reaction.
With a lovely line in Western shirts, brothel creepers and feverish fretwork, Joe was immediately sold on the idea of a Johnny Cash tribute band by Bill's insistence that Mr Cash was indeed the original punk rocker.
The second returning son is drummer Al Pritchard. His first gig with the band was in mid 2009, but he will perhaps be more familiar to the Aberdeen crowd from his time on short lived early 90s acid house casualties, Thirteen. This will be Al's first appearance in Aberdeen since Thirteen's legendary Xmas Eve show in the Pelican Club in 1999.
Bassist and chief joke writer is Rab Christie. He and Joe were both members of the aforementioned Jailhouse. As well as having made an appearance at Aberdeen's Cafe Drummond, Rab has also appeared at both The Albert Hall and The 100 Club with Al Pritchard as one seventh of the now defunkt proto-folk combo The Boppin Heads.
Filling the June Carter role, and lowering the average age of the band quite significantly is the wonderful Charlene Boyd. Star of stage and screen, Charlene's infectious enthusiasm is an essential part of the Jericho Hill sound and they would not be the band they are without her.
Make no mistake, this is not cabaret. No slavish copying for this band, they prefer instead to dial up the Man in Black's inherent punk energy and attitude, for a blistering show covering his entire career. From the beginnings with the Tennessee Two, right through to the American Recording sets of Cash's later years, Jericho Hill provide something for everyone, provided everyone doesn't expect to sit down and nod their heads gently.
Get up. Get Rhythm, Get down and get with it.
Comments enabled – see comments box below. Note, all comments will be moderated.