At this time of year homelessness and hunger hit the vulnerable particularly hard; even in our prosperous city there are rough sleepers and people with issues who need help. The generosity shown by those who donated and volunteered at this year's Rucksack Project will go a fair way to help. Suzanne Kelly dropped off her goods, and spoke to the volunteers.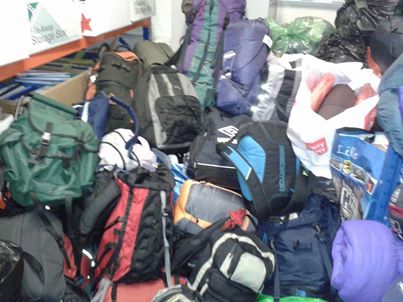 On Saturday 6 December people converged on the Cyreneans' facilities at 62 Summer Street to donate rucksacks filled with essentials – warm clothing, food, hand warmers, toiletries and more.
Over one hundred rucksacks were collected; these will be handed out to the homeless. Excess packs will be handed out later in the year- and it is not too late to donate.
People currently living rough in Aberdeen are people who have fallen on hard times for numerous reasons – loss of job and home, substance abuse issues, mental health problems, marital break-ups and ex-servicemen.
Depute Chief Executive, Scott Baxter spoke to Aberdeen Voice; he and his team are greatly appreciative of the generosity shown.
He explained that each day on average 35 people come to 62 Summer street for food, to wash, to do their laundry, and crucially for help in getting back on their feet. He led a tour of the facilities. It is clear the Cyreneans are doing a great deal of good work – but they can always use more help, more goods, more volunteers and more resources.
Anyone who finds themselves homeless should report in the first instance to Aberdeen City Council by visiting Marischal College, stating they are homeless and need shelter.
The Rucksack project is a worldwide movement born out of the simple idea to help those sleeping rough during the freezing winter months. The idea behind the rucksack project is simple, participants are asked to provide a rucksack and fill it with items which rough sleepers can use.
Ideal items include a sleeping bag, roll mat, waterproofs, warm clothes, thermals, hat, gloves, scarf, hand warmers, flask, underwear, mini first aid kit, toiletries tissues, lip balm and instant food – i.e. soup and noodle packets. There is no expectation to fill a rucksack with all these items, this is merely a guide as to what would be helpful.
Comments enabled – see comments box below. Note, all comments will be moderated.