By Renee Margaret Slater.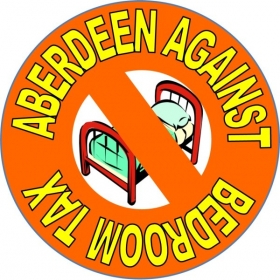 The 'In-Tent On Action Against the Bedroom Tax in Aberdeen' at Union Terrace Gardens event is to highlight the plight of those faced with paying the Bedroom Tax in our city. We want the event to emphasize what may happen to public parks when tenants are faced with eviction due to housing debts.
The Bedroom Tax has been brought in by statute to charge people who have spare bedrooms, who are on Housing Benefit and reside in social housing.
Those people in such properties will have money deducted from their benefits – 14% for one bedroom and 25% for more than one.
This legislation discriminates against those disadvantaged through low wage and those who are unemployed. 'In-Tent on Action Against the Bedroom Tax in Aberdeen' will highlight what could happen when those who cannot afford to pay the Bedroom Tax are evicted from their homes.
This government wants tenants in Housing Associations & Council Housing (i.e. not private) who are on Housing Benefit to downsize to smaller properties. There aren't the smaller properties for families to move into. This situation is common throughout the UK. One of our members in Aberdeen Against The Bedroom Tax has acquired information from ACC on the actual waiting figures regarding one bedroom properties in the city.
The number of people on the waiting list for one bedroom properties is 3,855. The number of one bedroom properties available to rent is 89.
Something is definitely not adding up here. This situation is repeated throughout the UK.
In-Tent on Action Against the Bedroom Tax in Aberdeen is supported by a large group of people directly affected by the consequences of the legislation, plus Aberdonians not affected but disgusted by the effects of a government that has no concern about the outcome of its benefit cuts on the poorest sections of our community.
Unlike the poll tax that affected everyone – this Bedroom Tax legislation only affects those on housing benefit residing in Social Housing.
Moving To Other Premises:  One of our members who has an autistic son – has been told by Aberdeen City Council that she must leave her 3 bedroom house in Torry to move into 3 bedroom premises in Manor Avenue. There is no logic here. Apart from the massive upheaval it will bring for her and her child, she still has to pay the bedroom tax, only it will be without family and friends' support.
We have one major obstacle to overcome. We are faced with government propaganda machine that brands ordinary people on benefits as scroungers. They have a 'Jeremy Kyle' attitude to claimants that assumes that 'everyone is on the take'.
Discretionary Housing Payment is to help those who have paid for the Bedroom Tax from their general benefits – money that is used for food, clothing, travel etc. Discretionary housing payments are worth only a small fraction of the total cut in housing benefit and are often only temporary, meaning problems can go unresolved. In Aberdeen, the City Council has decided not to repay the money to people affected but to add the cash to their Council Tax.
Many people who have to pay the Bedroom Tax are now in arrears with their rent. Once tenants are in arrears they are excluded from the exchange list and therefore cannot move to smaller properties. A vicious cycle ensues, forcing tenants into making painful choices.
This legislation has forced people to juggle paying rent and buying food for their children. Many have resorted to food banks.
We wish to ensure that ordinary citizens in Aberdeen are not fooled by a Coalition Government which accuses friends and families of 'ripping off the taxpayer'. For every so-called scrounger there are 9 others suffering from this insidious Bedroom Tax. The In-Tent on 'Action Against the Bedroom Tax in Aberdeen' – in UTG' is an opportunity for Aberdonians to see for themselves what may happen when we begin to see our parks occupied by ordinary people who have been evicted due to arrears.
Our protest is a message to both Aberdeen City Council and the UK Torry LibDem Coalition – Do not be complacent – your legislation WILL force families onto the streets!
Those expected to turn up on Saturday 24th August are people already paying Bedroom Tax, Those In arrears due to Bedroom Tax and supporters who see their friends and neighbours suffering from this insidious legislation.
This will be a peaceful and symbolic gesture from the people of Aberdeen in support of those affected by the Bedroom Tax. Similar actions are happening in over 30 cities throughout the UK.
We request that people be peaceful & to keep the park clean. We expect tents, gazebos, food parcels soup kitchen & some musicians. There should be speakers explaining the effects of the Bedroom Tax on the population. There will also be stalls with information..
 'In-Tent on Action Against the Bedroom Tax in Aberdeen'
 Union Terrace Gardens, Aberdeen
 24th August 2013
 12 noon – 8.00pm
Comments enabled – see comments box below. Note, all comments will be moderated.