With thanks to Aberdeenshire SNP.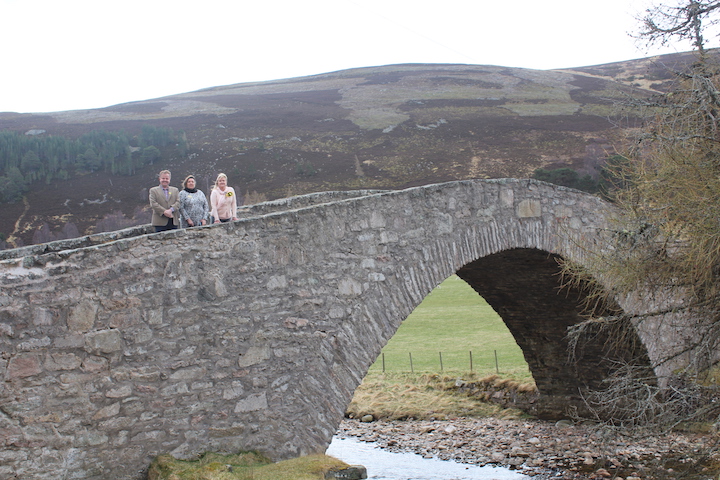 Aboyne, Upper Deeside & Donside SNP councillor Geva Blackett has written to Aberdeenshire Council's Director of Infrastructure Services, Stephen Archer, requesting that the cost of a functional bridge on the A939 at Gairnshiel is built into the council's Capital Plan as a matter of urgency to save the Grade 1 listed bridge currently in use.
In her letter, Cllr Blackett says:
"Almost exactly five years ago, this beautiful bridge was closed for some weeks to allow extensive – and expensive repairs – to take place and not for the first time.
"The resulting 40-mile detour caused chaos for motorists and had a severe impact on the fragile economies of Braemar, Ballater, Strathdon and Tomintoul.
"Now we find that despite the 18 ton weight limit imposed, even more expensive and extensive repairs are required in the near future and as traffic increases with the Snow Road linking Grantown to Blairgowrie gains in popularity, so too will the need for major repairs as the bridge is no longer fit for purpose"
Cllr Blackett's letter points out that when the current bridge was built after the 1745 Jacobite uprising to form part of the Military Road, cars, coaches and 38 ton lorries did not exist.
"Imagine for one moment a Chippendale chair" continues Cllr Blackett's letter
"You would not allow the public to continually sit on it and break it; you would say that people can look at it and admire it but if they want to sit down they should use the functional chair placed alongside. The same argument should be applied to this bridge which plays an important part of our built heritage, is of historical importance and could be a tourist attraction with picnic tables and proper parking"
Cllr Blackett's case for an adjacent bridge is supported by a candidate from Perth & Kinross and by a candidate from Moray, both of whom have written to Aberdeenshire Council.
Alison Mullholland standing for Blairgowrie & the Glens Ward in Perth & Kinross said:
"I understand that historically, repair work necessitated by previous damage, took some weeks to be completed. During which time, the resulting forty mile diversion curtailed the number of tourists travelling along the A93 through Glenshee to Blairgowrie and west to Kirkmichael and beyond.
"Therefore I would strongly support consideration of an adjacent replacement bridge, thus facilitating the repair and subsequent preservation of the beautiful and historical Gairnshiel Bridge, whilst allowing all forms of traffic access via the new bridge."
Angus Anderson standing for Moray's Speyside Glenlivet ward said:
"The purpose of my writing to you today is to make you fully aware of the significant financial impact businesses in Tomintoul and beyond will suffer should the bridge have to continually close for repairs. One business owner advised me that over one hundred and fifty coaches visit his shop each year and virtually all of them arrive via the A939 from Aberdeenshire.
"There is also obviously a preservation and historical concern given the bridge's age and status and I would urge you to consider that too. I support Councillor Blackett's request that a new bridge be factored into the Capital Plan and thus reassure the businesses in Tomintoul and beyond that Aberdeenshire Council is taking a long term and pragmatic approach to the importance of this bridge to the Snow Road route."
A 60 second video by Cllr Blackett is also being released on social media.
Comments enabled – see comments box below. Note, all comments will be moderated.