There are sure to be fireworks when leading Newcastle blues group the Lyndon Anderson Band conclude Aberdeen Blues Club's 2011 season of shows at The Blue Lamp on Saturday 5 November.  With thanks to Chris Simmonds.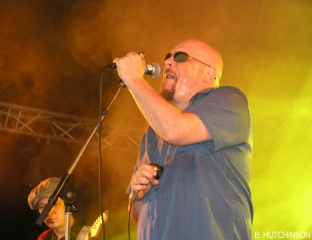 When it comes to blues, this vibrant and exciting 4-piece band has all bases covered.
Whether it`s 1950s Chess classics, New Orleans funk, Texan blues shuffles, West Coast swing or their own well-crafted material, they play it with style, authority and taste.
Harmonica player Lyndon Anderson is regarded as one of the UK's very best and his deep soulful voice evokes the Mississippi cotton fields rather than industrial Tyneside.
Lyndon's band members are seasoned veterans who have come through the ranks of Newcastle rock, blues, soul, punk and rockabilly bands and share their frontman's vision.
The band has released two highly acclaimed CDs to date – Take My Order and The Groove-O-Matic Sounds of The Lyndon Anderson Band.
Support is provided by local 4-piece The Malpaso Gang, who play a mixture of old-style country and blues. The band won the award as Best Band in the local Fudge Awards last year whilst their lap steel player Son Henry has won Best Instrumentalist at the UK National Blues Awards two years running.
Doors open at 7:30pm with the first act on stage at 8pm.
Tickets priced £6 are available in advance and will be available on the night at £8.
For further info:
www.l-a-b.net
www.themalpasogang.posterous.com