Two brave, possibly crazy, volunteers from Aberdeen have decided to take part in the annual Mongol Rally by driving a car from the UK to Mongolia for charity. These two heroic souls are Brian Youngson and Pete Harper, both members of local band Deadloss Superstar.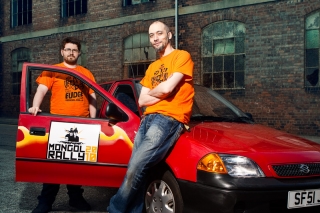 So what has inspired a student and a gig promoter to take part in such an exciting, yet dangerous challenge? Aberdeen Voice's Ross Cunningham met Brian, intrigued to find out more.
''A number of us had been talking about this for a couple of years, but in the end, only two of us had the inclination to sign up for a cross-continent, 10,000 mile rally, sleeping in a tent for 5 weeks, where GPS is banned and the car engine is limited to 1.2 litres. It's the kind of stupid task you see on Top Gear, Long Way Round and suchlike. It makes you think it would be amazing and how you'd love to do it. Now we are.''
Surely such a journey will have major logistical hurdles to overcome? Brian explained these hurdles and his and Pete's plans to overcome them.
"The visa process has been laborious to say the least. Russian internet sucks and I don't expect the border crossings will be any better. We'll have a stash of American dollars for when palms need greasing.
"Logistically, I'm putting a lot of thought into how many cigarettes I can carry across borders,'' he joked. ''We may run out of food, petrol and water, but I have no intention of running out of cheap Asian cigarettes.
"We're crossing three deserts and various mountainous steppes, so both blizzards and 50 degrees heat are likely. I haven't even driven in the last five years! Also, I haven't changed a tyre yet. And to add to that, I don't speak Russian. In many ways, we're completely unprepared, but that's the fun of it.''
As far as the route goes Brian and Pete intend to leave the UK via Calais, heading through Belgium and Germany to the Czech Republic. There are start lines in the UK, Spain and Italy, so the rally organisers have organised a big knees-up in a castle in Prague where all the rally teams will converge for a big meet and greet.
"After that, we're left entirely to our own devices. The route for the next 9000 miles or so is entirely down to us. We intend heading for the Black Sea, passing through Austria, Slovakia, Hungary, Serbia, Bulgaria and Romania.
"Then it's on to the Crimean peninsula in Ukraine, through Russia and Kazakhstan, down the eastern edge of the Caspian Sea into Turkmenistan, before we head east into Uzbekistan. You may recently have seen reports of half a million Kyrgyzstanis seeking refuge in Uzbekistan from ethnic violence at home. We drive back into Kazakhstan, itself the size of western Europe, and re-enter Russia en route to our final destination of Ulaan-Baatar in the east of Mongolia.
''So, all that stands in our way are the Gobi, Karakum, Kyrylkum and Muyunkum deserts, a major area of political unrest where people are being killed, a couple of mountain ranges, 'the North Korea of Euro-Asia' and our complete lack of technical knowhow or first aid. And then there are the wolves, bears, scorpions, tarantulas, black widows, the Mongolian death worm, giant monitor lizards, cobras, vipers, malaria, rabies, bubonic plague and several huge countries where AK47s outnumber the population two to one. And all of this with no back-up whatsoever from the organisers. We're on our own after we leave Prague.
"We also fancy visiting the burning gas crater in the Karakum desert which has been on fire for 40 years after an oil rig fell into a huge natural cavern of gas. We'll be passing through the area of Kazakhstan where the Soviets tested 2000 nuclear devices – apparently it's quite safe now, as long as you're just passing through! I like history, so I'm looking forward to seeing the Silk Road, Samarkand, Burkhara and ancient desert cities, and to tracing the footsteps of Ghengis Khan and Alexander the Great. Pete wants to go hunting with Golden Eagles which sounds like fun too."
Of course, all this effort is for a reason and Brian and Pete are raising money for three Mongolian charities and Cancer Research UK.
"The Mongolian charities are Mercy Corps, which supports rural families by setting up schools, playgrounds, and youth centres and helps women into employment, Children And Young People's Protection and Development, who come to the aid of children at risk of abuse or exploitation by providing vocational training, health services etc and the Christina Noble Children's Foundation, which will use funds from the Mongol Rally fund a traditional nomadic Ger village to house abandoned and homeless children.
"Amidst high profile earthquake appeals, it seems the plight of the Mongolians has been forgotten. They are currently enduring one of the worst winters so far this century, caused by the dzud phenomenon where dry summers which prevent sufficient grazing are followed by severe winters of below -50C. It's estimated that 3 million livestock will die by June, devastating for a county so heavily reliant on cattle, horses, sheep and yaks.''
It all sounds like an amazing adventure, but most importantly, how far do they believe they will get and would they remain friends?
''I'm sure there'll be points where we'll want to kill each other, and I'm sure we'll miss our girlfriends a wee bit. Plus, there are only so many times you can do the toilet at the side of a road in one lifetime. On the other hand, we might break down before we leave France, in which case we'll just have to head home with our tails between our legs. But at least we'll have given it a go, which is more than any of you lot did!''
Thanks to Brian for taking the time to answer our questions. If you would like more information on their adventures or would like to make a donation to some very good causes, then check out www.teamfudge.com