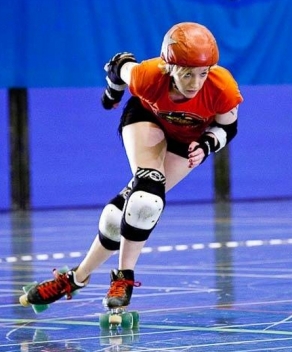 By
Fred Wilkinson.
The Olympic Flame will be carried through Aberdeen City on Monday 11th June, arriving in the City around 6.25pm at Peterculter, and making it's way to the Castlegate via Milltimber, Cults, Mannofield, Holburn Street and Union Street.
Among the runners will be Scotland Roller Derby international and Aberdeen team captain, Carolyn Mackenzie, who will run with the flame around 6.33pm from a section of the A93 near Coronation Road to the Milltimber Village sign.
Having previously published articles on Europe's fastest-growing sport, Aberdeen Voice were delighted to hear of Granite City Roller Girls being represented in the ceremony and eager to know how Carolyn was feeling about her involvement.
"I am absolutely thrilled and overjoyed and really looking forward to the event." announced Carolyn proudly.
 "Part of the reason why my application was successful is the work I do with Aberdeen's only Roller Derby league – Granite City Roller Girls. We are a nationally competitive league which was established in 2008 and we have been competing since 2010."
Carolyn was originally nominated through the Diet Coke campaign by an ex-skater, Jenna Hunter, in recognition of her commitment to raising the profile of Roller Derby as a sport, and for her motivational role in the local team. In addition to the captaincy Carolyn also has the role of Head of Training for the team.
Carolyn explains:
"I am always looking for ways to put power into the team and try my best to inspire others to achieve their full potential. I'm forever scouting the internet, watching national and international teams and watching the regional play offs in USA online to keep up to date with the newest strategies.
"I'm also forever trying to persuade coaches from other successful leagues to train with us and trying my best to attend boot camps. On top of this I like to look up to other established full contact sports to see why they have become so successful and trying to do the same for our team and Roller Derby ."
In recognition of her hard work and commitment, Carolyn was one of two Aberdeen skaters selected to compete as part of Team Scotland at the inaugural Roller Derby World Cup in Toronto last December where the Scots finished 11 out of 13.
Carolyn commented:
"The World Cup was an eye-opener as some of the girls who were competing on the USA team have been skating longer than I have been alive! We also beat Brazil and Argentina to secure 11th place, something many Scottish teams can't boast"
Carolyn will not be alone as she takes her turn carrying the Olympic flame on Monday. Fellow Roller girls are understandably proud of Carolyn's achievements and are excited at the prospect of cheering her on along the route.
Team-mate  Kirsten Reid told Aberdeen Voice:
"Granite City Roller Girls are immensely proud of Carolyn, one of the privileged to have been selected in this once in a lifetime experience of carrying the Olympic Torch.
"Carolyn is an inspiration to all her family and friends with the achievements she has made in the last year. With all the hard work and dedication to her sport, this is a lovely way for Carolyn to be rewarded. Well Done Carolyn, carry that torch with Pride, you deserve it and we love you."
Carolyn added:
"A lot of them are coming to line the streets to watch my run which is pretty emotional. We are a tight-knit group, and the team has gone though such a tough time so far in 2012 that it's so nice to have something positive to do.
"Everyone is really happy for me. Some lucky souls are away on holiday at the time and will be watching me from Spain and USA."
It has indeed been a tough few months for Roller Derby in Aberdeen. At the moment, GRCG  have no venue locally to compete.
They were housed at the Beach Leisure Centre for over a year, and hosted many national leagues there, competing with teams from as far afield as Leicester.
The first ever Scottish Tournament was held at the BLC back in 2010. However, early this year the BLC refurbished its flooring, and despite no damage having been caused by the skaters, they were informed that we could no longer use the venue.
Having explored many alternatives including schools, colleges and Aberdeen Sports Village, GCRG are still trying desperately to secure a suitable venue in order to continue developing the local league and the sport in general. Carolyn fears that the situation could have a profoundly negative impact on the future of the sport locally.
"The members and volunteers of Granite City Roller Girls have built this sport up from nothing, and being a relatively new and misunderstood sport we have struggled to reach the level that we are at today.
"Roller Derby is a recognised sport and follows rules and infrastructure like any other sport. There are rumours that our governing body the Womens' Flat Track Derby Association will be creating a European League in the very near future and our aim is to be able to one day compete in it.
"Without the experience that competitive play brings (and the funding that spectator fees generate) there is a very real possibility that the momentum behind the team will cease and the game will keep rolling forward without us. "
Roller Derby is played on an oval track, with a 10 ft clearance zone around it. Adding areas for spectators and team benches the space required for Roller Derby is the equivalent of a double sports hall – 8 badminton courts – 1221m2- circa.13,000 sq.ft.
The existence and availability of such spaces is only part of the problem faced by GCRG, as Carolyn  explained:
"We have been making enquiries into warehouse spaces around Aberdeen, but with Aberdeen being the Oil and Gas Capital of Europe, these spaces all come with a price, and a not-for-profit organisation like ours just cannot compete with Multi-National Companies.
 "Our dream is to have such a space though and we believe it is possible.
"Apart from a warehouse, any venue with wooden or concrete flooring of this size will be suitable. I know there are some schools that have sizeable halls but whether they are as big as we require is a different story.
"As members of Aberdeen Sports Council we have been given some excellent advice on approaching potential new venues which includes talking to schools which is something we are very keen to do."
If any one has any leads or knows of some way they can help they can contact carolynmackenzie@hotmail.com or use the  www.granitecityrollergirls.org contact form.
Footnote:
Roller Derby is a full contact sport played on quad roller skates – predominantly by women. It is played on an oval track, each team can have 5 players on track at any given time – 4 blockers and 1 jammer.
The jammer wears a star on her head and her role is to score points by passing each blockers hips. The blockers role is to prevent the other team scoring points by physically blocking the jammer and also to assist her own jammer in scoring points by blocking the opposing blockers. It's one of the few games where offence and defence are played simultaneously.
More about Roller Derby here.
Want to wish Carolyn well? Ideas regarding a possible Roller Derby venue? Use the comments box below. Note – All comments will be moderated.