By Fred Wilkinson with thanks to Christine Wilkie.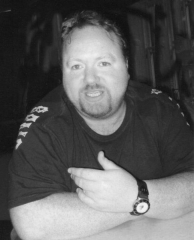 The Final Solution to the problem of Evil is a thought provoking and, in parts, controversial examination of the role of religion, faith, relationships and politics in modern day life. Two years after the authors tragic death, the piece has been released as an e-book by Chipmunka publishing.
David Alexander Edward Murdoch, born in Aberdeen on 21st January 1965,  was diagnosed with manic depression (bipolar disorder) at the age of twenty-one.
Davie, as myself and many others knew him, was a widely known and popular character who, despite his own difficulties, displayed a friendly and caring nature towards others around him. As fortune would have it, I only ever caught up with and spent time with Davie when he was 'in good form' and therefore have only pleasant memories of time in his company, and never fully appreciated the devastating impact of his mental health condition.
Never afraid to speak his mind, conversation with Davie could be surprising but always stimulating, and whether through his subtle sense of humour, or in focussed discussions, his need to question and to look at things from different angles always brought something fresh to our exchanges.
Davie had difficulty accepting that he had an illness. However, the condition dominated his life until his tragic death by suicide in Aberdeen on 23rd November 2008.
The Final Solution to the problem of Evil was inspired through his studies in Theology and his constant questioning of the meaning of life, the relevance of religion in today's world and his often controversial views on day to day politics.
Unfortunately, Davie did not consider the piece to be finished. A short time before he died, he had written more on his computer which was misplaced during his last bout of mania. Perhaps we will never know what he really considered to be "The Final Solution to the Problem of Evil"
Chipmunka Publishing specialises in books, multimedia, music and art from themental health and well being community with the aim of giving more people a voice and changing the way the world thinks about mental health.
For more information on The Final Solution to the problem of Evil, click here.
Also by David A. E. Murdoch – Flying My Own Plane