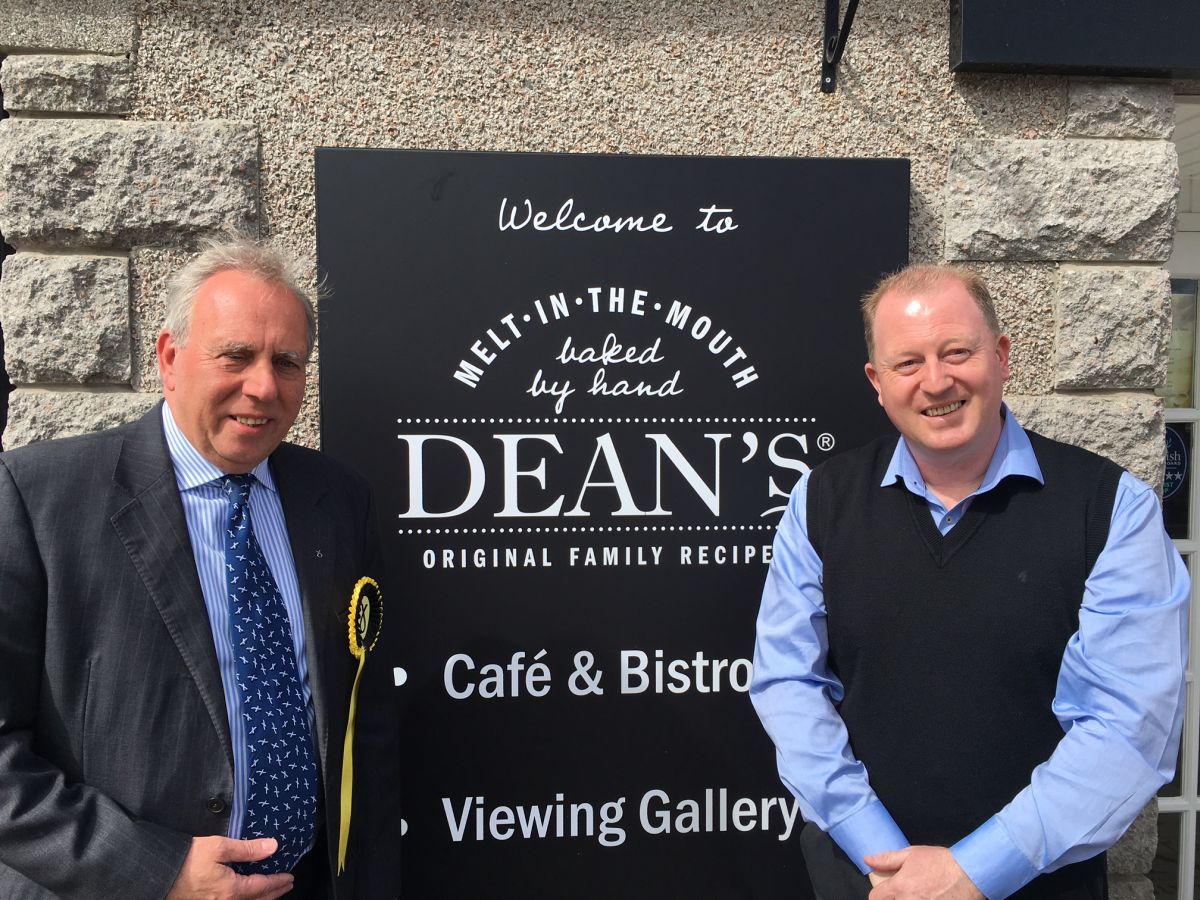 With thanks to Paul Robertson.
Two renowned Huntly business​men have given their backing to the SNP's Dennis Robertson to be re-elected as Member of the Scottish Parliament for Aberdeenshire West.
Dennis, 59, was elected to represent the Aberdeenshire constituency in the Scottish Parliament in 2011.
He has campaigned passionately for local small businesses, most recently the businesses that have been affected by the flooding in Ballater.
​Visiting local businesses on the campaign trail with local MP Alex Salmond, Dennis has now received the backing of two well known local businessmen.
Bill Dean is Managing Director of Dean's of Huntly, who have been baking traditional shortbread since 1975 and now export to over 30 countries around the world. Bill Dean is backing Dennis to be re-elected as MSP for Aberdeenshire West.
He said:
"Over the last 5 years, Dennis has shown himself to be dedicated and passionate about making our communities a better place to live and work. 
"He has always been prepared to listen to me as a local business owner and on a number of occasions, has stepped in to help and support our business.
"That's the kind of dedicated local MSP that Aberdeenshire West needs, and I am pleased to give Dennis my support."
James and Irene Shearer together run the Huntly Vehicle Care Centre on Old Toll Road. The owners of the family-run​ garage and coach hire ​business are also supporting Dennis Robertson's campaign to be re-elected as MSP.
​James Shearer said:
"​The SNP in Government has done so m​uch for small businesses like our own. The Small Business Bonus Scheme has taken pressure off our business and the money saved has enabled us to invest and expand. 
"We are also a family owned business – and it is really important to us that the future of our business – our son, Alan –  benefitted from a free university education. Our daughter had to pay the graduate endowment and I know that only the SNP will ensure that there is no return to fees for university education which places such a burden on families and our young people."
​Welcoming the support, SNP Candidate for Aberdeenshire West Dennis Robertson said:
"I am delighted to have the support of Bill Dean and the Shearer family. ​These businesses are the lifeblood of our communities and that's why the SNP has prioritised support for small and medium businesses. 
"If re-elected, I pledge to work just as hard for small businesses in communities across Aberdeenshire West to help them grow and expand."
Comments enabled – see comments box below. Note, all comments will be moderated.
[Aberdeen Voice accepts and welcomes contributions from all sides/angles pertaining to any issue. Views and opinions expressed in any article are entirely those of the writer/contributor, and inclusion in our publication does not constitute support or endorsement of these by Aberdeen Voice as an organisation or any of its team members.]