11 February, 2015: Former Aberdeen City Chief Executive Valerie Watts, is called as an important witness in a Standards Commission hearing taking place in Aberdeen's townhouse. Seven elected councillors are accused of using council facilities for political ends concerning a letter sent to residents. Despite a month's notice of this hearing, despite agreeing to participate (and the ability to join from Northern Ireland via video link), Watts fails to join.
Watts gives the excuse that she has a meeting with the Permanent Secretary in Stormont which clashes with the hearing. The Aberdeen hearing is thus stalled.
Aberdeen Voice researched Watts' diary conflict claims, and learned there are :  "…no records held in the Department that indicate that Valerie Watts had to attend a meeting on 11 February 2015." (letter to S Kelly from the Department of Health, Social Services and Public Safety 19 March 2015). So why didn't she participate in the hearing when she had previously agreed to do so? Suzanne Kelly reports.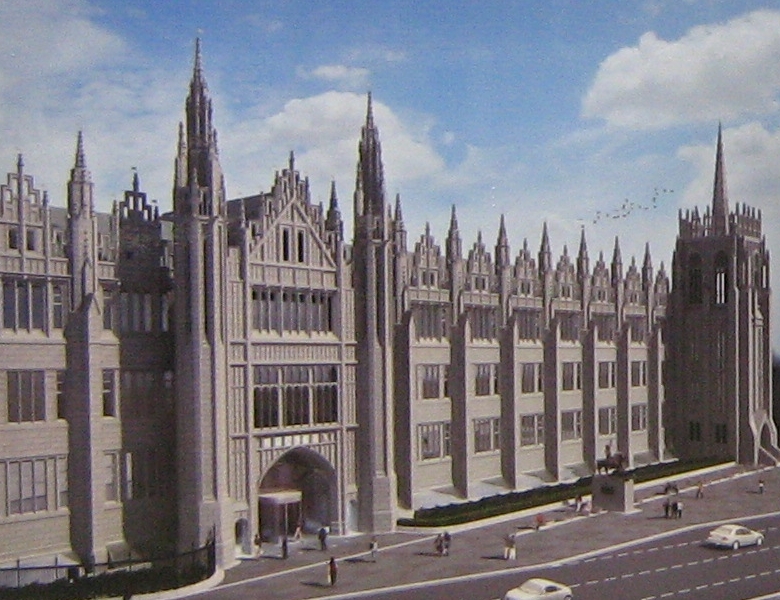 Background
During the independence referendum,  Aberdeen City Council sent a letter to city residents advising them the council had voted to back the 'No' Vote.
It was a heated time; many residents were angered, feeling the city should not have mentioned the referendum issue at all.
The Standards Commission decided that a hearing was required into the matter, and on 11 February 2015 it summoned many of those involved to a hearing at the Town House.
The city's legal advisors, officers and elected councillors (several of whom were the subject of the hearing) all turned out as requested.
One of the Commission's witnesses was to be Valerie Watts. Watts had been the £148,000 per year Chief Executive of Aberdeen City Council; the hearing expected her to participate via a video link. She had after all indicated her willingness.
Watts did not appear at the hearing. She called off, apparently claiming she  needed 'to meet with the Permanent Secretary' on the day instead. Watts is back in Stormont where she earlier worked, now in The Department of Health, Social Services and Public Safety. There was apparently very little notice given to the hearing organisers, and no explanation of why a video link was not viable.
With no testimony, the matter is unresolved – no one is cleared, no one is exonerated. The ball has been kicked into touch – until after the elections in May. Considering the hearing was to be into whether or not council materials had been used for political purposes, the hearing's delay  until after the election seems rather ironic.
The local newspaper the Evening Express reported:
"The hearing was due to run for three days but has now been deferred as former chief executive Valerie Watts, who was to give evidence via video link from Northern Ireland, cancelled at the last minute as she had another meeting.
"Ian Gordon, the hearing chairman, called her late call-off "disrespectful" and "bordering on contempt".
"Ms Watts could not be reached for comment."
The Evening Express' sister  paper The Press & Journal confirmed this excuse involved the Permanent Secretary:
 "After the morning session, Ranald Macpherson, representing the Commissioner for Ethical Standards in Public Life, said Mrs Watts had been called away "to a meeting with the permanent secretary""
When Ms Watts refused to explain this scheduling conundrum, freedom of information requests were launched. When did she know about the hearing?
witnesses were expected to attend by agreement
When did she know about the apparent clash with the Permanent Secretary's meeting?
Does the Permanent secretary call last minute ad-hoc meetings?
Why wouldn't Watts simply have explained to the PS that she was expected to join a hearing in Scotland by Skype on the 11th February? Was there in fact a clash at all?
As further information is released shedding light on the matter, it looks as if the excuse given for this disrespect has been somewhat disingenuous, perhaps even misleading.
Invitation to a hearing.
Aberdeen Voice has obtained documents which seem to clearly indicate that Watts had a one month advance notice of this meeting, and she appears to have agreed to give her evidence by video link. The office of the Commissioner for Ethical Standards in Public Life in Scotland advised Aberdeen Voice on 16 March:
"Arrangements for the hearing were made by the Standards Commission. Although the Commission has power to require the attendance of witnesses, the position in this case was that witnesses were expected to attend by agreement. This office was responsible for the arrangements made with Valerie Watts. Any communications with Valerie Watts was both by telephone and by email… 
"Ms Watts was given one month's notice of our intention to call her as a witness at the hearing on 11 February 2015. Ms Watts agreed in telephone conversations in advance to give evidence by video-link at 4pm on 11 February 2015.
"Ms Watts was informed on 12 January 2015 that she was required to give evidence at this hearing."
(email to S Kelly from the office of the Commissioner for Ethical Standards in Public Life in Scotland
Meetings with the Permanent Secretary
Of course now that Watts is back in Northern Ireland, she must prioritise her engagements, and meeting the Permanent Secretary would be an important meeting.  Watts could reasonably have been expected to tell the PS's office she had a long-standing agreement to give evidence at a hearing.  Whether or not the PS knew of the hearing is still unclear.  What is clear is that this is the official list of engagements involving Watts and the PS as supplied following a FOI:
"Permanent Secretary meetings in 2015 that Valerie Watts was invited to attend:
Weekly Thursday morning meetings, 9am – 10am, with other attendees, (exceptions of 15 & 22 January and 5, 19, and 26 February), organised by telephone in advance;
14 January, 10am, without other attendees, organised via telephone;
22 January, 2pm, with other attendees, organised via e-mail;
23 January, 2:30pm, with other attendees, organised via telephone;
23 January, 3:30pm, with other attendees, organised via telephone;
13 February, 12:30pm, with other attendees, organised via telephone; and
3 March, 9:30am, with other attendees, organised via telephone.
"As per your e-mail of 4 March 2015, confirming that you were content that your request for a review of DHSSPS/2015-0017 be treated under the response to DHSSPS/2015-0026, I can confirm there are no records held in the Department that indicate that Valerie Watts had to attend a meeting on 11 February 2015. 
"However, on receipt of the original enquiries from you, Valerie Watts was given the opportunity to comment (see her comments above). Copies of the e-mails are attached for information. Her response in no way had any bearing on the previous response to you."
(letter to Kelly from DHSSPS 19 March 2015).
This crucial, not to be postponed or missed appointment with the PS comes two days before the scheduled 13 February meeting they would have seen each other at. The mysterious 11 February meeting with the PS for which the hearing was in effect jilted came 18 days after the two had last met on 23 January.
For this meeting to have trumped the Aberdeen hearing and yet not have made it onto any record supplied under Freedom of Information requests is remarkable.
If there is no record of Watts being required by the PS on the date of the Aberdeen hearing, and also having a meeting with the PS on 13 February (these meetings do not seem like rare affairs), either there was no meeting, or whatever business was to have been discussed by Watts and the PS on 11 February was not as important as the Aberdeen hearing, set one month in advance.
Watts the story?
Watts was asked by her own department to help them answer freedom of information questions about her non-appearance;  her suggested response includes:
"1.  The Department of Health, Social Services and Public Safety hold no records in relation to this matter." and "The Chief Executive of the Care Board for Northern Ireland carries the unique responsibility for the prioritisation of commitments in relation to the responsibilities of her current post." (emails supplied under FOI).
(For the record, it is clear from other correspondence received that information as to meeting schedules is held)
A few questions for the witness.
It would be interesting to know who in Watts' new role in Stormont knew of her hearing appointment.
If so, when did they know about it? Who was involved in deciding to skip the Aberdeen hearing:  i.e. did the PS tell her to skip the hearing, or did she decide to skip the hearing without consulting anyone? Was this newly-scheduled PS meeting of such urgency that it meant a video link to the hearing was totally impossible? If so, who took that decision?
How much public money was spent on the derailed hearing is unknown – transport, accommodation, civil servant's time – would be among the costs incurred; perhaps we should be told.
Summing up
Given various previous bumps in Ms Watts' tenure as Chief Executive in Aberdeen (see https://aberdeenvoice.com/2014/03/valerie-watts-long-thanks-for-errr/ ), perhaps the various Standards and Ethics bodies may wish to turn their attention in her direction?
Comments enabled – see comments box below. Note, all comments will be moderated.
[Aberdeen Voice accepts and welcomes contributions from all sides/angles pertaining to any issue. Views and opinions expressed in any article are entirely those of the writer/contributor, and inclusion in our publication does not constitute support or endorsement of these by Aberdeen Voice as an organisation or any of its team members.]