By Andrew Macgregor.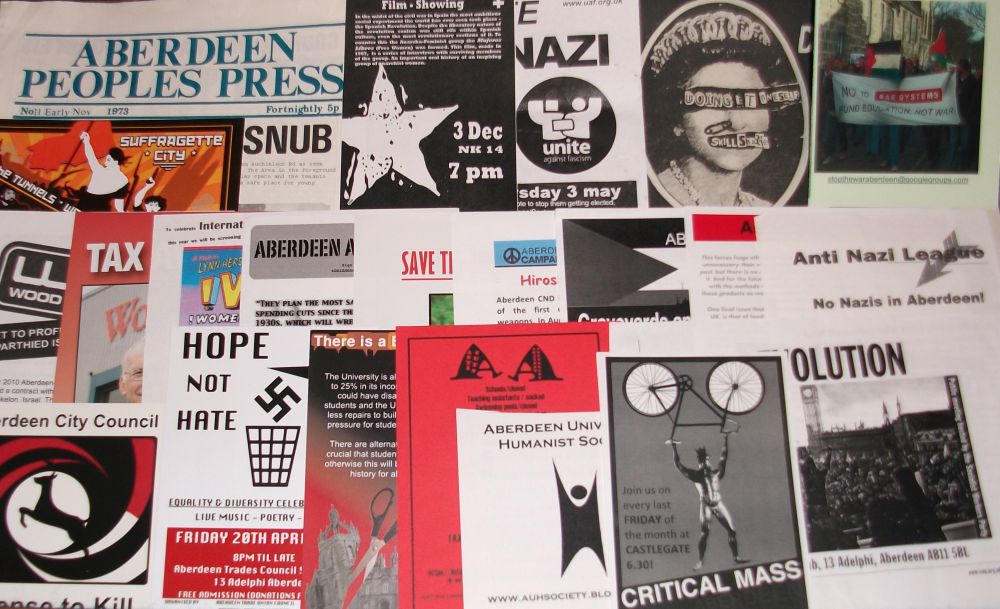 A new website which aims to tell the history of protest in Aberdeen has been launched.
The resource features potted histories of individuals, groups, community spaces and co-operatives which have campaigned on various issues – economic, military, political or religious.
Most of the individuals and groups are from the left of the political spectrum but others have been non-political and protested about specific local issues.
There are groups which are branches of Scottish or British organisations, yet others which are just local to Aberdeen. Lastly, the groups are not just historical as current groups are included as well. The website also has a directory of active local groups, a list of further web and printed resources and information on a current campaign for an Aberdeen Social Centre.
This resource has been created in order that these campaigns are not forgotten. The stories are part of Aberdeen's history and although individuals and groups may be long gone, their influence still lives on in their writings, speeches and actions. The importance of the documentary record is emphasised as well, as any archival sources created by the campaigns are noted in the histories.
Currently around 40 histories, ranging from the 19th century to current, have been added to the website and just one example is:
"The Aberdeen University Peace Society existed between 1912 and 1914 with the aim of encouraging critical debate on the subject of war and the possible ways it could be prevented. Lectures and discussions included topics such as war and social evolution, international courts and how economic ties could bind nations together. The life and death of the Society's secretary, William Henry Sutherland, illustrates at once the fate of the Society and the tragedy of war. In March 1913 he had enlisted in the 4th Gordon Highlanders and in October 1917 after many years fighting at the front, he was mentioned in dispatches and was awarded the Military Cross. He tragically fell in action soon after, on the 23rd March 1918."
– Sources: papers held at University of Aberdeen Library. Minute book from 1912 – 1914 and a journal called 'Concordia' from 1913.
There will no doubt be gaps in information as research on this type of subject is very difficult due to the paucity of documentary sources. If it is difficult, perhaps even impossible, to trace the existence of the more radical political groups farther back in time (due to government suppression as just one example) and it can be just as difficult to capture the protest groups of today as they organise via social media and often leave no record.
I hope though that this resource will grow as others (perhaps those who were involved in the campaigns) fill in the gaps in the research.
The website address is – http://aberdeenprotest.wordpress.com/
If you were involved in some of these campaigns or have more information which you think would help me please get in touch. Also if you are interested in helping in the setting up of the social centre please contact Andrew MacGregor
Comments enabled – see comments box below. Note, all comments will be moderated.