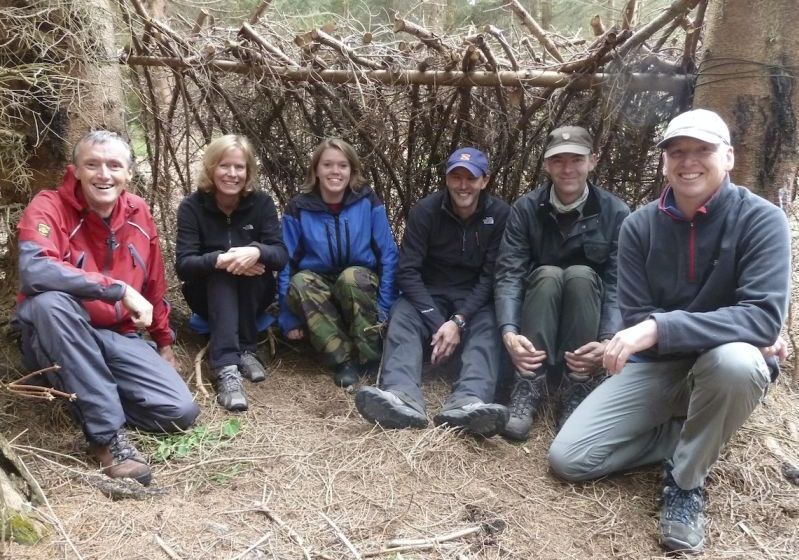 With thanks to Jennifer Kelly.
This July, Help for Heroes Recovery Centre, Tedworth House in Wiltshire, will welcome environmental education charity Wild things! as they run a nationally accredited training programme for wounded, injured and sick serving and veteran members of the Armed Forces.
The course was developed by Wild things! founder and executive director, Jennie Martin in consultation with staff from the University of the Highlands and Islands, and the John Muir Awards scheme.
The Woodland Activity Leader Training programme is a nationally accredited qualification that gives participants the confidence, skills and qualifications to teach environmental education and Bushcraft skills to others. It is also a wonderful opportunity to learn outdoors in a natural environment for the wounded, injured and sick service personnel.
In their first collaboration with the nationwide charity, Wild things! will deliver the six day Woodland Activity Leader Training programme to 10 participants through Help for Heroes.
Tedworth House is one of four Recovery Centres run by Help for Heroes, which aims to inspire the wounded, injured and sick and returning veterans to lead active, independent and fulfilling lives, which will enable them to reach their full potential and to support them and their families for life.
It is a place of opportunities providing education, training, sport and adventure in a relaxed, understanding and caring environment. State of the art facilities and dedicated staff aid the road to recovery.
Tedworth House Centre Manager Giles Woodhouse comments:
"The Woodland Activity Leader Training will be incredibly beneficial for the wounded, injured and sick individuals taking part. This kind of training opens doors to new interests and opportunities that those we support may not have considered before. We are truly excited about the opportunity to work with Wild Things!"
Based in the idyllic conservation village of Findhorn in the North East of Scotland, Wild things! offer a variety of inspiring wilderness and nature experiences for all ages and abilities, regardless of learning, physical and financial challenges.
Charity founder Jennie Martin says,
"We are delighted to be able to offer this exciting course to such an worthwhile organisation as Help for Heroes. Our Woodland Activity Leader Training is jammed packed with information and experiences that leave our participants skilled up, confident and excited to lead adventures in our fantastic UK woodlands."
Info re. Help for heroes – 
Help for Heroes offers comprehensive support to those who have suffered life-changing injuries and illnesses whilst serving our country. This is provided through grants to individuals, other Service charities, capital build projects and our four Recovery Centres across the UK which will offer support for life.
The money raised by the hugely generous public has been used to support our wounded, but there is still so much more to do. Soldiers, sailors and airmen who are injured today will still need our support tomorrow and in the days that follow, for the rest of their lives. They are still battling and we won't let them battle alone.
Comments enabled – see comments box below. Note, all comments will be moderated.