By Bob Smith.
"Music has charms to soothe the savage breast" – So wrote the 17thc poet William Congreve.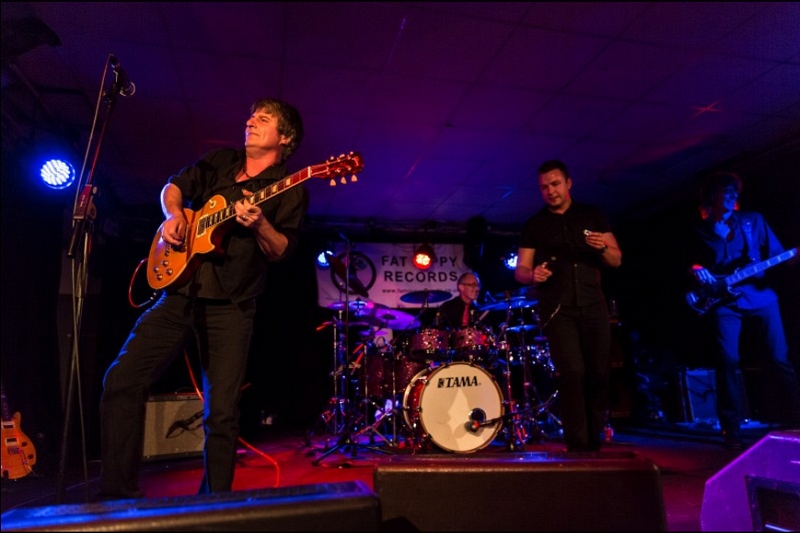 Music his the ability tae calm ye richt doon fin ye git yer knickers in a twist. Masel if a git trachelt or upticht a relax bi lis'nin tae a bittie o Beethoven or Mozart, or sometimes Japanese or Native American flute music. Bit aabody's different an as lang as the music his a calmin enfluence it disna maitter fit ye listen tull.
A dinna cum fae a musical faimily tho' ma faither fin his airm wis twistit cwid drag a gweed aneuch tune oot o the melodeon.
As for masel a'm disappyntit noo aat a didna cairry on ma accordion lessons fin a wis a loon,bit a didna gyaang back efter haein ma appendix oot. Still a can jist aboot manage a tunie on the moothie, an am fair tae middlin on the kazoo an the Jews harp.
A confess tae likin maist types o music fae Sibelius tae the Scottish Celtic folk-rock band Skerryvore tho' am nae aat fond o punk, rap an modern jazz an lis'nin tae music played a big pairt in ma life fin a wis a loon an it still dis. Ilka Setterday nicht we wid sit roon the wireless an fair enjoy Scottish Dunce Music on the Scottish Hame Service.
Ma faither an me wid hae freenly discushins aboot faa hid the best band Jimmy Shand or Jim Cameron. Tho' a did like Shand a hid a preference fer Jim Cameron. A think it wis the playin o Dod Michie on his cornet fit clinched it fer me. Ma mither likit Housewives Choice an Music While You Work an a learn't aa the latest tunes an sangs bi lis'nin tae the Licht Programme afore it chynged tae BBC Radio 2
Music cairry't on in ma teens fin a learn't the airt o duncin in the village halls o Echt, Garlogie an Skene tae the music o Bert Duff's Band  an Mary Milne's Band tae name bit twa, syne twa quines fa work't wi me in the offices o the S.A.I. perswaadit me tae gyaang wi them tae the duncin in Aiberdeen.
So a coontit masel lucky tae be  able tae dunce tae music fer the Gay Gordons an a Eichtsome Reel on a Friday nicht an Quicksteps an Slow Foxtrots on a Setterday nicht, firstly in the MacRobert Hall at Robert Gordon's College (MacRobs), syne at The Beach Ballroom an The Palace.
Nae contint wi the music a heard on Friday an Setterday nichts a jined the Abergeldie Jazz Club fit eence wis doon in the Hardgate an ilka Widnesday nicht wid jive awa tae the resident band o Sandy West or listen tae weel kent guest bands. Kenny Ball, The Clyde Valley Stompers, The Alex Welsh Band an Terry Lightfoot and his Jazzmen aa pit in an appearance at the Abergelgie.
A hinna a great voice bit a hiv bin perswaadit noo an agin tae sing
Noo a coont masel affa lucky tae hae bin in at the stairt o the "Rock 'n Roll" era, an fin a hid some spare siller wid buy the latest hits o the likes o Elvis, Little Richard, Jerry Lee Lewis, The Everly Brothers or Chuck Berry.
So far as a'm concerned pop music stairtit tae gyaang doonhill in the 70's tho there wis a fyow exceptions, like Queen, The Eagles, Dire Straits an Status Quo.
Folk music fae aa ower Britain and the USA aye wis o great interest tae me speeshally the protest sangs o Woody Guthrie an Pete Seeger richt throwe tae early Bob Dylan.
Noo some fowk micht nae agree wi ma opeenion aat Bothy Ballads or Cornkisters cum unner the heidin o folk bit a leuk on them as bein the folk sangs o N.E. Scotland. A hinna a great voice bit a hiv bin perswaadit noo an agin tae sing the likes o "Nicky Tams" or the "Muckin o Geordie's Byre" at faimily waddins. No am nae takin ony bookins!!!
As a grew aulder a stairtit tae appreciate the soonds o classical music. Nae the heavy stuff like Wagner mair yer licht classics bi Beethoven an Mozart or late 19thc/early 20thc composers like Edvard Greig or Frederick Delius. There's nithing better than pittin on the heidphones an littin yer myn relax tae Beethoven's "Pastoral" Symphony or "Morning" fae the Peer Gynt Suite No 1 by Greig.
A've afen bin ask'd fit ma faavrit piece o music or sang is. There is a gweed fyow aat wid qualify bit tap o the pile maun be aat Scottish quine Eddi Reader singin "My Love is like a Red Red Rose" screived bi the man himsel Rabbie Burns.Een o the greatest love sangs ivver  if ye ask me.
So there ye hae it – "music has the charms to soothe the savage breast" accordin tae Congreve or as Wullie Shakespeare wrote, "If music be the food of love, play on".  So far as am concerned baith chiels war richt.
Comments enabled – see comments box below. Note, all comments will be moderated.