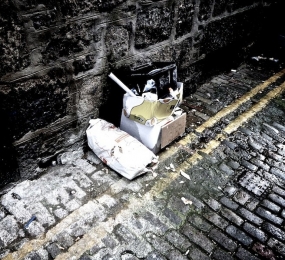 By
Bob Smith.
Neist time yer doon in the cinter o Aiberdeen jist hae a wee keek at the filthy state o the pavements. Fit ye'll see wull fair scunner ye.
Chuddy, fag eyns, bitties o polystyrene, pyocks an at the wikk-eyns lots o spue. Noo fin fowk are in their ane hames am bliddy sure they widna chukk ony o iss stuff doon on the kitchen fleer or in the livin room.
They'd maist likely git a richt owergaan fae their mithers, better-haafs or pairtners an telt ti pit it in the waste or kitchie bins, so fit wye div a nummer o orra tykes fling aathing doon on the grun fin there's waste bins about ivvery 50-75 yairds or so on the pavements o the main streets.
If fowk wint tae hae their daily "fix" o the nicotine drug aats their business, aa jist wid ask them nae tae leave ahint their discardit bitties o "needles". A maan say a fin it keerious fin fowk huddle aroon the doorwyes o their placies o wark even if it's cumin doon hailwatter an puff awa like choochin billies, syne throw their tabbies doon near the doorwye fin they cwid stub it oot an tak it back inside an pit it in a  waste backet.
Lazy buggers the lot o them!!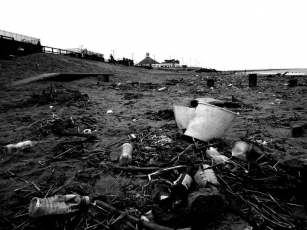 A sometimes think  the hail o Aiberdeen's chuddy chawers maan walk up and doon Union Street, either aat, or a gang o pinters wi  dreepin tins o emulsion. The amoont o fite splatches on the planesteens is myn bogglin.
Eence mair a pit iss doon tae sheer laziness cos they canna be ersed leukin fer the nearest waste bin or they're ower bliddy thick tae ken ony better.
As ma mither wid hae said, "They're showin their upbrochtness".
Fin it cums tae the bitties o polystyrene an pyocks, iss is aften doon tae skweelkids faa aet on the hoof. Noo some o them hiv gweed intinshuns an bung the mait containers an pyocks in the airt o the waste bin, bit mair than afen miss. The win dis the rest.
Some fowk blame the faist grub placies, sweetie shoppies, an fag sellers fer aa iss mess bit it's nae them faa fling fit they sell ye doon on the pavement!!
Fit ye fin on the planesteens  an in shop doorwyes efter a wikk-eyn o binge drinkin bi the young an the nae sae young wid hae an auld spinster fintin on the spot.
Lots o spue, used dick hats, signs o piss, even the odd pair o knickers. Noo I hinna  bin brave aneuch ti stroll doon Union Street or aroon the ceety cinter on a Friday or Setterday nicht fer 'ears an 'ears bit a hiv aa iss on gweed authority fae  a younger freen faa noo an again his a dander aroon at the wikk eyns.
We keep hearin Aiberdeen maan move intae the 21st century. If we canna tidy up oor act maybe it's time we turn't the clock BACK. 
Comments enabled – see comments box below. Note, all comments will be moderated.