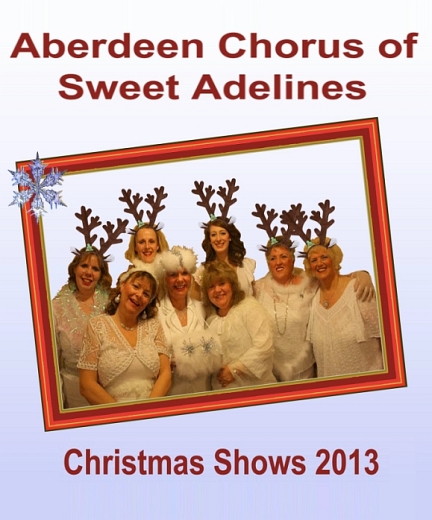 With thanks to Linda Allan.
A few weeks ago The Aberdeen Chorus of Sweet Adelines had to come to terms with two devastating blows. Not only was the weekly rehearsal venue no longer available but that this also meant the loss of a venue for one of the Christmas Shows.
So the search began to find new premises – not an easy task when the Chorus numbers seventy five ladies and the group also requires storage space for items such as electronic equipment and large complex tiered staging.
Despite this major disruption to the normally smooth running of weekly rehearsals, the Chorus has risen to the challenge to produce a Christmas Show again this year.
You will even have two opportunities to hear this talented six time gold medal-winning Chorus – on Friday 13 December at 7:30pm in Peterculter Parish Church and on Sunday 15 December at 2:30pm in Queen's Cross Church.
Gwen Topp, the Chorus Director, has once again demonstrated her considerable creative talent and artistic expertise to take the planned show and modify it for a new venue.
"Our Aberdeen audiences have supported us so well in the past.  We couldn't let them down this year!" said Gwen.
This show is wonderful seasonal entertainment, suitable for all the family and all ages.  There will be traditional Christmas carols as well as other Chorus favourites, all sung a cappella with sparkling four part harmonies and lots of fun.  If you look very carefully, you may even catch a glimpse of some frisky wee reindeer and see some nifty hoof-work!
Thanks to Sport Aberdeen, The Chorus has now found a temporary rehearsal venue in the Westburn Park Bowling Club Lounge in Aberdeen and meets there on a Monday evening at 7pm.
All ladies are very welcome to come and meet us, as we are always looking for new singers.  Meantime the difficult search continues for a permanent home and we look forward to announcing this on our website in due course.
Contact Info:
Linda Allan.
Marketing and Publicity
Aberdeen Chapter of Sweet Adelines International Corporation
Registered as a Charity in Scotland number SCO44140
Email: Linda Allan  or  Mob 07590690392