The twists and turns in the ongoing Trump Scotland saga continue.  Campaigners and residents  celebrated when they learnt of the recent decision to defer a retrospective planning application the Trump organisation had applied for.  An Aberdeenshire council spokesperson contacted Aberdeen Voice with a statement  which now has to be retracted, as the spokesperson made an error.
Likewise, Aberdeen Voice's Suzanne Kelly needs to retract an error:  she thought the spokesperson, Gordon Lyon, had retired following a call to Council offices over a year ago.  It is time to look at these retractions.  Could one of these mistakes actually have the germ of a great idea in it?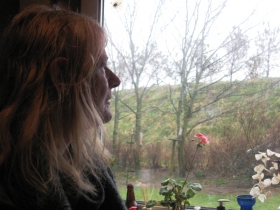 For some reason the Shire's planning officers recommended retrospective approval be granted to the Trump organisation at Menie – and not for the first time.
An application relating to parking and the bunds by Leyton Cottage sat for some 8 months with no apparent action.
Then towards the end of March, planners changed the application – less than a week before it was suddenly announced the committee would vote on the matter on 26th March.
An eagle-eyed local campaigner spotted this situation, and lobbying began.
On previous occasions retrospective approval was sought for work already carried out which was contrary to the approved plan – and such permission was normally granted.   Against that background residents and campaigners were dismayed when the 8 month-old retrospective application in question was altered (new items were added, and an apparent contradiction was identified) and recommended for approval.
None of those who had formalised their objections were notified of these developments.  Most did not hold out much hope there would be anything but approval.
Perhaps it was the lobbying; perhaps the influence of the film 'you've been trumped'; perhaps it was the 18,000-plus petition signatories demanding a government public inquiry – but the Committee deferred their decision.
Campaigners were delighted that commonsense prevailed in this case, even if it was only a deferment; it was still a decision not to take the planning officer's recommendation to approve.  Approval would have meant the bunds blocking light and views to the Munro's cottage could have stayed put.
These bunds serve absolutely no essential purpose, but have instead changed the family's quality of life for the worse.  Soil and sand blows from it into their property, damaging their plants and blowing into their house.  It has even damaged their car engines.
Following the Committee's decision on 26 March, I received an email from Council spokesperson Gordon Lyon, which I quoted in an article concerning the (welcome) decision of the Formartine Area Committee to defer any decision on the retrospective planning permission it sought at Menie.  (The article can be found here; it will soon have a comment retracting the erroneous statement made by Lyon:  ).
Gordon Lyon's email to me read in part:-
"the application was deferred to allow a site visit and a public hearing. (there was no vote – the action was agreed by committee). The date and time of both will be arranged in due course."
Sadly, part of the happiness at this decision and the Council's statement above will be short-lived.  Mr Lyon emailed me on the morning of 28th March with this correction:-
"entirely my fault, but there was actually no decision to have a public hearing in relation to Menie – this was in relation to the application for the electricity substation at Blackdog – I was dealing with calls from the BBC and others about that while I was trying to write my email to you, and wrongly typed that in my email. 
"The application was deferred for a site visit only. Sincere apologies, it was an error on my part. I hope this doesn't inconvenience you unduly."
For the record I can completely sympathise with Mr Lyon. Mistakes do happen (I will apologise for one in this piece in a moment). However, the importance of this correction is such that simply amending an old article which has been superseded is insufficient to ensuring people know that a hearing is not a condition imposed by the Committee.
However: Would it perhaps be a good idea for people to now lobby the Council that this SHOULD be a condition of any further permission?
For the record, David Milne's petition now has over 18,000 signatories demanding a public inquiry into the entire handling of the Trump golf course.  There are many aspects of how this permission to build on the site of two SSSIs, and a paper I wrote outlines some (but not all) of the issues concerned.
It is hoped these issues and many more would be part of the public inquiry, which now seems a certainty due to the strong public feeling and subsequent developments.  (My paper can be found here. )
At present only a few campaigners know that the hearing is not a condition imposed by the Formartine Committee prior to granting the retrospective permission desired.
However, the campaigners I did manage to speak to believe strongly that with all that has happened and with public feeling being what it is, it would only be prudent, fair and reasonable to now lobby for a public hearing and an inquiry to come before any further planning permission is granted.
What is impossible to understand is why retrospective planning should be needed in the first place, let alone be granted.
Historically, the Aberdeenshire council's spokesperson Gordon Lyon assured me that the approved plan was being adhered to, writing this in August 2011:-
"This development is well-scrutinised and the approved plans are being adhered to".
"Site inspections are undertaken on a weekly basis by various organisations to ensure that the development is being carried out according to the planning permission granted."
It soon became apparent to me that deviation was taking place on several occasions – everything from the size of the road sign to the use of culverts instead of bridges, and of course the parking lot, temporary clubhouse and the bunds – all arguably were not as per the agreed plan.
I did try to get clarification; I am still trying.  Initially I phoned the Council some months after receiving the assurances, but I was told over the phone that their spokesperson, Gordon Lyon, had 'gone'.  I tried to find out more; a local told me that Lyon had retired.  I assumed this was the case, as he had gone. I then simply started doing my own research.
I am more than happy to offer my apology to Mr Lyon and the Shire Council; I accept that he has not retired, and I apologise for any inconvenience caused to him, the Shire Council or his family.
Mistakes do happen.  Gordon Lyon's made one; I've made some.  Perhaps turning the Menie Estate over for development in the first place was the biggest error of all.
Comments enabled – see comments box below. Note, all comments will be moderated.