By Andrew Watson.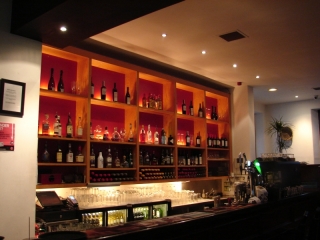 I should probably preface this restaurant review by saying I'm not exactly the most sophisticated of people when it comes to eating palates; and can cook little beyond browning mince, using the microwave and also my beloved Foreman Grill.
However, having been described as a 'steakosaurus' by a good friend of mine, I can smell good food a mile off.
Tropeiro is a Brazilian carvery, and I know little about Brazilian food.  Being a buffet of sorts, £9.95 per head is excellent value for money.
Don't get me wrong, despite my relative lack of sophistication I'm willing to empty my bank account upon high class restaurants; perhaps being under the misguided impression that the more I spend on a steak the better it will be.
My pal and I dropped in on The Olive Tree Queens Road way once, and sampled excellent fillet steak and posh chips akin to what Simpson's offer a quick bus journey away.
Looking at the website, there's an excellent and truly fascinating introduction to this hidden culinary gem of sorts, across from the Music Hall on South Silver Street.  The following perhaps explains the emphasis on flame grilled meat:
The Tropeiros were the first Brazilian cowboys.                                                                                                                                      
"They lived a semi-nomadic life and their adventures produced very brave men that left deep historic tradition in the South of Brazil.
"The name of our restaurant is homage to these men that were brave enough to go to far away lands, bringing the cattle that would feed the miners. In a way we feel the same, as we have come far away from our home in Brazil to bring the Brazilian churrasco (Brazilian barbecue) to you."
Me and my partner in crime (in demolishing the contents of local steakhouses – we successfully shared the now defunct 64oz 'challenge' at Union Square's Spur Steak & Grill)  were suitably impressed with this place.
Maybe not necessarily with the Brazilian accents as we were greeted at the door, probably locally sourced Italians to trick those not deft of the ear… but the food!
When sat at the table, we decided to peruse the salad bar in anticipation for whatever mouth-watering meat would come our way later on.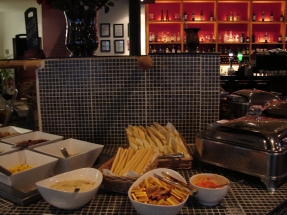 They have cards on the table that operate like traffic lights: green for "more!" and red for "stop, I'm dying"!
No joke, though:  why no amber?  You know, for "I couldn't possibly fit any more on my plate, but please come back when I can"?
Anyway, I approached with trepidation, ventures of the herbivore not really being my thing, and plumped for the rice.  It was rice, wasn't it?
*Pictures 'foodie' heads in hands when telling them it was actually couscous*
Despite my error of judgement, and this will be my only criticism of Tropeiro, my friend reassured me that the couscous shouldn't have been that dry.  A relatively resourceful man, I resolved to coat my deliciously greasy chicken skin with the stuff instead.  Problem solved.
Furthermore, being a place of relatively salubrious intent I felt I couldn't do a KFC and ravage meat from bone, à la tyrannosaurus with allosaur hands.  Steakosaurus.  Thankfully, the chicken came off the bone with relative ease and I maintained my dignity with knife and fork still in hand.  Cooked to perfection!
The sausages were of, I suppose, frankfurter texture, and went down a treat.  The single pork ribs were fine, with knife and fork no match for stubborn meat attached to equally stubborn bone.
Trapped with cutlery glued to my hands by etiquette, situations like this are prone to leaving me angry and frustrated.  In public that's quite embarrassing.  I'm impossible to live with.
All was not lost, though.  The big guns – the beef! – was out.  Pierced by a Saint George sword-esque skewer, the scalp of the dragon, even barely within peripheral vision, was intoxicating.
Picture, in layman terms, a quality beef, rare and bleeding yet thoroughly cooked, rotating in a kebab shop, but cruelly placed well over the counter.  Free samples are out of the question.  You can't pinch a piece without the proprietor seeing.  Damn!
But, snap back to reality (or is it paradise?), as the knight in mucky apron closes in on you with prize vanquished and now vulnerable to taste buds.  Close enough to touch; you salivate like a rabid dog/dinosaur/whatever the hell you turn into when the duty of primordial man calls… it was good!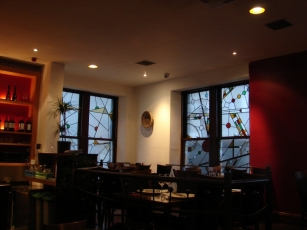 Seriously, I've sunk life savings into places like
Prime Cuts
on Crown Terrace.  I actually regretted it.
Not only did I get a piece of T-bone steak lathered in something approaching sea salt; it dried my mouth, my wallet…waitress even had the audacity to assume my fiver-plus change was a tip and locked it in a box!
The salt content on this beef, though, was perfect.
The seasoning gave me, ahem, a zest for life!  Fantastic.
No joke, I could've cried when my pal, let's call him 'Big Poppa Pump' (BPP), was offered the rest after I'd politely accepted a couple of mere scrapings in comparison.
The next massive beef skewer that came-a-calling was devoured by some greedy buggers at the table behind us.  A table of about eight, maybe a ten guys.  I was ready to fight.
'Big Poppa Pump' noticed my nervous glances and twitching.  Allotted two hours nearly up.  We were asked, as warriors, if we wished to persevere in this quest of primordial man.  Affirmative.
The chicken came next.  Again.  Not interested.  Cue confusion from swordsman, who consults waitresses then shrugs his shoulders.  Through the door and to the chef, he returned triumphant with beef.
I even got BBP's leftover beef, his state of replenishment fit for a king; and frankly my manners don't extend to avoiding eye contact with other people's plates when they're satiated.
Oh go on, then!
This made my day, and I skipped breakfast on purpose in preparation for our date with destiny at 13:30.  That was for 'Lunch' Brazil-style.  I want to sample how Tropiero do 'Dinner' next!