Our News Editor, Gubby Plenderleith, provides a brief outline of some of the main news stories from around Scotland.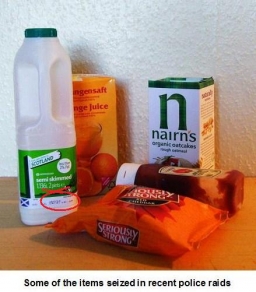 Police raided a further 10 homes in Strathclyde at the weekend as part of a major crackdown on people who are in possession of products which have passed their 'use by' dates.
Officers targeted properties in the Paisley area as part of a second week of strikes on suspected offenders. Two men and a woman have been charged with 'use by' date offences, while a further two women were arrested in connection with a number of offences relating to keeping a dirty house.
Dozens of homes have been raided since the campaign – code named Operation Dirty Minger – began and more than 40 arrests having made over the last fortnight.
Interviewed following the raids the officer in charge, Inspector Malkie McSpankiebot said:
"Some o' they people is pure dead manky, by-ra-way!  One of the wumming involved had a raspb'ry yoghurt in her fridge that was o'er a week past its 'use by' date. 
"Do these folk no' have ony dignity?"
A report has been sent to the Procurator Fiscal and Aggie McKenzie.
*           *           *
Following the recent publication of the business case for Aberdeen's City Garden Project, a local business man has spoken out passionately in support of the development:
"It is my genuine belief that if this iconic development is allowed to go ahead, there will be many tangible benefits far in excess of the estimated 6,500 new jobs and average annual growth of £142m for the city.
"I have spoken to a number of people about the plans and am more than ever convinced that this project could also result in solving the country's current economic crisis, reversing the negative effects of global warming and finding a cure for both cancer and the common cold."
He has asked to remain anonymous in case he is asked to contribute towards the cost of the scheme.
*           *           *
In response to Lord Luvvaduque handing down a 30 year sentence to gangland boss Charlie 'Pit Bull' McNutter at Edinburgh High Court on Tuesday, Johan Lamont has asked Justice Secretary Kenny McAskill what he is going to do about the fact that over 30 of Mr McNutter's employees are now facing redundancy.
*           *           *
Addressing a meeting of the Carnwath Guild of Mothers for Bigger Bridies this week, Secretary of State for Scotland, Michael Moore made his most impassioned plea yet for Scotland to remain within the United Kingdom:
"What you must remember," he said, "is that a vote for independence is a vote that'll put me out of a job!"
*           *           *
Police in Achiltibuie have reported that a 48 year old man has been detained in custody following an incident in the town centre on Wednesday evening.  A spokesman for Northern Constabulary has said that the man cannot be named on account of him being the Chief Constable's brother in law.
*           *           *
Archie McDreich, who stood unsuccessfully as the prospective parliamentary candidate for Auchtertool South at the last general election, has announced that he is giving up mainstream politics and joining the Liberal Democrats.
*           *           *
In the wake of the recent controversy over the proposed visit of the Duntocher Weighwatchers Club to Shetland, Aberdeen Voice can report that NorthLink Ferries have decided to give them a wide berth.
*           *           *
In a recent interview with Hullarrer magazine, Hollywood megastar Mel Gibson revealed that, on principle, he never wears under vests.  A spokesman for Mr Gibson has since denied that the actor is anti-semmitic!
*           *           *
Clarifications & corrections
In last week's edition of Aberdeen Voice we described councillor Tam Sproat as a self effacing pragmatist when we should actually have said is that he is a fat, ugly, moron.  We apologise for our error.