By Sara-Jane Duffus.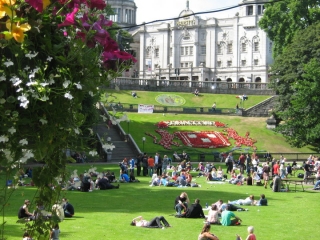 It was astonishing on Saturday (Nov 27th) to be alerted to an article in the P&J actually sticking up for the people of Aberdeen and indeed, our fair city! It's about time too, I might add.
Disappointingly but inevitably it was followed up on Monday with the usual jibes about the minority groups against progress.
For many months now, I've been patiently waiting for someone to explain to me exactly how, at a time when environment is paramount, pouring tonnes of concrete into a space and removing mature trees is progress?!
As a teenager, I couldn't wait to get out of Aberdeen, now I find myself defending it; remonstrating those who call it grey and correcting them, that it is The Silver City, The Granite City. Granite, a massive part of our heritage, although I imagine if I live to my nineties, we will come to be known as The Concrete City.
My anger over UTG goes deeper than the obvious destruction of a beautiful space but I am increasingly frustrated that as the owner of a Grade B listed flat, I have to adhere to rules set by Historic Scotland and ACC about what I can and cannot do to my own home.
Yet the ballustrading and other structures in UT- also listed Grade B- are not afforded the same protection when the offer of a gift of £50million is offered. It should not be one rule of one person and one rule for others.
no sooner is some thing built than it is realised that it's not fit for pur pose, that is of course, if it's ever completed
When I questioned Historic Scotland on this, they said the final say so goes to ACC. So ACC, if you can allow UTG to be filled in, then why can't I have double glazed uPVC windows in my third floor flat that you won't be able to tell from street level aren't wood (but yes, they have forced me to replace my 180 year old windows with today's shoddy version of single glazed sash and case wood numbers) and while I'm at it, can I have a Sky satellite dish too?!
ACC are a hot topic at the moment and whether or not opinion is divided over which pet project, the recurring theme is discontentment amongst Aberdonians.
The other week I went along to the Land Use Forum meeting and listened to what I deemed ridiculous plans for cost cutting. Now, have I been missing something because I've always thought the role of the council was to benefit the community. They are paid to take care of the things the rest of us 9-5ers can't. Nope, the suggestion is for the community-led groups to get together and start running things, on top of that 9-5. I still feel I'm the one thinking logically here but I was met with a bunch of blank faces as if questioning why it would be such an issue for me to be a part of running my community on top of working full time. It was the same blank faces who looked puzzled when I asked what measures had been taken to prepare for another winter potentially as bad as last year.
Wrong again! I think we're all expected to be up early to clear our streets – apparently no one did that last year? I can't speak for the city as I was snowed into Inverurie unable to make it to Westhill for a week but I can assure ACC that my 72 year old father was out clearing our part of the street with our 76 year-old neighbour. I'll point out here that my Dad is a fit man but I don't imagine all retired persons to be able to do this and nor do I think it's too much for them to have it done for them. What exactly are we paying council tax for?! And just in case you're thinking I'm a moany old bat – I'm only 28!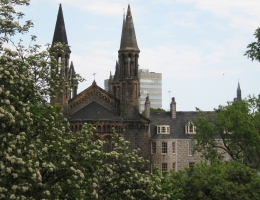 Next, the AWPR.: I was against this for so many reasons but compulsory purchase orders would top my list. Obviously I understand the need to move with the times and for improved roads but it seems that short term solutions are all that ever materialise – no sooner is something built than it is realised that it's not fit for purpose, that is of course, if it's ever completed.
I remember when I was a child and the hugely anticipated Inverurie Bypass was created and I asked my Mum, why have they made it single carriageway when the road either end is dual carriageway?" I'm pretty sure my Mum just laughed and said you'll understand when you're older. Well partly I do because I imagine it was some cost cutting measure or rush to finish the job, perhaps I should find out. But then no, I still think, why did no one think," wouldn't a dual carriageway be beneficial in 15 years time when there will be inevitable population growth and increased road traffic," ?
Any chance there are more of you out there, who, regardless of which pet project you love or hate, are sick of the short term fixes, the constant waste of public money and not being listened to by councillors, miss the Aberdeen that used to win Britain in Bloom for how every many years in a row (no chance now – costs too much to plant flowers), don't want your parks closed and leased out for ground for yet more flats, want someone to ensure your child's safety when they're crossing the road between school and home, would prefer well lit streets so you feel safe and don't want the cemetery you buried your loved ones in to become a local wild life spot.
Well there's a Scottish election happening in May which will change the council rule and then local council elections in 2012. Let's not sit back and hope that the people elected will act on our part, let's elect people who will do the job and if they don't, it's about time we started holding them to account. Take a good look at Aberdeen, do you like what you see or do you think it could be a thousand times better if it were run by people who loved it?!
C'mon Aberdeen, lets stand up and be counted!