The Salmon Bothy, Portsoy, played host to The Hot Seats on Saturday 20 July 2013. Voice's David Innes reviews.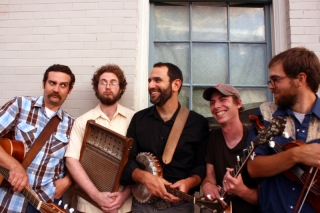 A warm summer evening, the Moray Firth's chill waters lapping Portsoy's pebble beach, a return to beautiful Banffshire, itself the final version of Paradise produced by the deity when the Garden of Eden prototype developed design faults, and The Hot Seats piloting a five-member, six-cylinder old timey hot rod in the rustic loft of the Salmon Bothy.
If Carly Simon did Saturday nights rather than Carlsberg, Nobody Does It Better would be the soundtrack.
Portsoy is blessed. Not only does it have two beaches, a harbour, native rock which is made into Portsoy Marble jewellery and dolphins frolicking in the bay, it is the birthplace and home town of the most talented individual ever to wear the Sacred Red in Eoin Jess. Dexys Midnight Runners' trombonist and affa fine loon, Big Jimmy Paterson, who co-wrote many Dexys' classics including Come On Eileen, is proud to be a native.
It also houses (product placement alert) Donalds' bakery, where the finest, crumbliest, non-homogenised oatcakes in the known universe are produced.
Then the Hot Seats came visiting. The icing on the cake. Look out for it in Donalds' window.
CDs by this five-piece have whetted the appetite for a live performance. Web reviews have impressed. They have spent the best part of a week on the west coast and on Lewis having flown in from Virginia. They will again star at the Edinburgh Festival Fringe where they have won awards and critical praise. They are winning friends everywhere they go.
They did not let us down. During close on two hours they sawed, bowed, flailed, strummed, struck, plucked, thimbled, picked and battered a couple of banjos, a 1952 Gibson L48 archtop, a mandolin, a fiddle and a percussion set which might have been assembled from random components in rhythm man Jake Sellers' garage. One upright bass survived slappings from four different pairs of expert Virginian hands.
Josh Bearman, affable and gregarious, took care of the informative and deprecatory between-song banter, careful to define where each song fitted in the wide spectrum of roots Americana the Seats seized on with flair and obvious enjoyment. Between song announcements – that'll be during the songs then – Josh's dextrous mastery of mandolin, tenor banjo and bass was equalled by the expertise and gleeful attack of his fellow Seats.
We are fortunate to be witnessing a golden age of American old-time music
Ed Brogan, startlingly looking like the 1950s Johnny Cash, dominated centre stage, leading his own wry songs for which the Hot Seats are renowned, taking on the persona of Porter Waggoner during a couple of that giant's 'boozy tavern songs' and harmonising with banjoist/bassman Ben Belcher and Bearman.
Even the poor guy's hay fever was not exempted from Bearman's commentary, 'Ed's allergic to everything but mountain dew and hot dogs'.
With fiddler – and bassist, of course – Graham DeZarn adding emotion, colour and rootsy seasoning to the old timey stew and the rhythmic and trebly percussion of Belcher's 5-string banjo alternatively driving and soloing, it was often difficult to choose where to concentrate visually.
Audience eyes, however, were always drawn back to Sellers, when he wasn't taking his turn on the bull fiddle, as he alchemised rhythmic gold from washboards, cymbals, skins, skulls and thimbles.
And the Seats' three-part harmonies soared over the shore, whether they were kicking around Red Clay Ramblers' covers, innocently intoning the naughty nudge-nudge 'Peaches', letting Ed loose on the mild, self-effacing mock-misogyny of 'I Wouldn't Take Her To A Dogfight' or, sighing through 'Killing Time', confessing that touring is one long excuse to indulge in inactivity.
We are fortunate to be witnessing a golden age of American old-time music, itself a folk music, described best by Josh Bearman, 'where we take an old tune and re-purpose it'. That's why it's timeless.
Thanks to Loudon Temple of Brookfield Knights for arranging Voice's attendance.
The Hot Seats remaining tour dates are:
Tues July 23:   AnTobar, Tobermory
Wed July 24:   Carradale Village Hall
Thurs July 25:   Aros, Isle of Skye
Fri July 26:   The Tolbooth, Stirling
Sat July 27:   Eastgate Theatre, Peebles
Sun July 28:   Harbour Arts Centre, Irvine
Tues July 30:   The Old Library, Kilbarchan
Wed July 31:   The Cat Strand, New Galloway
Thurs August 1:   Biggar Corn Exchange
Fri August 2:   Douglas Robertson's Studio, Edinburgh
Sat August 3:   Douglas Robertson's Studio, Edinburgh
Comments enabled – see comments box below. Note, all comments will be moderated.