By Duncan Harley.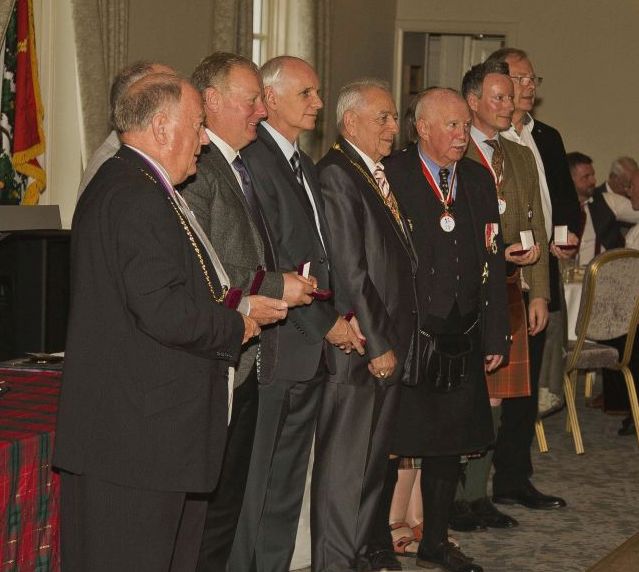 The four-star Maryculter House Hotel was today the venue for the Scottish Samurai Awards. Scotland and Japan have long enjoyed both trade and cultural links – well for just around 150 years in truth.
Japan sent many students to the UK between the late Edo period (1603-1867) and the early Meiji period (1868-1912) in order to explore and import Western technology.
The various international trade exhibitions of the 19th and early 20th Century provided useful platforms for the sharing of both scientific and aesthetic ideas.
Cities such as Glasgow and Aberdeen provided ripe-pickings for the aspiring technologists and alongside acquisition of new skill-sets the two nations exchanged cultural and artistic aesthetics which continue to create broad-ripples to this day.
Japan, of course, had participated in the second Glasgow International Exhibition in 1901.
The Japan Pavilion was located near the main exhibition hall at Kelvingrove and there is a likelihood that Rennie Mackintosh and many other influential Scottish designers of the day would have visited and been influenced by what they saw there.
Some 11.5 million visits were recorded during the eight-month span of the exhibition and surely Mackintosh would have been one of those tempted to return again and again to absorb the sights.
Contemporaries of Mackintosh certainly visited Japan at about this time and Kelvingrove Art Gallery and Museum hold a collection of so-called 'Industrial Art' collected by Glasgow born designer Christopher Dresser who visited Japan in 1876 or thereabouts.
Aberdeenshire, of course, has a splendid claim to the forging of the Scottish-Japanese relationship and one man in particular played a pivotal role. Variously known as the Scottish Samurai or The Scot who shaped Japan,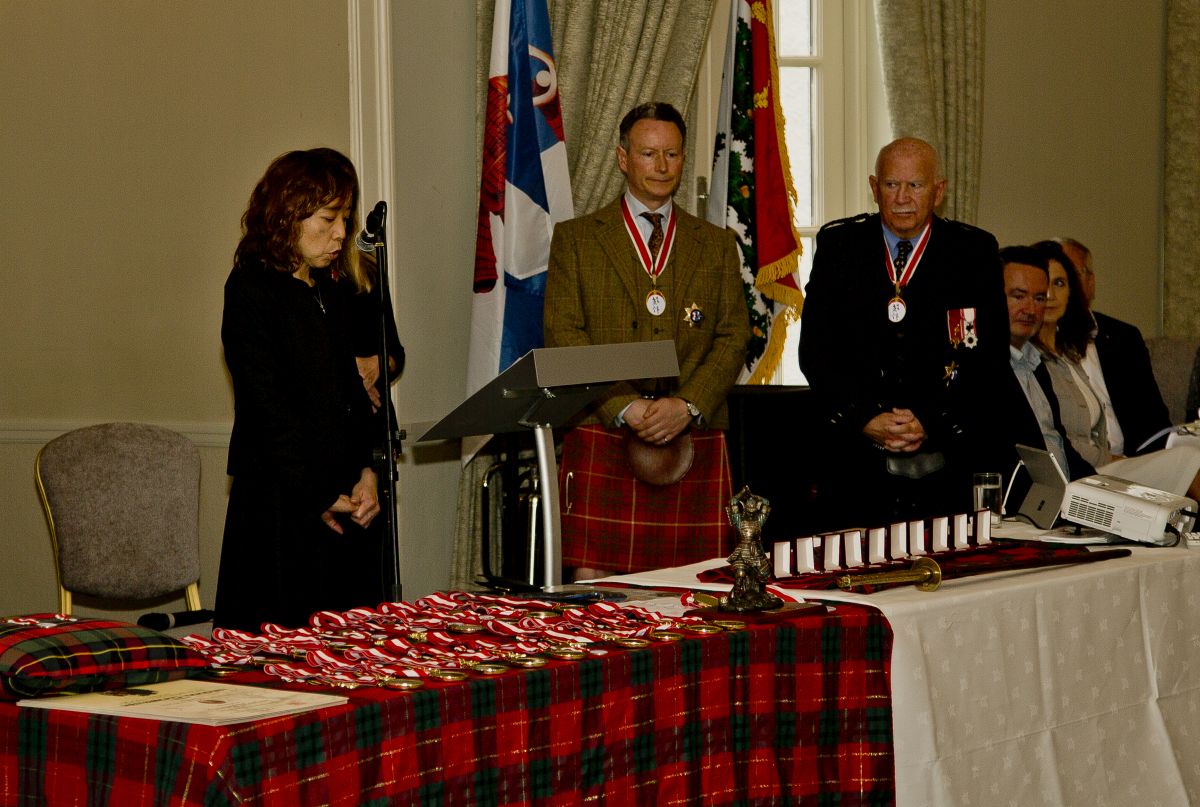 Thomas Blake Glover was probably born in Fraserburgh in 1838. His father worked as a coastguard officer and the family lived at various locations along the Aberdeenshire coastline including Sandend, Collieston and at Bridge of Don.
On leaving school, Glover began work with the trading company Jardine, Matheson & Co and quickly progressed to the Shanghai office before taking up a post in Japan.
His role in Shanghai has often been glossed over in order to present a popular image of Glover as an enlightened trader intent on hauling an impoverished Japan into the industrial age. In truth however, Jardine Matheson & Co were happy to trade in everything from silks and tea to guns and opium.
Glover excelled in his role as trader and alongside making vast amounts of profit for his employer he soon started taking a substantial cut for himself.
His move to Japan, in 1859 age 21, came at a time when various rival clans were warring for control of the country. For more than 200 years, foreign trade with Japan had been permitted to the Dutch and Chinese exclusively.
However, following an episode of gunboat diplomacy in 1853, the US Government had persuaded the Japanese to open trade up with the West.
Glover arrived in good time to use his proven skills to exploit the situation.
Soon he was supplying both sides in the civil war with guns and munitions. Before long he was taking orders for the building of warships, to be built in Scotland, to arm a fledgling Japanese Navy. The market for weaponry however soon became saturated and he turned to mining to maintain his by now dwindling fortune.
Glover is often credited with importing the first steam engine into Japan.
Demand for coal had surged as steamships began to proliferate in Japanese waters. Glover, in partnership with a Japanese clan, invested in developing the Takashima coal mine on an island near Nagasaki in 1868.
The mine was the first in the country to employ Western methods. Mitsubishi acquired the Takashima mine in 1881 in the organization's first main diversification beyond shipping.
Glover is often credited with importing the first steam engine into Japan and being instrumental in the formation of the Mitsubishi conglomerate. Japan also lacked modern facilities for repairing ships. So, Glover imported the necessary equipment for a dry dock in Nagasaki in 1868.
He later sold his share to the government, which leased the dock to Mitsubishi as part of the shipyard in 1884. By 1905 Japan had, according to many accounts, become the 3rd largest naval power in the world.
There are many enduring myths surrounding the life and career of Thomas Blake Glover.
One involves the notion that his Japanese wife Tsuru was somehow the inspiration for Puccini's opera "Madame Butterfly".
There appears to be little substance to this idea. A booklet produced by Aberdeen City Council to publicise the areas links with Glover asserts that:
"the association of Glover Garden in Nagasaki and Madame Butterfly no doubt relates to the fact that American soldiers after the Second World War dubbed the house Madame Butterfly House."
Thomas Glover eventually became famous in Japan and was the first non-Japanese to be awarded the Order of the Rising Sun.
today's event saw some 23 or so Samurai and Shogun awards made to a broad range of recipients
When he died in Tokyo in 1911 age 73, his ashes were interred in Nagasaki's Sakamoto International Cemetery. Fraserburgh Heritage Centre host a permanent exhibition celebrating his North-east links and his former house in Nagasaki attracts two million visitors each year.
Founded and overseen by Aberdonian and OBE Ronnie Watt, the Order of the Scottish Samurai is an award inspired by Blake Glover and those admitted to the Order are encouraged to use the letters OSS after their name.
While Ronnie actively heads the Order, he is supported by patrons, members and recipients – many of whom, such as Lord Bruce and Joanna Lumley take an active interest in the progression of the historic relationship between the two nations.
Opened by Ms Masami Fujimoto, Deputy Consul General at Consulate-General of Japan in Edinburgh, today's event saw some 23 or so Samurai and Shogun awards made to a broad range of recipients.
Two previous Lord Provosts, Margaret Smith and Margaret Farquhar received Shogun awards for services to Aberdeen while Duncan McPherson and Robert Boyd received Legendary Samurai Awards for services to the Japanese Martial Arts.
Terry Boyle and Tyrone Smith were awarded OSS Shogun and Becca Hobart – alongside delivering a splendid display of Highland Sword Dance – collected up a well-earned OSS Hatamoto for services to the Order of the Scottish Samurai.
Previous recipients of the various Scottish Samurai Awards have included Ian Wood, Alex Salmond, Charlie Abel, Len Ironside (for services to wrestling) and film producer Compton Ross. So it looks likely that Becca Hobart is in fairly good company.
Words and images © Duncan Harley – Inverurie September 16th 2018.
Duncan Harley is author of The A-Z of Curious Aberdeenshire plus the forthcoming title: The Little History of Aberdeenshire- due out in March 2019