Voice's Andrew Watson writes about some of his very unusual and disturbing past experiences which warranted  intervention from mental health services.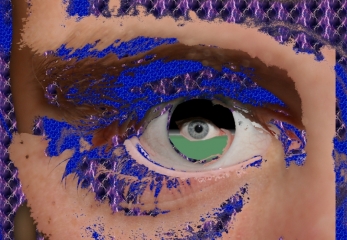 I thought I got www.MxTabs.net hauled off the web, in June 2006, because I made an entry about what had – just – happened to me.  I really want to elaborate, partly because I never really talk about it/get the opportunity:
By all accounts, it was, in comparison to a second episode, a minor psychotic episode.
I was on Beta Blockers, and my mum, to aid my sleep, got herbal remedy sleeping pills, which apparently don't mix.
I've been obsessed with aliens ever since I watched a disturbing documentary on the Discovery Channel, when I was a kid. The one image etched upon my brain, seemingly, was that of a stained glass window (Scientology?!) of a man holding an alien (Grey) baby.
Put it this way, I saw/heard things that didn't seem possible, through the blinds in my bedroom, looking out onto the back garden. I never saw anything (Grey) eye to eye, and I was relatively brave, but I dared not fucking contemplate going in that back garden.
It started with, basically, my room being untidy.  I wonder if, and I fully embrace both literal/lateral-cum-of-the-brain/of-the-mind, this was the catalyst.  Distress, or whatever.   I'm normally very tidy, and when I went for counselling as an outpatient at Aberdeen's psychiatric hospital not long after (surprise, surprise.  I felt sorry for my parents, though), I narrowly avoided being diagnosed with OCD!
The bed was strewn with magazines, 'Record Collector' and 'Leopard' (which I love) and other titles that mean nothing to me, these days!  Anyway, I thought I'd, somehow, get this mess sorted in the morning; and just sleep on the floor.  So I got my sleeping bag out my wardrobe.
Basically, my white coat morphed into a Grey.  It seemed unreal and like a mirage, but unsettled me big time.  One thing led to another, and I found myself glued to my swivel chair.  Not through paralysis, which I would experience years later, but just fear.  I could've fought it, conceivably, but didn't.
I had bamboo wick blinds, or whatever your call them.  The gaps probably cover up just under 75% of all you see outside.  Suddenly the tree I was staring at, a bare one with many twigs, seemed to spring to life.  I later developed a distinct hatred of that tree, and would always tell my parents I wanted to clip it – from the top!
Many nights converge into one at this point.
This is because an antennae-esque thing appeared to fly from outwith my peripheral vision and into plain sight.  It nestled on top of the dainty twig on top, probably the main 'vein' of the tree's root, if you like.
I suppose it was a bush more than anything else, but it was quite tall.
It seemed like a 'drone', and I cannot shake, albeit a vague feeling that that's exactly what it was.  It went on to project Game Boy-esque graphics, largely derivative of 'Donkey Kong' (Mario before 'Super Mario Brothers').
I traded telekinetic thoughts.  I say 'thoughts' because it wasn't a typical schizophrenic experience with voices – just thought patterns that seemed 'external'.  There's no other way I can put it.
Many nights converge into one at this point.  I can't remember if the stampeding feet – no voices – were heard before or after that night.  There was a low-slung mist right through the house when I eventually plucked up the courage to go upstairs, to my parents' bedroom.
I can't go into too much detail about my second major episode because it was far more convoluted than the above.  I ended up, because the first period left no lasting effect ('affectation'?!), being heavily medicated for my problems.   I had a massive 'Word' file, upwards of about 69,000 words detailing all this, but conveniently lost it.  No conspiracy, mind.  I categorically do NOT say that 'sarcastically', rather more in a forlorn manner.
The thought patterns, prompted by footsteps and ticking clocks, etc have persisted, as I say, but have been suppressed in the long run.  It's now jibberish and random, rather than posing any sort of intimidation or threat.
It took THREE changes of medication, during which I attempted suicide TWICE, before things were resolved.  Thinking about it, I'm furious I took an overdose then subsequently tried to hang myself.  Not because I think it's selfish.  You think you're doing people (my family, primarily) a massive favour; but you aren't, in reality.
I'm annoyed at the incompetence and irresponsibility of professional people, many – but not all, I hasten to add – earning salaries upwards of £50,000.
I'm up in the early hours writing this – and I'm a tad scared
The overall word I would use to describe how I felt throughout that time would be DREAD.  It's a horrible fucking feeling that not many people know the definition of; and I can't say I'm proud to know its meaning, either.
The thing is, and I apologise profusely if I sound like a horror writer (Whitley Strieber and his 'Communion', anyone?) but I'm up in the early hours writing this – and I'm a tad scared.  More so half an hour ago, though.  I say this because my sister now sleeps in the bedroom downstairs, which used to be mine.
Though I just jumped when, most likely/literally/'brainy' I heard a noise, earlier on, I was thinking about 'me', not my sister.  If anything were to happen, at the very least I'd probably end up in Cornhill, again.  I've been there three times, once as outpatient twice as inpatient.  I've got no fucking intention of going back, any time soon.  My faculties are in order; I just get restless and find it hard to sleep, sometimes.
*MxTabs was actually shut down for copyright issues; though I do sometimes wonder, to be honest.*