By Bob Smith.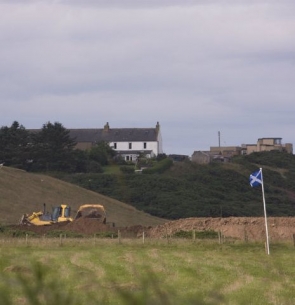 Eence upon a time there wis a boorachie o fowk fae bade near the seaside. There wis Paradise Molly plus her loon Pigsty Mike an Sheila his missus. Nae far awa wis Davie Blackbeard an his gweed wife Moira and jist doon the road bade Fiesty Susie an her faimily.
Noo they aa wint aboot their business richt happily tull a foreign invader ca'ed Baron Hairmop cam oot o the sky fae a far aff lan wi his henchman Hummel Doddie.
Baron Hairmop bocht the big hoose an some o the lan roon aboot an decreed he wis gyaan ti bigg a placie faar rich fowk cwid ging fer a waak hittin a wee fite ba wi sticks an there wis tae be a tavern wi rooms faar a bodie cwid sleep in atween enjoyin thersels .
As weel  he wis tae bigg a fyow posh hoosies fer ither rich fowk tae buy or tae rint as placies fer their holidays. Bit sic things hid tae be lookit at bi jist ower a dizzen local mannies an wifies alang wi Green Marty fa hid the power tae refuse sic ideas.
They didna like the thocht o Baron Hairmop biggin on some gey special sand doons fit war aye on the move, so they wintit the chiel tae come back wi a plan fit wis a wee bittie chynged. Baron Hairmop wis fair fizzin. He wisna used tae fowk nae deein his biddin an said he wid move awa tae an emerald green isle if his ideas war refused.
Noo the heid bummer in aa Scotland, King Eck the Fish an his loyal courtier Johnnie Ninney were feart o Baron Hairmop cos he hid mair gold  than them an they fancied some fer their kingdom. So they gied in tae Baron Hairmop's threats an said, "jist gyang aheid min we'll nae staan in yer wye".
Iss fair pleased some o  the local serfs faa hid knelt at the feet o Baron Hairmop pledgin their support fer aathing he did, at the same time rubbin their hauns wi glee at the thocht he micht throw a few mecks their wye.
Bit ither gweed fowk warna sae glaikit an thocht the Baron wis mair an likely tae skedaddle wi maist o his loot.
  the king winted tae bigg a fyow windmills close tae faar fowk wid be hittin the wee fite bas wi sticks
Noo Baron Hairmop wis ee'in up the hoosies an bitties o grun fit Paradise Molly, Pigsty Mike, Davie Blackbeard an Feisty Susie ained an tried tae buy them oot. "Tak a hike min", wis their reply, wiv nae intinshun o movin. Iss fair hid Baron Hairmop teerin his hair an he got the local toon cryers Pissan Urinal an his sister Eve Distress tae help him bi spootin oot a lot of propaganda bile.
Paradise Molly, Pigsty Mike, Davie an Susie hid a lot tae pit up wi. Baron Hairmop winted them tae be forced tae sell tae him bit fowk aa ower the lan fin they got tae ken aboot iss rebelled an mairched aa ower the doons wi banners agin Baron Hairmop. Syne on tae the scene cam twa knights in shinin armour ca'ed Ant an Dick.
They wint aboot an fun oot fit wis really gyaan on aroon Baron Hairmop's placie. The Baron wisna chuffed as fit they fun oot made the chiel look a richt bullyin cyaard.
Ant an Dick landit in the dungeons fer a wee filie bit their story fin they telt it wis heard aa ower the lan an fowk rose up agin Hairmop. The Baron hid a dark haired servin winch ca'ed Lotta Baloney fa tried tae save face bi spikkin up fer him bit he thocht aabody faa wis agin him wis morons, eejits an ither sic naisty thingies.
He didna like King Eck the Fish noo cos the king winted tae bigg a fyow windmills close tae faar fowk wid be hittin the wee fite bas wi sticks. Nae jist aat, bit Pigsty Mike hid jist won a richt gweed award fer bein  Tap o the Scots.
The last fowk heard o Baron Hairmop wis he wis holed up in his tower back in his hameland.
Hummel Doddie an Lotta Baloney war still tryin tae mak oot the Baron hid gweed intinshuns,  bit even some o his serfs didna noo believe his fairy tales. The oor o midnicht wis weerin near.
Wid he turn intae a pumpkin? Nae  chunce cos he wis een aready.
Comments enabled – see comments box below. Note, all comments will be moderated.