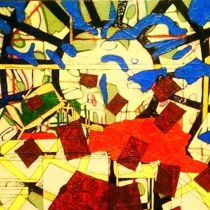 With thanks to Keith Byres.
Wasps Artists Studios open their doors this weekend from noon to 5pm.
We have a range a range of events, demonstrations and tours of artists studios. In conjunction with the open weekend we are exhibiting studio work in Under the Hammer.
Wasps Artists Studios provides affordable studio space to artists throughout Scotland and has been established in Aberdeen since 1981.
Come along to to the open weekend and the exhibition and experience a flavour of the creative energy in the city.