On 18 July, groups up and down the country protested Donald Trump's visit to the UK, which Theresa May had organised. Aberdeen's TUC protested his presence too, and here is how Kathleen Kennedy, ATUC president, remembered the day. As told to Suzanne Kelly.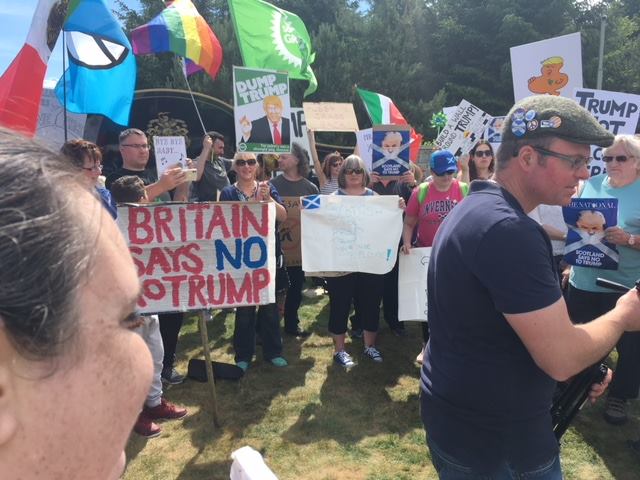 Groups up and down the UK protested Donald Trump's visit on Friday 13th July. Tripping up Trump had a splendid campaign seeing slogans written in the sand near the Menie Course.
London saw tens of thousands gather at Trafalgar Square – with a giant baby Trump inflatable which angered Trump even before it was flown.
Kathleen Kennedy and scores of ATUC members took to the street to protest the visit President Donald Trump made to the UK and his golf courses.
Ms TUC president, helped organise the demonstration, which she spoke at. She said:
"In my speech I made two connections to Donald Trump and myself as we both presidents as I am the ATUC president and he is USA but I am the one people like!
"The other thing: we both mothers from Lewis I am ashamed to admit!"
The day was a success up and down the country, but it had a further special meeting to Kathleen over and above Trump's poor record in treating workers.
Ms Kennedy added:
"I then spoke about how he treated a disabled reporter with Cerebral Palsy (like I have) in his campaign and this was something I was outraged about as the man was doing his job and this shouldn't be tolerated anything.
"I then end the with Gaelic word to go away and said if he really proud of his Scottish roots he would know what I meant."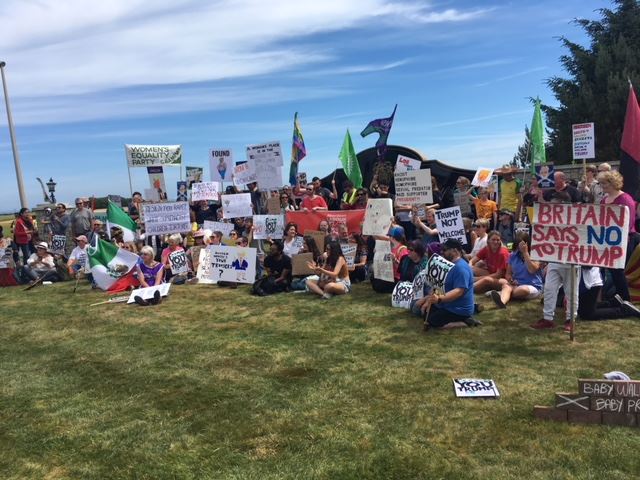 At the time of writing, it seems unlikely there will be another state visit from the KKK-endorsed president: he has just admitted on twitter that his son Donald Junior, his campaign manager, met with Russian operatives to try to influence the outcome of the US election which saw Hillary Clinton win the popular vote, but lose the electoral college election.
A newly-released photo of Trump junior with a woman said to be a Russian spy won't help the Trump family, either.
Ms May was criticised for organising the visit, which had more false steps than a Gay Gordons danced at 2am at a wedding in Peterhead.
Kathleen said:
"We had well over 100 people there there was people from different groups but almost a carnival atom sphere as we unity to send the message: 'Donald your views aren't welcomed here.'"
Comments enabled – see comments box below. Note, all comments will be moderated.