Long established bead and craft store Bead Crazy is re-launching as Bead POP where new owner Alex Penter is offering a weekend of fun activities to celebrate the opening.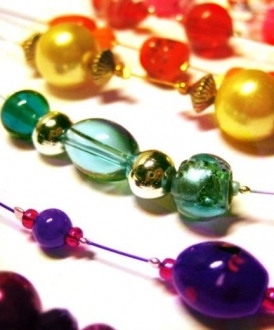 A new craft experience is opening in Aberdeen this weekend as the bead and jewellery making supplies shop formerly known as
Bead Crazy
is re-launched as the all new
Bead POP
with a weekend of fun events that will include special offers, new products and complimentary drinks.
The fun starts at the St Andrew's Street shop on Friday with a special late-night opening, from 7pm until 10pm, when customers can view and purchase from a range of new products and ask any craft-related questions they have, while enjoying a complimentary cocktail.
On Saturday there will be a classic tea party, complete with tasty treats and goody bags for the lucky first 10 people through the door.  So get along early!
The fun continues on Sunday with the first of Bead Pop's new regular Sunday openings, from 12 noon – 4pm, when there will be a last chance to get a 10% off flyer, valid for two weeks, with a £10 purchase.
New owner Alex Penter, who studied design at the Robert Gordon University and was the previous shop supervisor of Bead Crazy before she recently bought the business, said:
"Even if you've never tried any sort of jewellery making before, I'd encourage you to come along and try something out.  We run activities for people of all abilities and you might surprise yourself by how creative you can be!
"This opening weekend is a great opportunity for people to come down, have some fun and check out the new look shop.  And, for our long established customers, I think they'll be pleasantly surprised at the amount of new and unusual beads we're now stocking."

About Bead Pop
Bead Pop, Aberdeen's premier bead shop, sells all materials for jewellery making and general crafts and also offers group workshops, children's parties, one-to-one tuition, hen nights, team building activities and a repair service.
In addition, Bead Pop runs classes on designing and making all kinds of unique handmade jewellery, with staff being available to attend events at schools and charity fundraisers.
The shop is based at 19 – 21 St Andrews Street, Aberdeen and is open from 10pm until 5pm, Monday to Saturday and 12 noon until 4pm on Sundays.
For workshop bookings or any further information on what the shop can offer call 01224 630011.