A well-respected member of NE Scotland's impressive and eclectic musical community, united in its determination to preserve and enhance the area's cultural heritage, Pete Coutts's solo debut album Northern Sky, sees him dig deep into Doric melodic and vernacular traditions. David Innes reviews.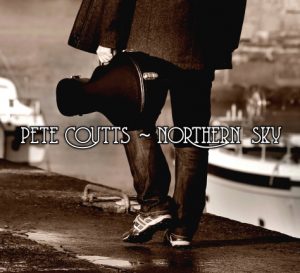 Northern Sky falls almost naturally into the complementary spheres of song and tune, with the track sequencing naturally alternating between both, pleasing on the ear, avoiding the intensity of instrumental overload, and giving the contents welcome breathing space.
It's no surprise given the collaboration of the cream of NE traditional musicians on Northern Sky that there is ensemble playing of great aplomb throughout.
'In & Oot', with Coutts's own scintillating mandolin, Jonny Hardie's fiddle and Brian McAlpine's accordion, is a sumptuous traditional piece, whilst 'Allathumpach' impresses in its instrumental precision and interplay as the melody winds itself around a punchy rhythm.
'Villa Rosa' serves up much of the same, its stabbed rhythmic punctuation supporting an angular, almost-geometric spiralling tune. And whether intended or not, the sparkling coda of 'Strichen Gala – The Road To Aikey Brae' has the precision and spikiness of that other Pete's ground-breaking ARP parts on Who's Next.
When it comes to Coutts's songs, he displays masterful understanding of folk and bothy ballad structures, sentiments and feel. 'Belhelvie' documents a motor-age agricultural tragedy voiced in Coutts's Doric phrasing and timbre with Ali Hutton's bluesy whistle underscoring the mood. There is a stamp of authenticity too, given that the ballad's protagonists are the singer's own direct ancestors.
'Sail & Oar' is carried on a fine melody, sweetened by co-writer Jenny Sturgeon's harmony and it evokes the atmosphere of Peterhead's labour-intensive fishing industry, with well-crafted instrumental passages honed to the narrative.
'Casting The Peat', celebrating the endeavour employed in cutting fuel in Coutts's own Cyaak (some say New Pitsligo), the global epi-centre of peat production, is narrated in the farm bothy tradition, but Coutts's obvious affection for his subjects on both land and sea makes these arduous and dangerous operations sound almost pleasurable.
And whilst the life of a farm servant was tough, and bothy ballads written for local entertainment often coarse, Pete's original 'Will Ye Byde' touches on the familiar tale of the unscrupulous farmer, but its theme is tender and caring as the worker, departing at the term end, gently declares his passion for the quine he's leaving behind.
Nick Drake's 'Northern Sky' provides both the album title and the opportunity for a faithful interpretation of a landmark song, but subtly-added Celtic inflections and flavourings ensure that it fits seamlessly with Coutts's theme on an album which will prove to be a worthy addition to the cultural library of NE Scotland.
This review was written for the reviewer's own webpage/blog (he's not really sure which – it's an age thing) www.bluesandmoregain.com