Something for the weekend, sir? Duncan Harley comments on the newspapers you might like to read if you had the time, the money and the inclination. This week he looks at The Times Saturday.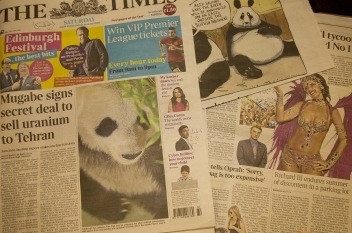 At a cool £1.50 a pop, The Times Saturday Scotland Edition is quite a heavyweight. My bathroom scales are a bit creaky but I reckon this week's 70960th edition weighs in at just over 0.62kg, including inserts. That's a fair weight indeed. If US figures are to be believed, then around 500,000 trees are required just to make the paper to print the Sunday papers in the USA.
The UK weekend papers probably consume proportionally as much timber. However, digital may well be the way to go with offerings from DC Thompson, The Sun and Aberdeen Voice pioneering a tree-free eco-press.
On the moon of course, this week's Times Saturday would weigh a mere 0.1kg due to reduced gravity, but when I last checked there were no trees on this side of the moon. This might make printing somewhat difficult.
This week's newspaper leads on two stories. The first is an extended piece about Robert Mugabe's secret deal to sell uranium to Iran. It seems this 'secret' deal may lead to 'retaliatory action by the international community', according to correspondent Michael Evans. More sanctions against the ordinary folk of Zimbabwe are on the horizon it seems.
Alongside this front page leader, runs a story about some cute pandas. Apparently Tian Tian, who is one of only a thousand pandas left in the world, may be pregnant.
Edinburgh Zoo spent £250,000 constructing a state-of-the-art panda enclosure and currently pays China fees of £650,000 per year, a fact not many people will know since The Times has not chosen to incorporate this information in the cute panda article.
Times cartoonist Morten Morland has drawn on the affair with a parody on page 23, two adult pandas are pictured lying slumped after a meal of bamboo shoots with a speech bubble reading, 'Alex Salmond says the birth will be announced on an easel outside the Scottish Parliament'. Not very original perhaps, but certainly very revealing of the editorial stance of the newspaper.
On page 27, Pickles features again
All is not doom and gloom, however. The Secretary of State for Communities and Local Government makes the news in two articles.
On page 13, Eric Pickles is slated for suggesting that UK birth certificates will soon be replaced by an EEC compulsory registration document. It seems this may be complete rubbish, and Karl Turner, Labour MP for Hull East is quoted, 'This looks very embarrassing for Eric Pickles. He's been caught red-handed, scaremongering in the desperate search for a headline'.
On page 27, Pickles features again. In a somewhat scathing piece, the paper's Chief Political Correspondent Michael Savage lives up to his name quoting a peer's take on the so-called Go Home adverts currently being funded by the Home Office. These have led to more than 60 complaints to the Advertising Standards Authority, and are 'nasty' according to Lord Ouseley.
The paper's France correspondent Adam Sage reports from Paris on Pyrenees farmers threatening to shoot the local population of brown bears after a spate of attacks on sheep. It seems there are around 22 of the rare creatures surviving in the wild. President Holland is seemingly under pressure to 'bring in another bearbut', whatever that may mean.
Not one to disappoint those of a masturbatory disposition, The Times does of course have a Page 3 girl. In this weekend's edition she is on page 41 hidden in the somewhat discreet World section of the paper. With a headline The Carnival is over, the lovely Luma de Oliveira bares her body for all to view!
the Edinburgh Festival has a new Eric and Ernie act
The Scotland Edition sports section covers cricket. With some quite breathtaking images and comment on cricket in England, the Sport pages headline with England slain by Lyon King. Hollywood perhaps or just the Aussies?
In other parts of the paper we read that Richard Wilson is gay and will only say I don't believe it for charity, the Edinburgh Festival has a new Eric and Ernie act, and Roger Bushell was working for British Military Intelligence in Prague during 1942.
If you've ever seen The Great Escape you will, of course, know that Roger, AKA Big X, was shot dead by the Gestapo following a mass break out from Stalag Luft III during the Second World War. The Times, perhaps in a re-run of the Hitler Diaries fiasco, will be serialising a new book by Simon Pearson about the role Roger Bushell might just have played in the assassination of the acting Reich Protector of Bohemia and Moravia almost 70 years ago.
Damian Whitworth has penned the helpful lines, 'Pearson writes that it is not possible to say that Bushell was involved in the plot, but establishing that he was among Prague's resistance fighters at the time places him tantalisingly close'.
The Times Saturday Scotland Edition is a good read. On a scale of one to ten stars I think a score of six might be appropriate. Of course I am, as always, open to suggestions.
Next week in Something for the Weekend Sir? I will be taking a look at one of Scotland's oldest family newspapers, The Sunday Post, the paper we prefer to send to friends around the globe rather than read.
'Something for the weekend sir?' is, of course, what local barbers used to ask customers in the days before discrete prophylactic services became available via the internet.
Sources:
Comments enabled – see comments box below. Note, all comments will be moderated.