Dame Anne Begg, MP for Aberdeen South, has pledged her support to a Guide Dogs' campaign to highlight the issue of guide dogs being attacked by other dogs and recently met with guide dog owners and their assistance dogs to listen to their own experiences.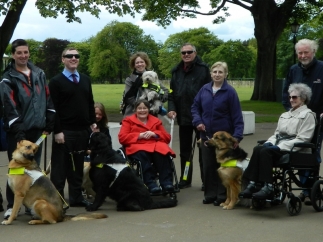 Research by the charity has revealed that more than eight guide dogs are attacked every month.  These attacks can result in the guide dogs being unable to work and, in some cases, they can never work again.
This can have a devastating impact on the owner as they are then unable to go out independently whilst they wait for a new guide dog.
This also has financial implications for the charity, which pays the full costs of a guide dog – approximately £50,000 throughout its lifetime.
Guide dog owner William Sharkey told Dame Anne about an incident involving his assistance dog Lily:
"As a newly qualified guide dog owner, I was very angry when Lily was attacked by two dogs in Aberdeen city centre.  I was particularly horrified that the owner took no action to restrain their dogs and afterwards I didn't think it was worth reporting to the police as I was unable to identify the owner.  The incident really knocked Lily's confidence and it took some time for her to return to her normal self."
Although the recent announcement by the Westminster government to introduce compulsory micro-chipping in England is a welcome step forward, there is still  more work needed to protect guide dogs and their owners from these vicious attacks.
With concern increasing about the number of attacks by other dogs on guide dogs, the charity is also calling on the Government to give police the power to treat an attack on an assistance dog as seriously as an attack on a person.
David Cowdrey, Campaigns Manager at Guide Dogs said:
"There were 147 attacks on guide dogs between June, 2010 and December, 2011.  
"We believe that an attack on an assistance dog should be considered as an attack on the person, to reflect the fact that a guide dog is a vital mobility aid and that such attacks are very distressing for people who are already vulnerable."
Dame Anne said:
"I was shocked to hear of the high number of attacks on guide dogs, as are those constituents who have contacted me about this issue and I will be lobbying the government to ensure meaningful measures are introduced to protect guide dogs and their owners.  
"Although the Scottish Government has already rejected compulsory micro-chipping, I hope that they will follow suit to ensure that guide dogs in Scotland are protected.  
"I would also call on anyone who witnesses an attack on a guide dog to help the police in identifying the offending owner."