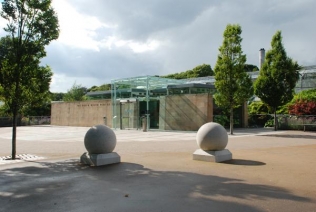 With thanks to
Dave Macdermid.
The Friends of Duthie Park have announced that they have secured a sponsor for this month's Open Day (Sunday 17th August), ensuring that the 2014 event, now in its fourth year, will be the biggest and most successful yet.
Locally based global fabrication company A-FAB (www.afab.co.uk) is providing financial support for the event, which takes place on Sunday 17th August from noon until 4 p.m..
Friends Chairman Tony Dawson believes the partnership underlines the affection that everyone within the area has for what is one of the country's leading tourist attractions. Tony said:
"It's fantastic that A-FAB is the latest prestigious name from the private sector that recognises what a jewel in the crown Duthie Park is and, thanks to A-FAB's support, it promises to be another wonderful occasion a week on Sunday.
"I would also like to acknowledge the excellent work that Harvey Smith and the team at H-events have done in helping the Friends work closely with the private sector over the last few months."
A-FAB director Marlene Mitchell added.
"Duthie Park has always been a favourite place for most people in the north east but after the recent restoration work, it really is stunning. The Friends do a great job in maintaining the profile of the park and working closely with Aberdeen City Council to make sure improvements are ongoing and at A-FAB we are proud to be able to assist with what is now an established event for all of the family."
Among the attractions at this year's FODP Open Day (www.friendsofduthiepark.co.uk), are
The Bon Accord Silver Band,
piper Calum Lawrie,
Bokwa with Jodie,
Zumba & powerhoops with Elma,
The Sharon Gill School of Dancing,
Wrestlezone Scotland,
The Airyhall Dancers,
AFC in the Community,
British Military Fitness,
First Aberdeen vintage vehicles,
various kiddies' rides, the canoes and the pedalos,
and not forgetting Spike the Talking Cactus.