'The history of a nation is measured by its gains, but where will it end. The money with the power, the weapons with the firepower; they're owned by you. You've heard the list of names, exactly who's to blame, is this our land of shame.' – Land of Shame, Kirk Brandon
Kirk Brandon, Adrian Portas, Craig Adams and Mike Kelly – all together and in the Moorings Bar.  It was delicious.  Suzanne Kelly reports, still with a smile on her face; photographs by Julie Thompson.
The music and lyrics of Spear of Destiny still resonate as powerfully today as they did when newly released. This speaks volumes about the band in a positive way – and about society and government well – less positively.
I had my SoD memories, and had hardly hoped to expect that all of the power could still be there; thirty years is a lifetime; touring with a demanding repertoire to please demanding fans is a big ask.
After all, there are so very many acts touring now simply to cash in, some with little more than a roadie's friend's cousin in the act to justify these so-called 'reunion' tours. 
Good and great reviews have greeted this Thirty Years On tour; however, this was to be the first time I've seen the band since Kirk Brandon was taken seriously ill in 2011 (I missed their last Aberdeen date).  I was slightly worried; happily, I needn't have been.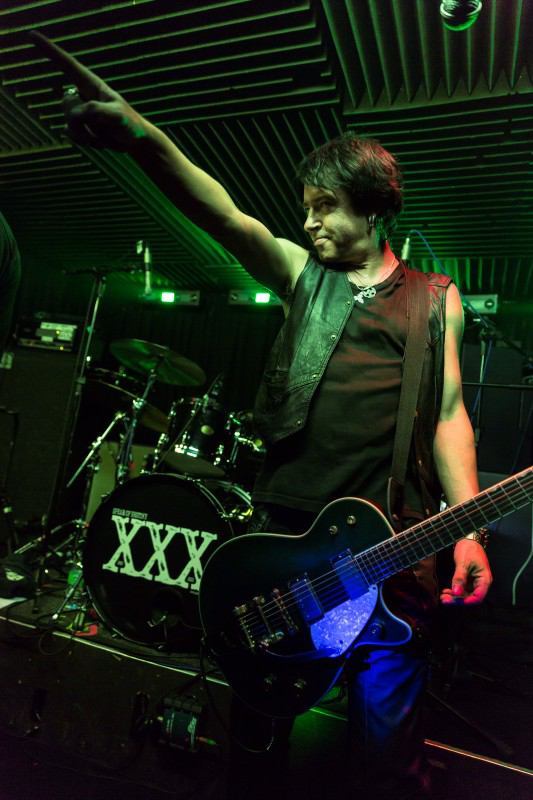 SoD was never an easy band to pigeonhole, something which the industry loves to do – package a product, put a label on it, and thrust it on the target market. Opening act The Mighty Human Generator'  was well received (I missed too much of their set to comment and they don't usually perform acoustic, but but will make it a point to see them soon).
Eventually Mike Kelly, Adrian Portas, Craig Adams (not to be confused with Craig Adam, owner of the Moorings Bar) and Kirk Brandon take the stage.
It might have been a small stage in a modest size venue, but that made it all the more exciting and intimate.
All was going well, spectacularly in fact – but then Brandon asked everyone how they felt about the Scottish Independence referendum – and asked for a vote.
I expected chaos, fights and tears – but to my shock, the vote was split roughly in half, and that was the end of it. Back to the music then, potential riot averted.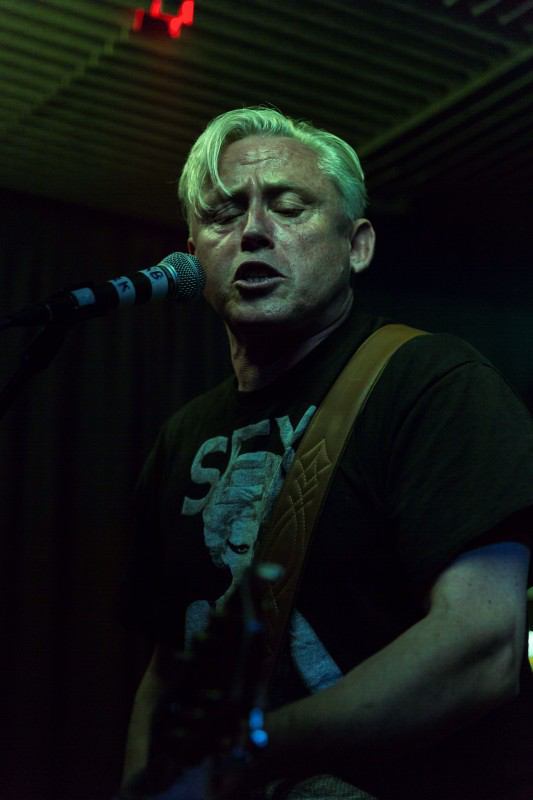 'Never Take Me Alive,' an American western-flavoured epic ending in a dramatic hail of guitar, pleased us all; everyone up front sang and danced (and what well mannered slamming it was too; perhaps we're all just that little bit older)
'Treachery' is haunting and the cords evoke a Celtic/medieval music mood; it's as magical as it ever was.  The audience, many of who didn't know each other at the start of the night are singing 'Treachery' to each other towards the end of the ambitious set.
There are guitar passages in songs that I'd all but forgotten; some make me realise that a whole slew of musicians owe this band.
There are passages which I'm certain Eddie Vedder must have been influenced by.
One of the most powerful anti-war songs anyone's every written, 'Mickey' has everyone singing along with every line, culminating in cries of 'I wanna go home.'  It's punk; it's a ballad, it's a protest. You'd need an awful lot of labels to label this one song, let alone label SoD.
The show ends.  Angie in the audience is awestruck, as are a couple who tell me they see SoD as often as they can.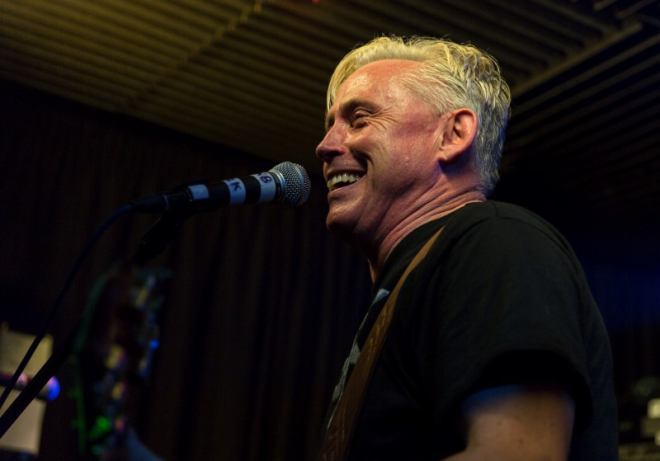 The mood is wonderful; stranger talks to stranger. The only person who didn't seem to enjoy it quite as much as the rest of us is the now ubiquitous person who's watched the set through their iphone; this phenomenon continues to baffle me.
Eventually the band members come out and mingle.  Portas, Kelly and Adams should be knackered, but are pleasant and seem genuinely pleased at the reception they've all had.
Against my will and my better judgment, I've been thinking about pop, manufactured bands, stripping singers and Cyrus and that wrecking ball these past few days. Perhaps evolution is going backwards.
I get to chat for a few minutes to Kirk;
I asked him about the phenomenon of  the Miley Cyrus approach to music, i.e. getting attention by stripping, riding a wrecking ball, and licking a hammer.
'Well, it's silly, isn't it?' was the main thing I remember about his response (well, it is a bit noisy).
Miley will have to endure eating and fitness regimes to try to stay young, waif-thin and wrinkle-free to sustain the kind of adoration she's courted.
When she's older and her raison d'etre is gone and no one cares about her music, Brandon will be able to say he wrote 'Treachery,' 'Mickey,' and plays astonishing guitar. (Given a choice, what would you rather be remembered for?). We talk about his past illness 'I know I'm lucky' he comments.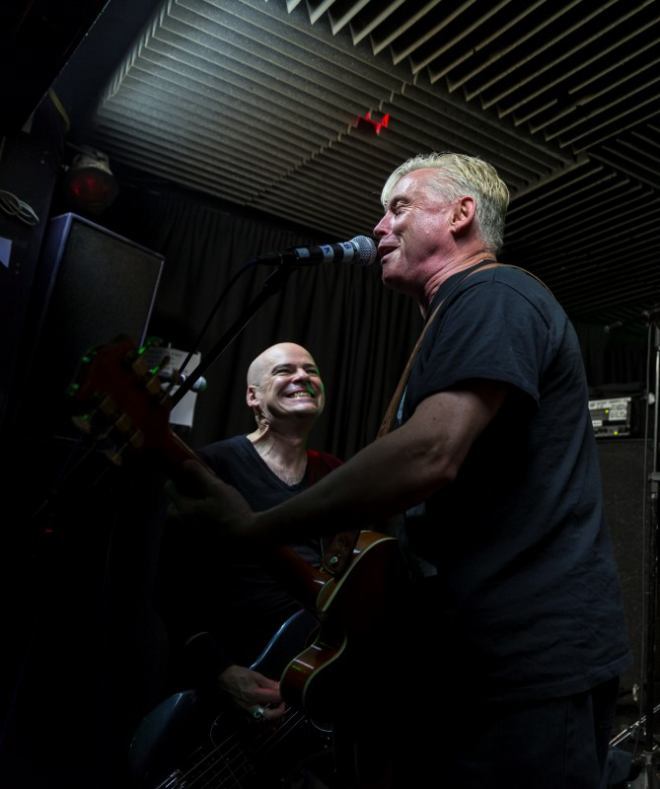 Topping off a night I'll remember for quite some time to come, Flash gives some of us a tour of his beer cellar. This is a high-tech lager labour of love; temperature controlled, quality controlled casks in a spotless space.
The only thing left to add is that if you missed the sold out Spear of Destiny  Moorings show, get some people together, get a road trip organised, and get to one of the remaining shows; details here:  http://www.kirkbrandon.com/shows.
Theatre of Hate will be playing UK dates in December as well.
There is also a special limited edition CD, Thirty Years and Counting – which can be found here http://kirkbrandondotcom.bigcartel.com/
More of Julie Thompson's photos can be found here:  http://www.flickr.com/photos/ladypakal/sets/72157636209512343/