With thanks to Gemma Setter, PR Account Executive, Frasermedia.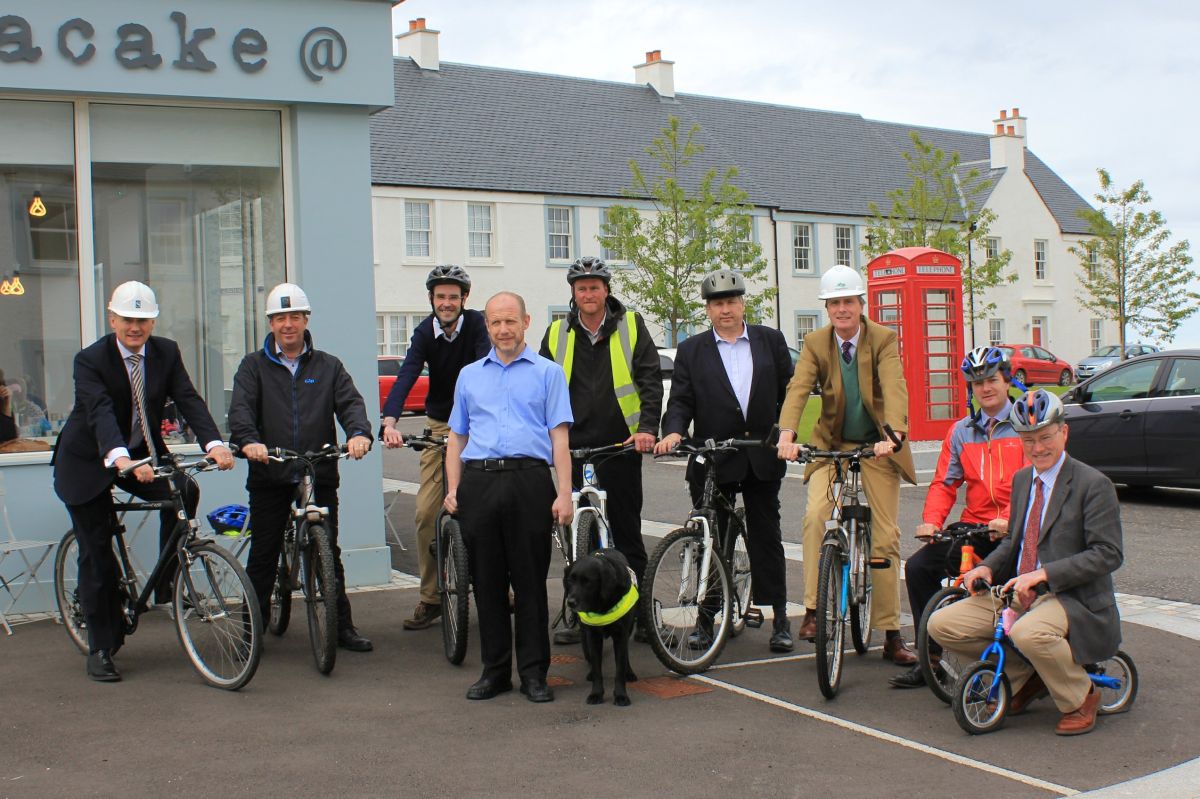 Chapelton builders are to swap hard hats for helmets as they gear up to raise money for local charity
Four housebuilding and development firms are gearing up to take part in the Chapelton Bike Ride on Sunday September 4 to raise money for North East Sensory Services (NESS).
Builders from ZeroC, AJC Homes, Elsick Development Company, and A&J Stephen, will be competing against one another at the Chapelton Bike Ride to raise funds for NESS.
North East Sensory Services (NESS), which has offices in Aberdeen, Dundee and Elgin, supports over 4800 people in the North-east who have sight or hearing loss. By providing both social work and life-enhancing services, NESS is able to help those with a sensory impairment overcome challenges and achieve independence.
All three of the teams are hoping raise a substantial amount of money for NESS by taking on the 42-mile bike ride, which will raise vital funds for the charity, which helps those with sight or hearing loss achieve independence.
This is the first year that the Chapelton Bike Ride, formerly the Great Stonehaven Bike Ride, has taken place in the new town, which is situated near Newtonhill.
Starting and finishing at Teacake coffee shop in Chapelton, the bike ride takes cyclists into the seaside town of Stonehaven, through Fetteresso and Durris Forests', before leading them towards Maryculter and the picturesque banks of the River Dee, then looping back round towards Chapelton.
Caroline Fife, the Duchess of Fife, landowner and developer of Chapelton, said:
"All three housebuilders working on Chapelton are really committed to making the bike ride a big success and putting it on the map.
"Each is gathering a team together for a good-natured competition, so there will certainly be a great deal of secret training involved. There's a lot of friendly banter between the groups, but it's all in jest as the real reason they're all taking part is to raise money for a worthwhile cause.
"Chapelton residents have also expressed an interest in registering for the ride to raise money for NESS. It's great to see so many people getting involved in the bike ride to fundraise for such an important charity.
"The Chapelton Bike Ride is going to be the first in a long line of community events, so we're all thrilled to see the housebuilders really taking an interest in the area by signing up for the event. They've all really risen to the challenge and it's so inspiring to see building companies get involved with local communities and causes."
Neil Skene, fundraising co-ordinator at NESS, said:
"We're so thankful to the teams at Stephen, ZeroC, and AJC Homes for getting on their bikes to raise money for NESS. Their fundraising enables us to continue providing much-needed support and assistance to people with sight or hearing loss.
"All of us at NESS are really excited about the new route and all the events available on the day. There will be something for everyone, from cyclists and walkers, to foodies and music fans. We hope that lots of people come along to either participate in the bike ride, or help cheer the riders on and enjoy the variety of food and drink, crafts, and music on offer."
The Chapelton Bike Ride takes place on Sunday, September 4. Cyclists have the choice of either a 42-mile or 12-mile bike route, whilst a three-mile walk is also available for those wishing to participate without having to get on their bikes.
Registration costs £15 per person for the 42-mile route, £5 per person for the 12-mile route, or £10 for a team of four for the 12-mile cycle.
Register for the Chapelton Bike Ride at www.chapeltonbikeride.co.uk.
North-east Sensory Services (NESS) promotes the needs of people with a sight or hearing loss.
NESS supports people with serious sight or hearing loss to overcome practical and emotional challenges and achieve independence.
Formerly Grampian Society for the Blind (GSB), North East Sensory Services (NESS) works with over 4,500 people with a sensory impairment in Aberdeen, Aberdeenshire, Moray, Dundee, Angus and Perth & Kinross.
Awards:
2016: Winner, IIP Award Excellence in Third Sector
Finalist Elevator Awards and Trend Awards.
2015: Winner, Elevator Award, Winner, Trend Award.
Comments enabled – see comments box below. Note, all comments will be moderated.