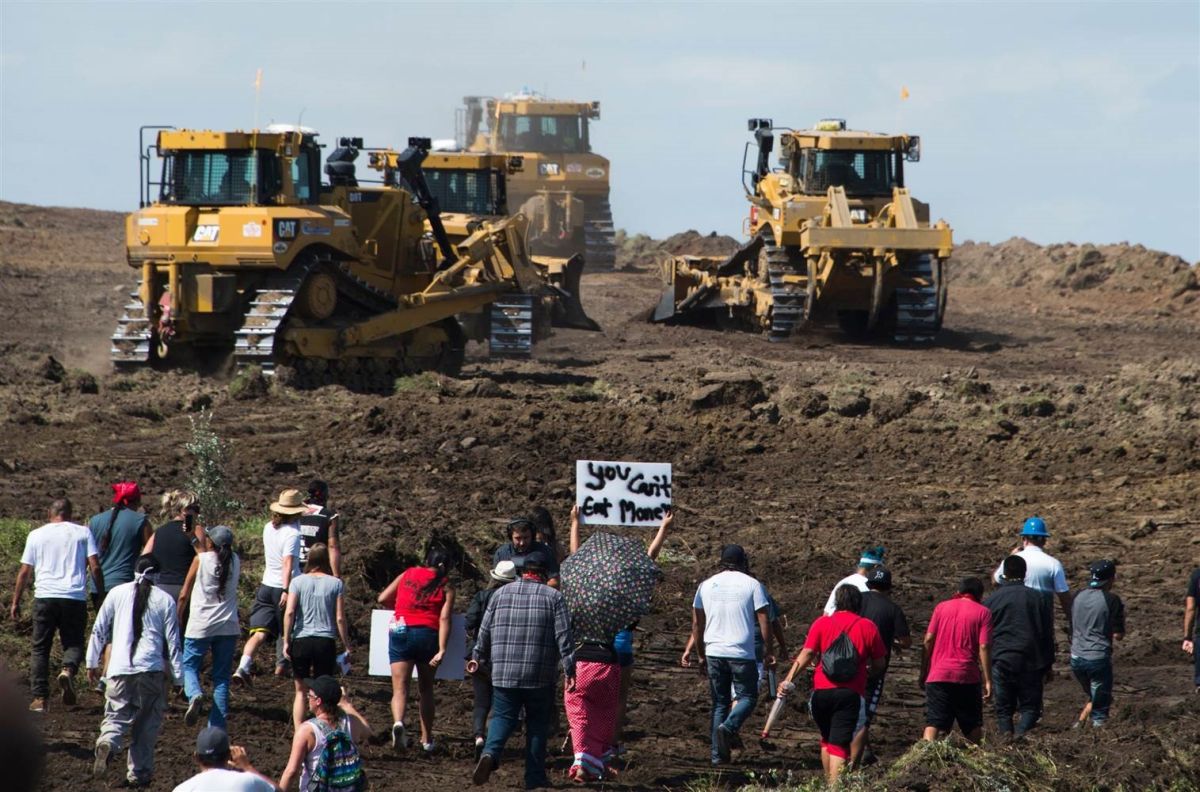 With thanks to Aberdeen Climate Action.
Aberdeen Climate Action are organising a protest outside Barclays Bank 163-165 Union Street, on Saturday 8th July, 11am. Barclays and HSBC, both of whom have banks in Aberdeen, facilitated investments in both the Dakota Pipeline and Kinder Morgan Trans Mountain Pipeline'
The Royal Bank of Scotland to their credit have said that they have removed their investment links to the pipelines.
After months of protests, more than 750 arrests, and high-profile intervention the first part of the battle over the Dakota Access pipeline has ended. One of the first things that President Trump did was to overturn President Obama's ban on the pipeline.
Oil is now flowing through the pipeline—and, crucially, beneath Lake Oahe in North Dakota, which is sacred to local Lakota and Dakota people and their only source of water.
But the battle over the pipeline is not over yet. A legal challenge to the pipeline, and to President Donald Trump's rapid approval of it in January, is awaiting summary judgement in federal court in the District of Columbia.
The pipeline now runs more than 1,800 miles, linking oil fields in North Dakota to refineries, ports, and further pipelines in southern Illinois.
UK financial giants HSBC, Barclays, and Aviva also have significant financial stakes in the company behind a controversial tar sands oil pipeline known as the 'Kinder Morgan Trans Mountain Pipeline' approved by Canadian Prime Minister Justin Trudeau.
Financial data seen by DeSmog UK shows HSBC holds almost $118 million (£93.7m) worth of shares in Kinder Morgan, which owns the recently approved Trans Mountain Pipeline.
Barclays' shares are worth around $48 million (£38m), and Aviva holds $27 million (£21.4m) worth.
On a much brighter note, France is to stop granting Oil and Gas licences for oil and gas exploration as part of a transition towards environmentally friendly energy. Nicolas Hulot the 'Ecological Transition Minister' in Emmanuel Macrons Government has said that a law will be passed by the Autumn.
We need to put pressure on the UK and Scottish Governments to do the same.
Comments enabled – see comments box below. Note, all comments will be moderated.