By Stephen Davy-Osborne.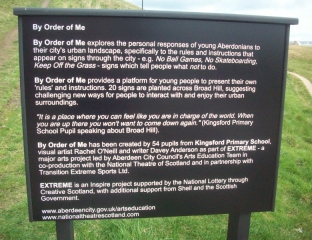 With the recent fair weather and the school holidays in full-swing, many visitors to Aberdeen beach may have noticed an addition to Broad Hill.
Situated between the Beach Ballroom and Pittodrie, the small hill is well known as a spot to avoid on a blustery day, but with better weather on the horizon the installation of a new open-air exhibition could not have chosen a better location.
BY ORDER OF ME is a collection of wooden signs scattered across the hill, and is the collective work of visual artist Rachel O'Neill, writer Davey Anderson and 54 pupils from Kingsford Primary School. The collaboration, organised by Extreme Aberdeen and the National Theatre Scotland, in partnership with the City Council's Art Education team, set out to challenge the way visitors interact with their surroundings.
The signs themselves were inspired by the many prohibitive signs found across the city, and were created to represent many young people's view of a an urban landscape that is cluttered with signage ordering what can and cannot be done: No Ball Games, No Skateboarding, Keep Off the Grass, to name but a few.
With such signs as "No Kissing on the Hill, I Mean It", it is evident that those taking in the fresh sea breeze are being encouraged to ponder the world from a different point of view.
While they are not inviting visitors to run amok on Broad Hill (although one sign does state we should run down the hill screaming) the purpose remains to encourage visitors to enjoy their surroundings and the spectacular views across the bay to one side, and the city sky-line to the other. The exhibition will be in place until early next spring.
For further information please visit www.nationaltheatrescotland.com