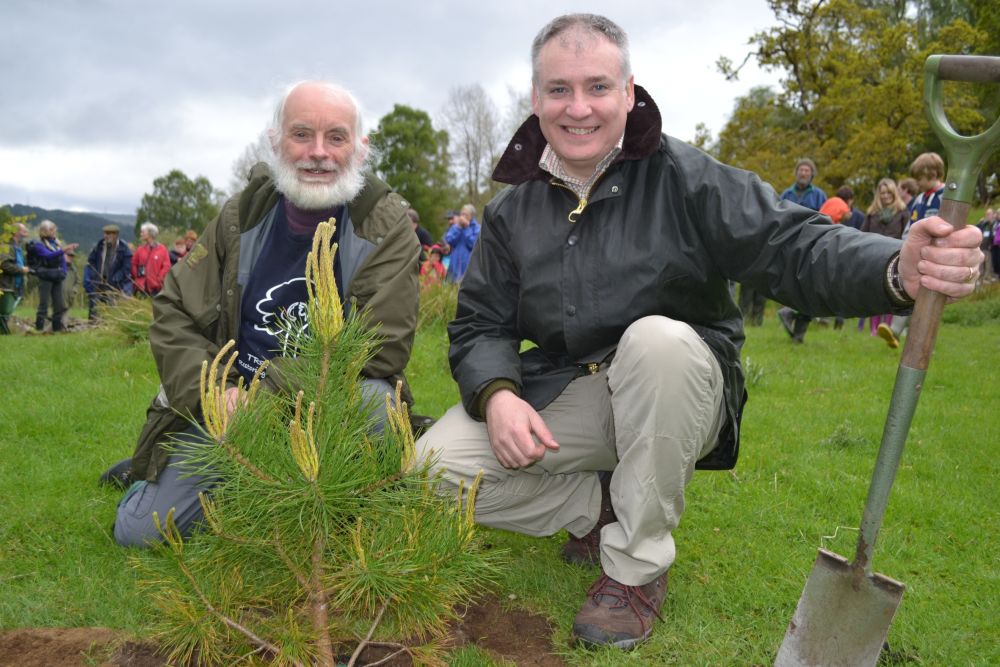 With thanks to Richard Bunting. 
A new Commonwealth Forest near Loch Ness has been established as a lasting and green legacy to this summer's Commonwealth Games in Glasgow, in an initiative being launched by conservation charity Trees for Life during Legacy Week (9-13 June).
Trees for Life has planted 6,500 trees in the new forest at its Dundreggan Conservation Estate in Glenmoriston – one for every athlete competing in the Games, with Cabinet Secretary for Rural Affairs and the Environment, Moray MSP Richard Lochhead planting the 6,500th tree.
The award-winning charity aims to expand the new forest with the support of spectators who attend the Commonwealth Games. Donors from across the Commonwealth will be asked to plant a tree to support their national team, and track which nation is doing the most to support the Commonwealth Forest.
The project will boost the international profile of Scotland's spectacular landscapes and wildlife, and also allow visitors to the Games to reduce the impact of their carbon footprint.
The initiative received a ringing endorsement from the Scottish Government's Cabinet Secretary for Rural Affairs and the Environment, Moray MSP Richard Lochhead, who praised efforts to expand the ancient Caledonian Forest in the Highlands.
Richard Lochhead MSP said:
"The Caledonian Forest offers visitors some of our most majestic landscapes. I would encourage visitors who are coming to the Commonwealth Games to go further north and explore these woodlands and many other parts of Scotland's stunning natural environment.
"It is excellent news that this project is helping to expand these woodlands and importantly creating a lasting legacy from the Games that generations of people will enjoy."
Trees for Life's Executive Director, Alan Watson Featherstone, said:
"The Commonwealth Games are a huge opportunity for the whole of Scotland. The Commonwealth Forest initiative will stand tall over the Highland landscape for centuries to come, providing a vital habitat for many endangered species of native wildlife. This will be a wonderful legacy to leave in the wake of Scotland's year of sport.
"During the Games, many thousands of visitors will be travelling to Scotland. Whether by air, rail, or car, this will have a hugely significant carbon impact. We want to offer Games-goers from across the world the chance to mitigate the impact of their carbon emissions, by contributing to a unique and lasting green Games legacy in the wild heart of the Scottish Highlands.
"It takes just a few seconds to donate, and from £5 per tree this is a cheap, easy way to help make these a truly green Commonwealth Games."
With less than 50 days to go before Glasgow 2014, Legacy Week is celebrating initiatives that will deliver lasting benefits from Scotland's hosting of the Games. The ambition is to promote Scotland as a frontrunner in delivering nationwide benefits from hosting a major sporting event.
People can donate to the Commonwealth Forest by visiting treesforlife.org.uk/CoFo or texting COFO14 £5 to 70070. One tree costs £5.
Games-goers will be encouraged to use Trees for life's online 'carbon calculator' to work out how many trees to plant to mitigate their carbon impact.
Comments enabled – see comments box below. Note, all comments will be moderated.