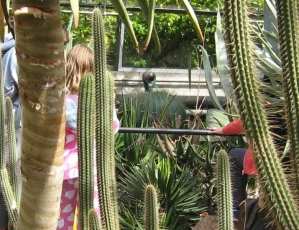 With thanks to
Dave Macdermid.
Would-be volunteers to provide the voice of 'Spike' the Talking Cactus are reminded that they can have a trial run at a 'Spike-off' this Sunday afternoon at the David Welch Winter Gardens.
Duthie Park Facilities Manager Alan Findlay is looking forward to what will be a fun event that will hopefully alleviate a potential problem:
"While we do have a small number of people who can be Spike, we really do need more as otherwise, there are a lot of disappointed people, and not just children, when he is not on display!"
"That's why we are holding auditions within the Winter Gardens this weekend, complete with our own panel of 'expert' judges. It is all a bit of fun though and I would anticipate anyone who comes along will get the thumbs up from the panel!
"Anyone who fancies a shot of being Spike is asked to be at the Duthie Park Winter Gardens at 2 pm on Sunday 15th and, depending on the interest and numbers, will each get a few minutes to convince the judges that they are worthy of such an esteemed position.
"And I would encourage those not keen on taking part to come down and give their backing as I'm sure it'll be a real fun occasion. It is also an opportunity to come down to see the progress being made on the Park restoration project which started last month."