David Innes reviews TONY HOGAN BOUGHT ME AN ICE CREAM FLOAT BEFORE HE STOLE MY MA, by Kerry Hudson.  [ Chatto & Windus, 266pp, £12.99]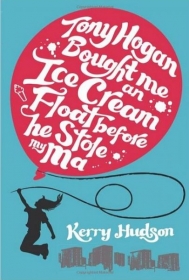 Hands up who's heard of Kerry Hudson?  One would think that even if the author herself hasn't been picked up on the local media radar so far, at least the eye-catching Fiona Apple-esque novel title would generate some curiosity
Kerry Hudson, you see, is one of ours.
Her formative years were spent in a series of hostels, down-at-heel council estates and caravan parks in Aberdeen and its environs, as well as in other parts of the UK.
Her debut novel draws on this background to depict a grim picture of life for the growing underclass of the 1980s.  Thankfully, 'we're all in this together' during the current crisis and there will be no return to those bleak hopeless days where families subsisted on meagre rations in dank accommodation between Giros…
Whilst the background Hudson vividly paints is grim and stark, this is overridden by the resilience, affection and family solidarity obvious in hero Janie Ryan's narrative.
The characters to whom she introduces us are steadfast and lovable or feckless and despicable.  Janie's ma, Iris, is a poor judge of partner but fights fearlessly and unstintingly for her children, has a healthy disdain for bureaucratic authority and displays almost unflinching smeddum in piloting her loved ones through crisis after crisis.
That she succumbs to middle age too soon and her spirit is ultimately almost quenched is one of the book's frequent moments of great pathos.
The nominal Tony Hogan is a violent, drug-dealing psycho from whom flight is necessary more than once.  Janie's Uncle Frankie is a well-meaning but weak figure who succumbs to the drugs he runs on Hogan's behalf.  Baby sister Tiny is a bundle of love and reconciliation.  All credible, when a less-able author would allow them to become one-dimensional stereotypes.
Hudson's skill in articulating, often hilariously, the family's hand-to-mouth uncertainty through the eyes of a child from birth to late teens recalls Roddy Doyle's best conversational triumphs where the narrative sprints along like a screenplay.  Drawing on contemporary 1980s and 90s cultural ephemera to illustrate the small material escapes which offer comfort to a child and adolescent fixes the novel firmly in its time.
The tone darkens when mid-teens Janie realises that she is on the same path as her downtrodden and spirit-crushed mother as he shuts out life's increasing desperation through drinking and casual sex.  A growing realisation that she has ambition, a love of literature and a fear of becoming Iris, sees her take off to escape the fate she sees looming.
That the novel's final words are 'the beginning' leaves the reader to hope that a character in whom we now have an affectionate interest will mature and prosper and that Kerry Hudson will write again to let us know how Janie's getting on.