By Duncan Harley
It's officially 150 years since the first Turriff Show and the 2014 event drew record crowds to what must surely be Scotland's premier agricultural event.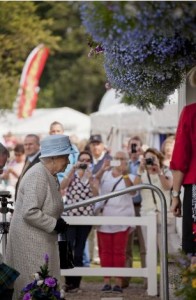 In the blistering early August heat folk from far and wide turned up for a two day extravaganza of entertainment, fun and the meeting of guid' friends.
Boasting well over 200 trade stands plus a selection of industrial and craft marquees and with everything from 90ft high wind turbine's to the latest in sat-nav guided tractors on display, what was not to like?
It was indeed a show to remember with commentary on the Sunday by the North East's favourite Doric broadcaster Robbie Shepherd plus a visit from HM the Queen on the Monday,
With pipe bands galore, vintage tractors plus dare-devil entertainment from the Bolddog Links Freestyle Motocross Display Team there was something for folk of all ages and interests.
The forestry area hosted interactive games and competitions while "Old MacDonald's InFARMation" tent provided hands on agricultural activities for youngsters.
In the Cookery and Butcher area award winning food writer Lady Claire Macdonald showcased Scotland's best mouth-watering recipes using only the finest of Scottish ingredients such as Scotch Beef, locally sourced venison and wild caught Scottish salmon courtesy of Usan Fisheries near Montrose.
Show President Bruce Ferguson said:
"We enjoyed welcoming visitors from far and near to this year's show.  Overseas visitors received a warm welcome in the Homecoming Marquee where they were offered hospitality and given a free show pack."
Adding
"I am particularly pleased that the Queen visited Turriff Show especially since some of her own Highland cattle from the renowned Balmoral fold were being exhibited" Mr Ferguson made reference to the monarch's entry "Ruaridh 1st of Ubhadh" which won several awards including "Best Senior Bull born before 1st January 2013" and the Champion Prize for the "Best Highland Animal in Show."
After touring the showground the Queen presented the Champion of Champions prize cup to Bruce & Partners Charolais "Balmaud Eclipse", winner of the show's top livestock award before returning to her estate in Deeside via a helicopter of the Royal Flight.
With preparations in hand for the 2015 Turra Show many folk will be curious to know how the Turriff and District Agricultural Association's hard working team plan to top this year's event.