Peter Jackson's The Hobbit arrived in cinemas recently; could it live up to Jackson's Lord of the Rings epic work?  Aberdeen Voice's Andrew Watson shares his thoughts.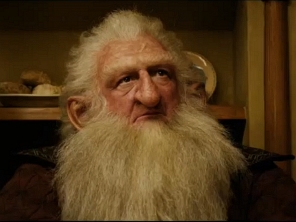 It was my first visit to Vue on Shiprow in a while, and it was to see what many regard as the blockbuster of the year,
The Hobbit
.
Although it was excellent on the whole, in the realms of fantasy and science fiction it doesn't quite surpass the mastery of this year's earlier blockbuster, Prometheus.
Without being patronising, veteran director Ridley Scott has a few more Hollywood years under his belt than Peter Jackson.  It's inevitable in my eyes, therefore, that, as supremely talented as the latter is, his capacity to create new worlds doesn't quite excel that of Scott –  Yet.
The Hobbit takes quite a long time setting the scene, though mercifully most of the backstory on show is quite intriguing:  particularly that of the Dwarves, cast from their homeland by a fire-breathing dragon.
I couldn't help but draw comparisons of the Dwarves' story to that recounted of the Israelites during the time of Moses, that of a nomadic race with no place to call their home.  This is in fact a central plot to the film, contrasting their instability with the home comforts of Bilbo Baggins (played by Martin Freeman), before setting out on his Unexpected Journey.
The sedate country life of Bilbo is very twee, and as I found in the first Lord of the Rings film, rather irritating and sickly in its happiness.  Thankfully this quickly comes to a close when wizard Gandalf (Ian McKellen) invites the Dwarves over, in the hope that Baggins will join them in their quest to reclaim their home.
This conclusion of Bilbo's sanctuary from conflict is done with a touch of humour, too.  Most of the Dwarves sport Scottish or Irish accents, marauding Bilbo's food store then greedily slurping his beer before setting out on their adventure.
In fact The Hobbit consistently goes out its way to amuse the viewers, though sometimes you find yourself amused out of politeness.  Key moments, however, include the rather amusing Cockney-sounding Trolls who eat snot and belligerently assail anyone, friend or foe.
The key moment, though, is also probably one of the most anticipated parts of the film, the introduction of Gollum: one of the principal characters, despite the relatively small part he plays throughout the duration of the film.  The role, played by superbly versatile Andrew Serkis must not only be demanding; but is an absolute joy to watch.
He's already won many plaudits for his acting in this film, and it's easy to see why.  Battling a split personality, his character verges from the menace of Gollum and his wretched, demonic teeth to the arresting innocence of Sméagol and his big, blue eyes.
His game of 'riddles' with Bilbo isn't only integral to the development of the plot and, therefore, Baggins' survival, it's also supremely humorous.  The battle of wills inside Gollum/Sméagol's head is as volatile as it is side-splitting, and he still manages mental gymnastics in his battle of minds with Baggins.
Finally, comes a spoiler alert of sorts.  Or, rather, myself trying my utmost to prevent my blabbing.  Anyway, and this little detail might be rather insignificant for most, the end of the film is heralded with a scene evocative of  the omnipotent 'eye' which features throughout the Lord of the Rings trilogy.  I won't tell you how or why it comes about though.
I genuinely look forward to parts two and three of this new trilogy, although I hope the plans to release all a year apart won't affect the quality of output.  The thinking being, I suppose that you keep the audience waiting too long and they'll lose interest.
Personally, I think if you make a film as well as you can, taking your time and deliberating over every detail, anticipation will be palpable and interest will soar!