There are various stereotypes that Canadians have to live with – they wear plaid shirts, are always chilled out and friendly, and have a good sense of humour. The Barenaked Ladies might be where this idea comes from; it's a long time since a bunch of guys on tour looked like they were wide-eyed, appreciative of their fans and host cities, and genuinely looked like they were having the time of their life in the Beach Ballroom.  Suzanne Kelly reports; photography by Julie Thompson.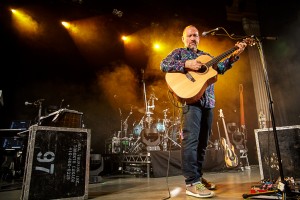 The show started with – and I'm heartbroken at having missed most of it — Men At Work's inimitable Colin Hay. Hay's got a few projects out, not least a film coming soon and a re-release of his album Havana Rocks on vinyl – details here.  The Men at Work might have stopped working a few decades back, but he's working the vocals and playing beautifully, as I see when he does 'Who Can It Be Now?' with the Ladies.  He's got one of the most distinctive voices in pop for decades, and it's sounding wonderful.
Before the Barenaked Ladies come on, I talk to Fiona and Iain who tell me they're long-term fans (the band has been going for nearly 30 years) and they're dying to hear them live tonight.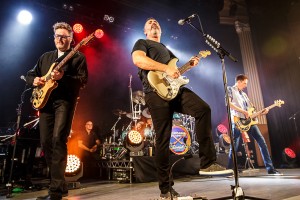 Looks as if most of the audience knows the material as the night progresses, everyone's singing along, even to the challenging 'Big Bang Theory' theme tune. The act is known for its clever, slick lyrics, and it's clear they've had an impact on this crowd.
As well as the speedy rollercoaster that's the Big Bang Theory theme tune, I find myself enjoying the slower, gentler 'Duct Tape Heart'. Then there's the humorous 'If I had a Million Dollars.' Even the photographers are singing along.
The only people not necessarily enjoying themselves are the three security guards at the front of the stage, who have been the subject of some of the good-hearted banter; being the centre of attention doesn't seem to sit too well on these guards. But this evening's turned into a cabaret, a comedy show, a rap improv night, and honestly, for a Monday night in Aberdeen, I can't remember seeing such a collective good time.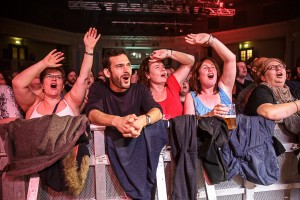 Hay looks like he's enjoying himself; the Barenaked Ladies are filled with an innocent, sweet kind of enthusiasm few people are possessed of. They've been wandering through Aberdeen today, seeking pinball thrills. We're told that Ed came to the Moorings – sorry Krakatoa and got the number one score. I can officially confirm I've seen this is true. He's told us all about it like an excited fifteen year old.
They seem like a bunch of big kids. Big cheerful Canadian kids.
I really hope they are having as much fun as it looks. I'm convinced this must be true when they deliver an Aberdeen-themed rap number near the encore.
The encore – Zeppelin. Rock & Roll; a nice fresh take on this classic has the ballroom fans – it's sold out by the way – as cheery as the band is. It's a competent take, or I'd have slated them severely. By the way, the band are (according to their website):
"After 27 years together, over 14 million albums sold, and multiple Juno Awards and Grammy nominations, Silverball, the cerebral band's fourteenth album finds the long-standing partnership of Ed Robertson (guitar, vocals), Jim Creeggan (bass, vocals), Kevin Hearn (keyboard, guitar, vocals) and Tyler Stewart (drums, vocals) firing on all cylinders."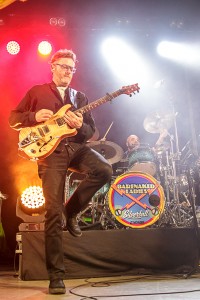 But by these last few songs, every band member's taken a tour of duty round the stage and I'm almost losing track of who is supposed to be singing, drumming or playing what guitar. They're described as cerebral and I'll give them that – not in a cold egghead condescending kind of way, but in terms of writing and playing, there are no weak links in this machine, which is probably why it's kept going.
If they're keeping it fresh for their audience, it's because they're keeping it fresh for themselves witnessed by the way they have totally personalised this evening, tailoring it like a Saville Row bespoke tailor, to Aberdeen.
I wish I could remember the words they sang about Aberdeen – I tried to catch it in a notebook, but the Barenaked Ladies are too fast for the likes of me. Mercurial? Absolutely.
When / if they next come back this way, I'm going to come back. Should I get a chance to see Hay again anytime soon, I'll be on it. Really couldn't have asked for a more all-round entertaining, cheerful evening.
Set list (thanks Julie)
Get Back Up, Old Apartment, Odds Are, Gonna Walk, Matter Of Time, Easy, Brian Wilson, Narrow Streets, Who Can It Be Now? – With Colin Hay, Falling For The First Time, Did I Say That Out Loud?, Passcode, Light Up My Room, Duct Tape Heart, Pinch Me – With Colin Hay, Big Bang, One Week, If I Had A Million Dollars, Barenaked Rap, Drawing, Rock & Roll.