David Innes reviews Scotland 74, A World Cup Story by Richard Gordon.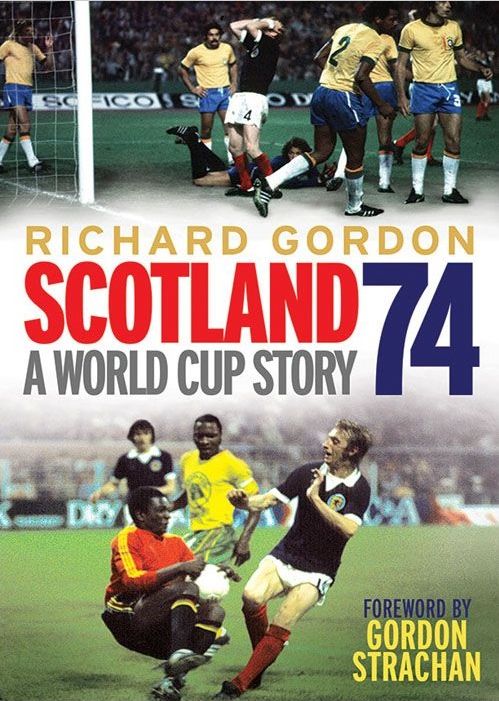 Nah, it can't be forty years since we crowded into a communal sitting room on a Friday night to watch Scotland take on Zaire in our first World Cup Finals tie in our living memories.
Surely this has been miscalculated by a decade or two?
Alas, it's true, but what a thrilling time it was.
The imminent Brazil 2014 holds few attractions for many of us caught up in the excitement of those heady days when Scotland did have players we felt could achieve something when mixing with the big boys.
The author, of course, was at the ideal age to be enthused by the occasion and the build-up, as we of slightly older vintage were in 1966 (really, it's true) and whilst Gordon is a professional journalist and broadcaster of formidable repute, it is the perceptible wide-eyed youthful enthusiasm that gives Scotland 74 its energy.
You know the plot, Scotland the only unbeaten team in the tournament, edged out on goal difference by Brazil at the first group stage, the failure to punish Zaire's naïve fragile defence fully, that difficult Billy Bremner open goal against Brazil, Yugoslavia's nine-goal landslide victory and its whiff of conspiracy and corruption and the still-astounding tales of the thousands who took day trips (yes, day trips) to West Germany as the excitement built.
Gordon, however, gives us a considerable backstory. Even returning briefly to Uruguay 1930 and the inaugural Jules Rimet tournament, we get Scotland's ill-starred history of participation, non-participation, embarrassing losses and plucky failure leading to 1974.
His research is forensic, detailing qualifiers, friendlies, rowing boats, shady agents, inter-necine conflicts, post-Olympic West German security anxiety, heroes, villains and Roary Superscot. Yet this is never dull, or statistically pedestrian as Gordon writes with the enthusiasm of that 14 year old fitba-obsessed Grammar School kid.
With his professional contact book he has extracted new insights from several of the participating near-heroes of 74, whose recollections with the benefit of forty years' hindsight are among the highlights of a lovingly-compiled book.
Scotland 74 is deserving of the attention of anyone with an interest in the exploits of the swaggering heroes of this tiny nation punching well above its weight under the spotlights of the world stage.
As someone once sang, "When will we see your like again?"
Scotland 74, A World Cup Story by Richard Gordon
Black& White Publishing
ISBN 978-1-84502-749-0
241 pages
£11.99
Comments enabled – see comments box below. Note, all comments will be moderated.